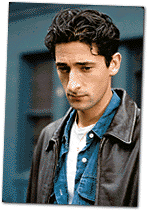 Eric Bross' Restaurant also tackles relationships clouded by racial conflict but this time the protagonist is a white playwright and the star is Adrien Brody, who's since landed the coveted lead role in Terrence Malick's The Thin Red Line. Brody also starred in Bross' first film, Sundance '96 sleeper Nothing to Lose. Dove was to have released Nothing to Lose last fall but the company has since cut back its film distribution activities. When this summer's Tim Robbins comedy of the same name came along, Bross sold the rights to his title to Disney and paid off his final deferrals. (Look for Bross' debut under its new title, Bloomfield Ave.)
Restaurant features a large ensemble cast including "Rent" star Jesse Martin as the elder statesmen among the crew of hopeful artists and entertainers making a living at a New Jersey eatery. Brody plays Chris Calloway, a bartender-playwright awaiting the premiere of his first play, a searing personal response to a love affair gone bad. He responds to the pressure by falling off the wagon, making late-night calls to his ex, and beginning a relationship with a young singer.
"I want to tell dramatic stories about ordinary people trundling along through their lives," says Bross. "I'm more interested in emotions than the ironic or the hip." Bross grew up in New Jersey and started making films at 12; by the time he got to NYU's film program he'd already won several prizes. He wrote Nothing to Lose with Restaurant writer Tom Cudworth and teamed with Columbia '93 M.F.A. grad H.M. Coakley to put it in the can. Coakley's back for Restaurant, and he and Bross joined forces with first-time producer Shana Stein, a former William Morris trainee who's since gone on to A.F.I.'s fellowship program, to raise private financing somewhere south of seven figures.
Restaurant shot 28 days in New Jersey and New York beginning May 5. The filmmakers scored a newly renovated upscale Hoboken restaurant that had just changed hands for the all-important title set; the new owners bet on Bross by keeping his name, J.T. McClure's, when he wrapped. Since we're in Hoboken, Restaurant has stunning skyline shots across the river to Manhattan. Village Voice photographer Sylvia Plachy took Restaurant's production stills (she's Brody's mother.) All rights remain available.
Cast: Adrien Brody, Elise Neal, Simon Baker-Denny, Lauryn Hill, David Moscow, Catherine Kellner, Jesse L. Martin, Malcolm Jamal Warner. Crew: Producers, Eric Bross, H.M. Coakley, Shana Stein; Screenwriter, Tom Cudworth; Director, Bross; Director of Photography, Horacio Marquinez; Editor, Keith Reamer; Casting, Joseph Middleton; Composer, David Mansfield. Contact: Shana Stein, Restaurant Productions, 1428 N. Fuller St, Los Angeles, CA 90046. Tel: (213) 876-1425, Fax: (213) 876-5505.