FESTIVAL ROUNDUP
---
Toronto International Film Festival
Amidst the gala premieres, parties, and press conferences, this year's Toronto International Film Festival featured a small tribute to its late programming mainstay, David Overbey. Comprised of just five features and three shorts drawn from the massive list of Overbey's curatorial selections, the section illustrated what a remarkable role the Festival and curators like Overbey have had in guiding the North American film community's perception and appreciation of world cinema and new independent movements. The section referenced new Taiwanese cinema (Hou Hsiao-hsien's Dust in the Wind), Hong Kong action (John Woo's A Better Tomorrow), American independent film (Charles Burnett's Killer of Sheep), New Queer Cinema (Terence Davies Distant Voices, Still Lives), and France's anti-New Wave "angry, poor" film (Gaspar Noe's seminal precursor to I Stand Alone, Carne).
In the year following Overbey's passing, Toronto's curatorial team continues to uphold his tradition of making powerful choices which impact through both America's commercial and art cinemas. The Festival leaves no important film movement unlooked, and its curators pen catalog essays that take bold intellectual positions in support of their choices.
This year director Piers Handling compared Toronto to "a big shopping mall" with its 250 odd films, but the metaphor applies less to the Festival's commerce elements (Toronto has no market per se, and this year lacked an all-out bidding war) and more to the actual experience of attending Toronto, which, with its multi-tiered structure of programs (Galas, Discovery, Contemporary World Cinema, Planet Africa, Perspective Canada, etc.), makes the experience of film viewing akin to casually wandering the cloistered and labyrinthian architecture of the modern mall. Or perhaps such a metaphor is only apparent to beleaguered journalists; this year, almost all industry screenings were held in a huge, comfortable multiplex in a Bloor Street mall.
The Bloomingdale's and Macy's of the Festival remain the Galas, the series of high-profile international and Hollywood films that draw the stars, the klieg lights, and the paparazzi. Opening night featured Felicia's Journey the latest from Toronto's golden boy, Atom Egoyan, and the Festival closed with Onegin, a British updating of Aleksandr Pushkin's Russian classic (via Tchaikovsky's opera) which showcased the talents of the Fiennes family (brother Ralph acts, sister Martha directs, and the other brother Magnus composed the music). In between these films was an array of the best, or at least best-financed, films from the world over. As with Venice and Cannes, here is where the studios put their best foot forward, offering work that falls just this side of art. And while a number of films fared well in this setting, particularly Ang Lee's big-budget Civil War western, Ride with the Devil, it was the Dreamworks-produced American Beauty that showcased Toronto's ability to effectively launch a film and filmmaker within the commercial cinema.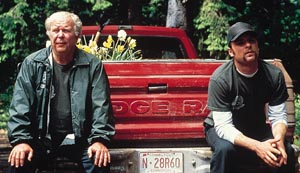 Ned Beatty and Liev Schreiber in Tom Gilroy's Spring Forward, which premiered at the Toronto Film Festival.
The first film from British theatrical wunderkind Sam Mendes ("Cabaret," "The Blue Room"), American Beauty is a remarkable mixture of suburban satire and American transcendentalist philosophy that is all the more radical for its refusal to locate redemption within the familial and work-centered relationships so upheld by most mainstream entertainment. Although the Dreamworks flaks had long since positioned the film as a "challenging, adult work" that had the potential for sleeper status, it was the Toronto premiere at the start of the Festival (and just a few days before its U.S. theatrical release) that jump-started a critical bandwagon that is now propelling the pic to solid grosses. With its indie subject matter (the dysfunctional suburban American family), Hollywood movie stars (Kevin Spacey and Annette Bening), and below-the-line hero (veteran d.p. Conrad Hall), the film offered both substance and glamour, allowing a hungry press corps to have its cake and eat it too.
Of course, Toronto has also been the launching pad for many smaller American independent films. One of this year's "bigger" premieres was, ironically, a purposefully "small" film, Tom Gilroy's Spring Forward. A pantheon of filmmaking talent – producers include director Jim McKay, attorney John Sloss, indie impresario Gill Holland, and Independent Film Channel execs Jonathan Sehring and Caroline Kaplan – packed the house with acquisitions executives. What the buyers encountered was an understated, delicate, yet emotionally precise depiction of two men – one young, one old – who work together for the Parks Department somewhere in upstate New York. Featuring superb performances from Ned Beatty and Liev Schreiber, the film shares something with the "dirty realist" fiction of Richard Ford and Raymond Carver. It locates a sublime undercurrent to the small-scale realities of everyday life, using the passage of time itself as a series of plot points that drive our dual protagonists to an understanding of themselves and each other. One couldn't ask for better acting and performances, and as the Festival concluded, it was unclear which distributor would stand up and commit to such a quiet, intimate, character-based film. Like American Beauty, Spring Forward will gain from the critical buzz of its Toronto launch, but like the film's characters, this process may take its time within today's instant-gratification indie film buying environment.
Mark Hanlon's debut feature, Buddy Boy, also premiered at Toronto but in the Contemporary World Cinema section. This placement was apt, for the film was a striking fusion of Polanski-esque psychological horror (a connection made even more apparent by the casting of Polanski leading lady Emmanuelle Seigner) and American Gothic sensibility. The film manages to be both a character study of a disturbed individual and a blackly comic social satire.
The pre-screening buzz on Justin Kerrigan's lightning fast debut feature Human Traffic read like a bad English extension of Trainspotting — a drug-soaked ride through the UK club scene via the England's next generation of hipsters. Yet its absent moral compass is what made the film so effective – the thrill of a high speed joy ride without the burden of direction or guilty emotional payoff. Kerrigan hits the gas on five characters with the usual set of adolescent and relationship problems, and covers it unapologetically with massive amounts of drugs and alcohol. Rather than use drugs as a devisive tool or obstacle, Kerrigan quite effectively spins it as a prop of no more or less importance than leather pants and turntables. After the film's raucous Saturday night screening and disappointing "rave", Human Traffic became one of the precious few acquisitions of the fest — to Miramax — leading many industrites to question what the Disney-held company would do with another hot potato so soon after Kevin Smith's Dogma.
A less successful premiere was Finnish director Ilkka Jarvilaturi's History is Made at Night, a failed attempt at merging a Frankenheimer-ish thriller with a low-key screwball comedy. Starring Bill Pullman and Irene Jacob as two post-Cold War spies (he CIA and she KGB), the film, like its politically alienated lover/heroes, never really figures out what to believe in.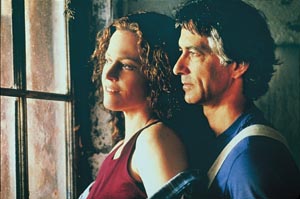 Sigourney Weaver and David Strathairn in Scott Elliot's A Map Of The World, at Toronto.
The mixture of influences from and between various film cultures is a pattern that reverberated throughout the Festival. Jim Jarmusch's latest, Ghost Dog: The Way of the Samurai, mixes genres and cultures as Forest Whitaker assumes a Japanese discipline to confront Italian-American mobsters. And Steven Soderbergh's The Limey chronicles the escapades of a British ex-con in Los Angeles. And even newer auteurs, like Harmony Korine, have ties to the old country, with julien donkey-boy starring New German cinema icon Werner Herzog in the first American issue of the Danish Dogme movement.
Of course, this cross-pollination is certainly not an American phenomenon, especially with the ever precarious condition of nation states in Eastern Europe. Greek/English Constantinos Giannaris' From the Edge of the City follows the lives of young disposed Russians living in Athens. And in Anne Fontaine's charming Augustin, King of Kung Fu, a sad sack Parisan falls in love with the Chinese culture, eventually moving there for good. And Damien O'Donnell fathoms in East is East a big-hearted comedy of Pakistanis living in Northern England.
The majority of American independent films, however, located the strange and the alienated usually within their own familiar stories. Kimberly Peirce's Midwestern true-crime tragedy, Boys Don't Cry, captured audiences with its sincerity and insight into the American psyche. Likewise Kevin Jordan's debut, Goat on Fire and Smiling Fish, a simple comedy of two brothers, proved to be this year's sleeper, winning the Benson & Hedges Film Discovery Award. Indeed across the board – from Gregg Araki's comic menage-a-trois Splendor to Lane Janger's charming sitcom of sexual deviance Just One Time, to Frank Whaley's Joe the King, a more serious saga of a young boy's struggle to grow in a dysfunctional family – American film had a less ironic, less angry stance.
If the American films affected a quieter tone, it was the Europeans and Asians that embraced humanity's darker side. Hot director Francois Ozon's criminally-titled Criminal Lovers is an ingenious blend of a "doomed lovers on the run" story, a coming-out picture, and dark fairy tale. With a flashback structure that adds depth and mystery to what could have been a banal story, the film follows two teens who impulsively kill a classmate and then flee to the forest where they find Kusturica-regular Miki Manojlovic, a predatory, gay big bad wolf. Echoing Nicholas Ray and Charles Laughton, the film is tender, troubling, and an ambitious step forward for the director of See the Sea.
A particular aspect of Toronto's worldly curatorial perspective is evidenced by the selection of Jang Sun Woo's Lies, the story of a young student involved in an intensely physical S/M relationship with an older professor. At times genuinely shocking and always inventively photographed, the film ultimately succumbs to the collapsed world view and repetitive structure of much pornographic art. Still, the film's country of origin, Korea, where such artmaking constitutes its own political defiance, gives Lies a particular cutting-edge frisson.
---
Venice International Film Festival
Jerry Lewis came from the West, the two Zhangs (Yimou and Yuan) from the East, Abbas Kiarostami from the Middle East (Iran). Jane Campion also comes from the East, geographically, even though her stars and financing are Western. They all were honored here, in various ways, underlining the diversity and the illogic of the international film festivaI.
Those arriving from the East and bearing deceptively simple gifts received the highest recognition: the Golden Lion for best film to Zhang Yimou's Not One Less; a Special Jury Best Director Prize to Zhang Yuan for Seventeen Years; and the jury's Grand Prize to Kiarostami's The Wind Will Carry Us, an ineffably empty film set in a small Kurdistan village from a revered director who declared Venice his last film festival.
This year's Festival was hyped in advance as being "steamy" and "sexy," but, as the films unspooled, Eros shared screen time with errors. Of the 18 films in competition, the Franco-Belgian Une Liaison Pornographique, directed by Frédéric Fonteyne, which was not even remotely porno, received good press and a Best Actress award for Nathalie Baye, while Lies, a South Korean entry from Jang Sun Woo, accomplished the difficult feat of turning almost two hours of athletic sado-masochistic sex into an exercise in boredom. Jane Campion's Holy Smoke, more about sexual politics than sex, was notable for the performances of Kate Winslet, Harvey Keitel, and a strong supporting cast.
The French and the Italians – from whom we supposedly learned about sex – now seem to concentrate on existential crises in which sex is almost peripheral. Of the other French films in competition, Benoît Jacquot's Pas de Scandale was essentially lifeless, and Rien à Faire, by Marion Vernoux, details a ho-hum extramarital affair, although Valeria Bruni Tedeschi was cited by the National Union of Film Journalists for best female interpretation.
It was once unusual to see the work of young directors at this festival, but that is changing. In fact, youth and violence were more important themes this year than sex. Harmony Korine, who again tests the boundaries of filmmaking and is equally adept at making headlines (enfant terrible, provocateur, etc.), presented julien donkey-boy in the Cinema of the Present section. It is engrossing, far superior to Gummo, shown here in 1997, with remarkable performances by Ewen Bremner, Chloë Sevigny, and Werner Herzog. Nina di Majo, a 24-year-old Italian director from Naples, made her debut in the same section with Autunno. Mundo Grua, a first feature by 28-year-old Argentinian director Pablo Trapero, received the Cult Network Italia prize from the jury of the Critics' Week as well as the Anicaflash collateral award.
Surprises and disappointments: English director Michael Winterbottom's With You or Without You, a fresh, charming movie set in the Protestant community of Belfast, was, amazingly, non-political. Mike Leigh's Topsy-Turvy stands what we expect from this quirky director on its head: it is the story of Gilbert and Sullivan, a beautifully constructed period piece with great attention to their music – too much, for too many viewers – that won the Best Actor prize for Jim Broadbent. Claire Denis' Beau Travail, also in Cinema of the Present, is about the French Foreign Legion, a natural for this talented director, but goes nowhere.
The Venice Film Festival still seeks to reinvent itself each year. Every time a new director is appointed – not a rare occurrence – there are endless interviews concerning all the changes that must, and absolutely will, be made. The new man on the Lido this year is Alberto Barbera who, it can be said, is off to a good start. The Italian film industry is still in the doldrums (only two pictures competing) but Barbera, who came here after ten years as director of the respected Young People's Film Festival in Turin, has pared down the impossible number of films from 120 last year to 81 full-length and 39 short and medium-length films. Some of the other changes may be cosmetic, some semantic. The "Film Market" is now the "Industry Office," but there are still an impossible number of passes issued: 2,362 press passes, 1,028 accredited professionals and 1,988 cultural accreditations. The results are short tempers and long lines when getting into the screenings.
The closing-night awards ceremony created a "diplomatic incident." Zhang Yimou, who works with the approval of the Chinese government, and Zhang Yuan, who doesn't (Chinese television reported that only one Chinese film, Zhang Yimou's, had been selected to compete), were initially seated next to each other. They talked and exchanged compliments until Zhang Yimou was whisked to another seat. It is impossible to know if the Chinese television crew recorded Zhang Yuan or not. Zhang Yimou, to reporters: "I don't believe that I could work anywhere but in China. It is the country I know and can describe." Zhang Yuan: "I would also like to make films in China, but the low-budget films I make require outside help. To make Seventeen Years I worked at Fabrica and hope to again." [Fabrica Cinema, set up in 1998 near Venice by Benetton, co-produced the film, which had to be listed in the festival catalogue as Italian when it was denied official recognition by the Chinese authorities.]
The jury for the major prizes had a strong man at the helm, Emir Kusturica, and he got more press coverage than some festival participants for his casual dress, evening drinking, morning hangovers, and his performance on guitar, on the last night of the festival, at a local club with his band, No Smoking. Not a bad way to wind up a film festival which began with Stanley Kubrick's Eyes Wide Shut and concluded with a career Golden Lion to Jerry Lewis.
---
Chicago Underground Film Festival
August's sixth edition of the Chicago Underground Film Festival once again built on the quality of earlier editions, drawing an ever more diverse range of films while commandeering, for the first time, an actual multi-screen moviehouse for its week of shows. Nightly parties, including the annual bowling event, pitched filmgoers and filmmakers together in a lively brew. A local upstart, June's Chicago alt.film festival seemed to have little effect on CUFF's ability to draw high quality alternative work. The only friction between the two events came when Cass Paley's studious John Holmes documentary, Wadd, was withdrawn from alt.film in favor of CUFF; alt.film showed a VHS screener against Paley's wishes.
Opening night was sold out with shows added to meet demand for Reed Paget's giddy, nervy Slamdance Best Documentary winner, Amerikan Passport. (His chronicle of tramping across the planet as a 23-year-old in war-torn 1989 also wound up winning Audience Favorite.) The closing night feature, Jon Hewitt's crackerjack shot-on-DV Australian police procedural, Redball, won Best Narrative Feature, followed by a nod to Todd Verow's latest lifestyle quickie, The Trouble With Perpetual Deja Vu. Salutes also went to several short films, including Martha Colburn's animated Spiders In Love: An Arachnogasmic Musical; Mitch Davis' noir about abuse, Divided into Zero; the experimental Ingredients by Thomas Gosser and Robert Judd's Jesse Helms is Cleaning Up America. Documentary notice went to The Gods of Times Square, Richard Sandler's observant doc on street preachers in Times Square; Jon Reiss' look at the rave scene, Better Living Through Circuitry, as well as cable access vets laugh-a-second making-of tale, I Created Lancelot Link. And who could fail to note the Best of Chicago Award, which went to the just-what-it-sounds like short by Shawn Durr, Meatfucker.
Other notable titles: Christopher Wilcha's hour-long video, The Target Shoots First, a fine diary video about the deadening world of the modern office, seen through a job at CD-peddlers Columbia House; Julian Nitzberg's Bury Me In Kern County, a pleasingly grotty white-trash saga; Ian Kerkhof's DV bit of post-genre filth and nastiness, Shabondama Elegy; the brightly colored improvised dark comedy about battling pet supply salesmen, Suckerfish; Jon Jost's hypnotic study of London transit patterns, London Brief; Peter Calvin's simple, often gorgeous essay movie, Sleep, about the incessant pull of L.A. at night; and Mark Edlitz's eminently functional drama of family dysfunction, The Eden Myth.
The closing night party was a genial blowout at local music dive The Empty Bottle, but the drinking continued across several bars toward dawn. End of the night, breakfast was indicated, toward the nearby Hollywood Grill. Traffic was heavy. Someone asks, "Where's Hollywood?" Festival Director Bryan Wendorf pointed into the indeterminate distance, into the darkness, saying, "Hollywood is across the street." Indeed.
---
Telluride Film Festival
The Telluride Film Festival distinguishes itself from other film events by virtue of its secrecy and congeniality. Nestled against the base of the 13,000-foot peaks of the Telluride Ski Mountain and surrounded by the green spruce trees of the Uncompahgre National Forest, the town of Telluride is a hidden gem, a 20-minute walk from end to end and only reachable by winding hilly roads that lead into a single Main Street.
The film program is concealed as well, not announced until the first afternoon of the festival; that means no pre-festival hype, no frenzied paparazzi, and no acquisition buzz. And judging from the faithful 2,000-plus attendees who shell out $500-$2,500 for ticket passes each year, that blind faith is strong in the Festival run annually by co-founders Tom Luddy and Bill Pence. Ten or 20-year veteran-attendees are the norm here, while first-timers are like freshmen looking for acceptance by the fraternities and sororities that make up Telluride's secret society. But once you're in, you're in. And though Telluride might share the ski resort elite setting of a certain other festival of renown, it's far more quiet, quaint and comfortable.
This year's Guest Director, Peter Sellars, the famous Buddhist, opera and theater director, shaped the 1999 program with several older experimental works: Bill Viola's haunting, layered The Passing (1991), African director David Achkar's equally rich Allah Tantou of that same year, Harry Lachman's 1934 campy Spanish-language Nothing More Than A Woman, and a three-film tribute to Asian Masters Kwon-Taek (The Taebeck Mountains), Hou Hsiao-hsien (Dust in the Wind) and Lino Brocka (Bona).
American independents were particularly well received in the main program. Alison Maclean's smartly directed adaptation of Denis Johnson's short-story collection, Jesus' Son, drew gales of laughter and applause at its world premiere screening, while actress/director Adrienne Shelly's quirky screwball comedy, I'll Take You There, was also a crowd pleaser, although it has yet to be picked up. There was also a surprise screening of Woody Allen's latest, Sweet and Lowdown, along with just about every other picture on the Sony Classics slate.
It's no surprise that Sony screens so much at Telluride; co-presidents Tom Bernard and Michael Barker are ever present at the festival, as approachable as any of the other notable figures in the town. You can walk up to Telluride's favorite son, Werner Herzog, and begin a chat about movies or just the weather. The famous director of Fitzcarraldo and Aguirre, Wrath of God was in town with his new documentary My Best Fiend, about his hectic relationship with actor Klaus Kinski, but he could also be seen introducing screenings, presenting David Lynch's tribute, hosting a chat with Søren Kragh-Jacobsen, or eating potato salad at the Opening Night Feed on Main Street.
Telluride may be the most executive-filled festival with the least amount of actual business. "It's not a feeding frenzy," says Tom Prassis, Vice President of Sales at Sony Classics. "That's why we like to show our movies here each year."
For Adrienne Shelly, whose film was perhaps the only feature ripe for business in Telluride, acquisitions talk was kept to a murmur, but that didn't stop Shelly from receiving deal offers from festival-goers. One pleased audience member told her he'd start up a new company and distribute the film himself, while another asked how she could go about helping fund her next project. "Is that a good sign, people offering me money on the street? I suppose," said Shelly, just one contented filmmaker among many.