PRODUCTION UPDATE
Compiled and edited by FILMMAKER Contributing Editor, Mary Glucksman.
---
Dani Minnick makes her feature debut with Boyd's Out, a tragic tale of teen romance set in '80s L.A. Intimate and immediate, the fiction film is shot verité-style.
Boyd, the film's hero, is charismatic and a loose cannon, a classic outlaw type, and Katie's always been in love with him. Her friends smell trouble, but Katie is dazzled by Boyd and too smitten to question him when he shows up at her parents' door to take her for a ride in a stolen police cruiser. After all, she reasons, how could you give up on someone who slept with his probation officer so he could get back to you faster? And now Boyd, who's been in and out of lockups his entire life, is getting out again.
"Ladies love outlaws," says Minnick, "and this story charms you into the excitement of a teenage love affair before dropping you into the reality of teenage delinquency."
Minnick spent years as a working actress in TV, film and theater, racking up over 100 commercial appearances before entering the American Film Institute as a directing fellow. In 1997 she received a production grant from Lifetime Television to make World Upon Her Shoulder, a short that premiered on-air in the Lifetime Women's Film Festival the following year and went on to festivals like Santa Barbara, Aspen and Mill Valley. She has also directed for the stage in L.A., winning L.A. Weekly and Drama-Logue awards for her play, "Peace in the Valley."
Minnick and producer Lulu Zezza, an NYU film program grad with ten years of L.A. producing experience, raised financing through private investments and shot under the SAG experimental agreement. Though the two leads and most of the juvenile cast are newcomers to the screen, the film's adult cast members include Karen Young (Joe the King), Patricia Clarkson (High Art) and John Diehl (The End of Violence).
Boyd's Out was shot on digital video in California's San Fernando Valley and Granada Hills over 22 days last spring. The filmmakers plan to finish the film this fall and all rights are available.
Cast: Brian Vaughan, Megan Wilson, Patricia Clarkson, Elizabeth Ruscio, John Diehl, Harley Venton, Rick Rossovich, Karen Young. Crew: Producer, Lulu Zezza; Co-Producer, John Diehl; Screenwriter/Director, Dani Minnick; Cinematographer, Alessandro Zezza; Production Design, Julieann Getman; Costumes, Alexandra Selsman; Casting, Susan Booker; Editor, Alessandro Zezza; Associate Producer; Staci Pontius; Composer, Bill Gable. Contact: Lulu Zezza, Frozen Motion Films, 16126 Haynes Street, Van Nuys, CA 91406. Tel: (818) 997-8527, Fax: (818) 779-0937.
---
Director John Sullivan (sleepover) returns with Follow Me Outside, a quirky romantic comedy written by Saul Fussiner that turns a brief encounter between two disenfranchised loners on a road trip to Maine into something more profound.
Sam's a sophisticated young New York exec who, playing hooky from the corporate status quo, impulsively takes the train to its last stop – New Haven – and finds herself in a local dive. In walks Cole, a working-class rogue with leading-man looks who's running away from his own life for reasons he's careful not to divulge. Their attraction is instant, and the two head off together. The film plays out on the road as both lovers reveal more than they intend to, and in Maine, where the state exerts a mystic spell before the two hapless detectives trailing Cole catch up with him.
Sullivan, 31, graduated NYU's BFA film program in 1990 with a thesis short, Deliver It, that won the school's First Run Festival Directing Award. Five years later sleepover, his first feature about suburban teens from broken homes, premiered at Toronto; the film later sold to the Sundance Channel. Outside got made through a group of Wall Street investors who approached producer Scott Kaplan through an attorney aquaintance to offer a set figure to make a film. "You follow up on these things, but you never really think it's going to pan out," says Kaplan. "This time it did." Kaplan asked Sullivan, an old friend, what he had on tap. Sullivan was rewriting the middle act of his intended sophomore project, Out of Breath, and brought in Fussiner's script.
Outside was shot on Super-16mm in New Haven, Connecticut, Portland, Maine and Peak's Island off the coast of Portland over four weeks in May; the filmmakers covered 33 locations in 24 days and had to barge all their equipment to Peak's Island, where intact World War II bunkers provide an eerie counterpoint to the film's finale. The filmmakers expect to have a 35mm print by December; all rights are available.
Cast: Michael Laurence, Diana Demar, Lauren Stamile, Mike Hodge, Mark Kachersky, Jeffrey Ware. Crew: Producer, Scott Kaplan; Executive Producer, Steve Downey; Co-Producer, Anne Flocco; Screenwriter, Saul Fussiner; Director, John Sullivan; Cinematographer, Dejan Georgevich; Production Designer, Roshelle Berliner; Editor, Reynold Reynolds. Contact: Scott Kaplan, Let's Go Now Productions, 476 Broome Street, 5th floor, New York, New York 10013. Tel: (212) 625-3591, Fax: (212) 625-3593.
---
Shari Carpenter's Kali's Vibe tells the story of a young black woman forced to confront her girlfriend's infidelity. Kali is a social worker more skilled at finding solutions to other people's problems than her own. Unwilling to strike back at her girlfriend by fooling around herself, Kali is a wreck. That's when she meets Reese, a charismatic single dad who does temp work at her office. He avidly pursues her until a coworker informs him that she's gay. Reese switches to friendship, so it's his shoulder Kali cries on when she sees her girlfriend out with a new flame. Of course, she and Reese end up in bed, and Kali must reconsider everything she thought she knew about herself.
Carpenter says she expects to catch some flak for creating a lesbian character who ends up with a guy, but the arbitrary nature of love and desire is part of her point. "Labels are constricting," she says. "This film is about forsaking what's comfortable and familiar and going down an unexpected path that's scary and unknown because that's what feels right at the time."
Carpenter graduated NYU with a drama and dramatic writing degree in 1984, but, she says, it was Spike Lee's She's Gotta Have It "that was my introduction to independent film. It changed my life." Carpenter interned for Lee on Mo' Better Blues and was script supervisor on Jungle Fever, Malcolm X, Crooklyn and Clockers. Along the way she took production classes at The New School and made a half-hour short, Since Lisa, about a romantic triangle that went to Seattle and other fests in 1994. Kali's Vibe, five years in the writing, opened the Fifth Night screenplay reading series in '96 and won the Martha's Flavor fest screenplay competition in Martha's Vineyard in 1998. Carpenter and producer Gingi Rochelle, another old Spike Lee hand, raised financing to shoot in 16mm color through a combination of investments in an LLC.
Kali's Vibe was shot by cinematographer Kerwin Devonish (Hav Plenty) in Manhattan and Brooklyn over 23 days this summer.
Maverick singer-songwriter Me'Shell Ndegeocello is composing the film's score. Kali's Vibe should be done by Christmas; all rights are available.
Cast: Lizzy Davis, Charles Malik Whitfield, Phalana Tiller, Akanke McLean-Nur, Yvette Brooks, Monet Dunham, Cherokee, Burnadaire Lipscomb-Hunt, Cirri Nottage. Crew: Producers, Gingi Rochelle and Michelle Henderson; Screenwriter/ Director, Shari Carpenter; Cinematographer, Kerwin Devonish; Production Design, Aimee Cavenecia; Costumes, Yvette E. Stapleton; Editor, Brunilda Torres. Contact: Gingi Rochelle, Kali's Vibe Pictures, 594 Broadway, #903, New York, NY 10012. Tel: (917) 750-5042, Fax: (718) 230-0065.
---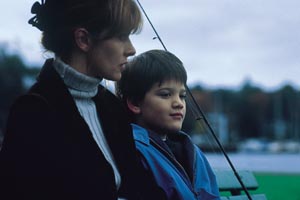 Nastassja Kinski and Cody Morgan in The Magic Of Marciano. Photo: C. Reardon.
Nastassja Kinski stars in Tony Barbieri's second feature, The Magic of Marciano, a wrenching tale about a nine-year-old boy whose beautiful young mother (Kinski) is growing more unstable due to mental illness. When his mother's boyfriend becomes abusive, the boy retreats into a fantasy life. "There's something inherently poetic and powerful about the unconditional love between a mother and son," says Barbieri. "But what if the mother had an uncontrollable illness she's trying to suppress for her son's sake? I pictured him developing his imagination as a means of coping."
Barbieri, 30, was born and raised in San Francisco and spent his early twenties studying fine art in Paris, where he was inspired by the French New Wave and the Italian neo-realist movement.
Back in San Francisco, Barbieri made One, his first feature, on a shoestring in 1997. The film, a story of two old friends struggling to redefine their lives after being variously thrown off course, premiered in the American Spectrum section at Sundance '98 and was widely praised for its style and the power of its camera work. Though distribution never transpired, the film won fans in high places. One of those fans was Lumiere Films production chief Lila Cazes who immediately offered to finance Barbieri's next film. Lumiere ultimately financed Marciano for a reported $5 million with Cazes on board as producer.
Barbieri says he saw over 200 boys before finding a neophyte with the eyes to signal James' emotional complexity and inner life; Kinski, he says, was his only choice for Katie. Marciano was shot in Nova Scotia last October through December, and Barbieri returned to California for postproduction. Rights are available through Lumiere.
Cast: Nastassja Kinski, Robert Forster, Cody Morgan, Jason Cairns. Crew: Producer, Lila Cazes; Executive Producers, Mickey Cottrell and Wendy Cary; Screenwriter/Director, Tony Barbieri, Cinematographer, Matthew Irving; Production Designer, Victor Syperek; Editor, Jeffrey Stevens. Contact: Mickey Cottrell, Cottrell and Lindeman, 7223 Beverly Blvd., #203, Los Angeles, CA 90036. Tel: (323) 936-6677, Fax: (323) 936-7101.
---
Ramin Serry makes his feature debut with Maryam, a tale of cultures clashing when an Iranian-American teenager raised in the New York suburbs is forced to play hostess to a defiant cousin making his first visit to the U.S. Set in 1979, the film takes place as Americans are taken hostage in Iran by student protesters while the country's Shah lies gravely ill with cancer in Manhattan's New York Hospital.
Until the brooding Ali's arrival, Mary has felt as American as any teenager of her prosperous neighborhood. The hostage crisis changes everything, and as Mary assimilates new information about her family's past she's forced to reconcile allegiances that pull her in opposite directions. Then, she realizes that Ali may not have come in peace.
Serry, now 30, grew up outside Chicago where his doctor parents settled after coming to the U.S. to complete their medical education. "Maryam mirrors my own experience," he says. "I was in junior high when the hostages were taken, and it was a difficult time to have attention drawn to me because of my ethnicity. I was thrust into a cultural identity I'd only just become aware of, and suddenly I was an outsider in both environments." Serry ultimately gravitated to communicating on film and got an MFA from Columbia University where he made two shorts, Tom Comes Over to Visit and My Sister's Wedding. Serry and Shauna Lyon, who produced Wedding, made Maryam with financing from private investors and brought in experienced line producers Jonathan Shoemaker (Six Ways to Sunday) and Derrick Tseng (Chasing Amy) to orchestrate production. Lyon says they had to go to L.A., which has the largest Iranian community in the U.S., to cast when appropriate actors failed to materialize in New York.
Maryam was shot in 35mm by cinematographer Harlan Bosmajian (La Ciudad) over 26 days last fall. Key high school and college sequences were shot at Felician College in New Jersey; other locations included New York Hospital and Fort Lee, New Jersey. Lyon expects to have a print by Thanksgiving, and all rights remain available.
Cast: Mariam Parris, David Ackert, Shaun Toub, Shohreh Aghdashloo, Maziyar Jobrani, Sabine Singh, Victor Jory. Crew: Producer, Shauna Lyon; Co-Producers, Jonathan Shoemaker, Derrick Tseng; Screenwriter/Director, Ramin Serry; Cinematographer, Harlan Bosmajian; Production Design, Petra Barchi; Costumes, Nancy Brous; Editor, Gary Levy; Composer, Ahrin Mishan. Contact: Shauna Lyon, Streetlight Films, P.O. Box 1027, Village Station, New York, NY 10014. Tel: (212) 255-3853, Fax: (212) 414-9084, Email: production@streetlightfilms.com.
---
Documentary filmmaker Yale Strom (The Last Klezmer) makes his narrative feature debut with On the Q.T., a coming-of-age tale about a young violinist in New York. Newcomer Samuel Ball stars as Jari, an untrained twenty-five-year-old prodigy who ekes out a living playing subway platforms, or busking, while waiting to audition for a prestigious music school fellowship. James Earl Jones plays a wise old soul who takes Jari under his wing for life lessons as well as music tutelage, enabling him to muster the necessary aplomb to negotiate his initial encounters with the rarefied strata of the professional music world. Also in the film is Trudie Styler as Carla Cooper, a famous singer-songwriter who hears Jari play and soon lures him into a torrid affair.
"[The film is] loosely autobiographical," says Strom, 42, an accomplished musician who has released seven recordings and spent five years playing violin in the subways while working his way through graduate school. "I've always been a raconteur, and thought it was a challenge to do it on celluloid." Strom is best known in the film world for The Last Klezmer, a feature documentary about musician Leopold Kozlowski that premiered at Berlin in 1994 and was named one of the year's top ten films by the New York Post. His other films include Carpati, a '97 Spirit nominee for best documentary, and At the Crossroads. He's also a photographer with six published books and countless shows to his credit and has composed a commissioned symphony that debuted with the St. Louis Symphony Orchestra in 1998. He wrote Q.T. with his wife, Elizabeth Schwartz, a former Hollywood production exec who makes her producing debut with the film. Schwartz says it took them two and a half years to get from an initial treatment to principal photography and a six-figure budget supplied through the efforts of a private businessman.
The 35mm Q.T. shot in Manhattan, Queens and upstate Armonk, New York for 23 days beginning in January. Q.T. should be complete by the end of this year and all rights are available.
Cast: Samuel Ball, James Earl Jones, Trudie Styler, Annie Parisse, Peter Stan, Tom Mardirosian, Sam Guncler. Crew: Producers, Donald Rabinovitch and Elizabeth Schwartz; Director, Yale Strom; Screenwriters, Schwartz & Strom; Cinematographer, Nils Kenaston; Production Designer, Petra Barchi; Costumes, Catherine George; Editor, Cass Vanini; Casting, Caroline Sinclair. Contact: Donald Rabinovitch, Andes Film Company, 543 Bedford Road, RD 3, Mt. Kisco, NY 10549. Tel: (914) 592-6100 x200.
---
The camera is a character in Rod McCall's Slice & Dice, a no-holds-barred dissection of a disintegrating California marriage. As six old friends gather to help two others decide whether to stay together or split up, they take turns interrogating each other on-camera. As the interviews progress, it rapidly becomes apparent that the hosts are not alone in being at a crisis point. "Often when you see video it's as a substitute for film," says McCall. "Here it's an organic part of the story. It's natural for actors to do things like talk into the camera, and the structure affords (characters) a chance to delve into each other's secrets." The cast includes Alanna Ubach, Caroleen Feeney and Dan Gunther who all previously worked together in Denise Calls Up.
McCall is best known for his first feature, Paper Hearts, a Western romance starring Sally Kirkland that premiered at Sundance in 1993. Before turning to features he directed and produced numerous award-winning TV commercials and directed film segments for "Saturday Night Live." His second feature, Lewis & Clark & George, starred Rose McGowan and premiered in the American Spectrum section of Sundance '97, eventually playing on both Cinemax and HBO and getting a video release from BMG. McCall says he and producer Ed Cathell put Slice together "on a guerrilla budget" with some help from Paramount-based Todd Harris, an old friend who produced both Lewis and Denise and is on board here to help market and sell Slice.
Principal photography at a rambling home in the Silverlake section of L.A. was completed over six days last summer with cinematographer Michael Mayers (Joe the King), another veteran of both Lewis and Denise, juggling 35mm, Super-16mm and Hi-8 digital. Slice was blown up to 35mm during postproduction and features a modern jazz score composed by Ron Pedley. The film is now complete, and all rights are available.
Cast: Caroleen Feeney, Alanna Ubach, Dan Gunther, Holly Riddle, Paula Sorge, Tony Crane, Juan Fernandez, Daniel Quinn. Crew: Executive Producer, Dan Bennett; Producer, Rod McCall & Ed Cathell III; Screenwriter/Director, Rod McCall; Cinematographer, Michael Mayers; Production Design, John Huke; Editor, Edgar Burcksen; Score, Rod Pedley; Acting Producer's Rep, J. Todd Harris. Contact: Rod McCall, Percha Pictures, Inc., 300 Main Street, Hillsboro, NM 88042. Tel/Fax: (505) 895-3399, E-mail: filmcowboy@zianet.com.
---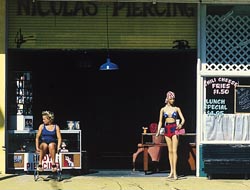 Jennifer Dundas Lowe in Swimming.
Robert J. Siegel adds a salt-water twist to the coming-of-age genre with Swimming, a tale set at the height of summer tourist season in South Carolina resort haven Myrtle Beach. Sure to be compared to Ruby in Paradise, the film stars Lauren Ambrose (Can't Hardly Wait) as Frankie, a young local who's just beginning to figure out that she wants more than Myrtle Beach can give her. She works days in her brother's restaurant and wastes nights on the boardwalk with her more carefree friends. Jennifer Dundas Lowe, who wowed New York theater-goers in Tom Stoppard's "Arcadia," plays Frankie's lifelong best friend Nicola, proprietor of a boardwalk piercing shop and self-defined seeker of trouble. Frankie's always played sidekick to Nicola so neither are prepared when two new arrivals, a young siren hired as waitress and a drifter selling tie-dye out of the back of his van, court only Frankie. Nicola's ensuing jealousy sets a series of betrayals in motion.
Siegel, an accomplished commercial director whose previous dramatic features, Parades and The Line, have gone to festivals like Venice and Deauville, currently teaches narrative film directing in the SUNY Purchase film department. Swimming originated there as a script submitted by Lisa Bazadona in 1997 as a senior thesis project based on her summer job painting temporary tattoos in Myrtle Beach. Siegel optioned the script and brought in playwright Grace Woodard, a former writing partner with whom he'd scripted HBO's Descending Angel (1990), and short filmmaker Ciro Silva, a former student, to work with him and Bazadona on revisions. Also added to the team was producer Linda Moran, who left a prior music industry career for independent film after acting in Tim McCann's 1995 Telluride discovery Desolation Angels. Moran has since production managed the New York City segment of The Buena Vista Social Club and co-produced five features including Amos Kollek's Sue and Fiona, Mob Queen, Dating Games and Harlem Aria, the last a 1999 Toronto premiere.
By spring 1998 Siegel had locked in financing from private investors. Swimming shot on location in Myrtle Beach for 28 days last October and November. At press time the filmmakers were mixing sound and music and expected to have a print later this fall. All rights are available.
Cast: Lauren Ambrose, Jennifer Dundas Lowe, Joelle Carter, Jamie Harrold, James Villemaire, Josh Pais, Joshue Harto. Crew: Producers, Robert J. Siegel & Linda Moran; Co-Producers, Ciro Silva & Grace Woodard; Line Producer, Valerie Romer; Screenwriters, Lisa Bazadona, Robert J. Sielgel and Grace Woodard; Director, Robert J. Siegel; Cinematographer, John Leuba; Production Design, Charlotte Bourke; Casting, Judy Henderson; Editor, Frank Reynolds; Music Supervisor, Mark Wike. Contact: Robert J. Siegel, Oceanside Pictures, 302 West 86th Street, New York, New York 10024. Tel: (212) 874-6041, Fax: (212) 873-9477, E-mail: oceansidepix@aol.com
---
Love God star Will Keenan has the leading role in Patrick Hasson's Waiting, a quirky comedy about a slacker waiter trying to muster the ambition to move on in life. Sean McNutt (Keenan) still lives at home – his girlfriend has just dumped him in disgust – and his father has just given him marching orders. He drinks himself into oblivion each night until an impulsive visit to a fetish club to see an old flame ("The State"'s Kerri Kenney) ends with him being thrown out. This is the last straw, and Sean soon embarks on a campaign of romantic retaliation.
"It's a very physical comedy whose true essence is Will's amazing presence," says Hasson. Keenan, a veteran of numerous turns in Troma films who made his own directing debut last year with the short Hoofboy, is now working on a pair of digital performance documentaries and can currently be seen on screen, albeit briefly, in trick. Also in the cast is former adult film star Ron Jeremy (Orgazmo) as a seedy restaurant customer overheard advising his six-year-old son about women.
Originally from Philadelphia, where Waiting was made, Hasson graduated from the University of South Florida's Experimental Film Program in 1993 with four shorts to his credit. The Speed of Mind, a 68-minute 16mm experimental drama about a dysfunctional Florida family, was recently released on video by Provisional Films. Hasson says he and producer John Stefanic had intended to shoot Waiting on film but changed course after seeing The Last Broadcast and Love God and bringing Keenan on board last summer. "I wanted name cast and a soundtrack and solid locations and a high shooting ratio and for that I felt we could forgo film for digital if we used the right equipment," he says.
The filmmakers shot a three-minute trailer featuring Keenan and used that to secure investors in the film. Principal photography took place throughout Philadelphia over 21 days this spring. Michael Pearlman, who shot Eugene Martin's Edge City and Diary of A City Priest, was the cinematographer. Waiting should be done by the time you read this; all rights are available.
Cast: Will Keenan, Kerri Kenney, Ron Jeremy, Kurt Knobelsdorf, Hannah Dalton, Lloyd Kaufman, Harry Philabosian, Bill Robertson. Crew: Producer, John Stefanic; Co-Producer, Tim Kelly; Associate Producer, Will Keenan; Screenwriter/Director/Editor, Hasson; Cinematographer, Michael Pearlman; Production Design, Christopher Jones; Costumes, Chante Brooks. Contact: Patrick Hasson, Manayunk Pictures, 4729 Larchwood Avenue, Philadelphia, PA 19143. Tel: (215) 748-5674. Fax: (215) 487-2611.