A MOVEABLE FEAST
Reports from Toronto, Telluride, Karlovy Vary and CineVegas.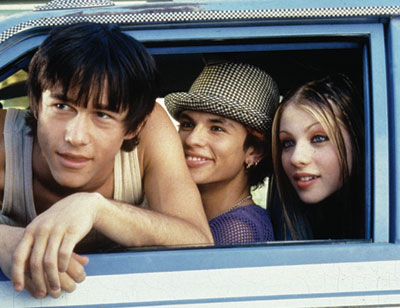 Gregg Araki's Mysterious Skin.
TORONTO INTERNATIONAL FILM FESTIVAL
Gluttony may not fit the mild-mannered stereotype of Toronto, but Canada's pleasingly civilized city also happens to host one of the festival circuit's most ravishing feasts. With 328 features screened over 10 September days, the 29th Toronto International Film Festival once again proved itself the undisputed gorilla of North American cinemania. Highlights from Berlin, Cannes and Venice intermingled with a panoply of world premieres, producing thematic undercurrents that made movies resonate in unexpected ways.
While this installment of Toronto unfolded with customary smoothness, it was also a transitional event. Earlier this year, director Piers Handling added to his duties the role of chief executive officer, and longtime programmer Noah Cowan ascended to co-director, joining Michele Maheux, the managing director, in creating a power-broker troika. Cowan, though, not only contributed to the overall programming, but also truly became the face of the festival, as Handling stepped aside to let his 36-year-old successor hold court in all the industry trades and closed-circuit television broadcasts (Screen International even referred to this year's selections as "Noah's Ark").
One new sidebar also made this edition of Toronto a standout. "South Africa: Ten Years Later" turned a spotlight on postapartheid life in the racially charged region, with films such as Tom Hooper's Red Dust (a look at the Truth and Reconciliation commission's heartbreaking task of assigning culpability to past atrocities) and Ian Gabriel's Forgiveness (which follows an ex-policeman coming to terms with his own guilt over unspeakable acts of torture and murder). The draw of Africa clearly permeated the festival: this year's Audience Award went to Terry George's Hotel Rwanda, his searing true-life account of a luxury hotel manager (Don Cheadle) caught in the middle of the Rwandan civil war and valiantly trying to protect innocent Tutsi people from the machetes of power-hungry Hutus.
As if racial violence weren't enough, there was also sexual abuse in one of Toronto's most controversial selections. Lukas Moodysson's A Hole in My Heart depicts the moral decay of a pornographer dad, his two shameless actors and the suicidal teenage son who hides in the bedroom while his father shoots a movie in their apartment. While never sexually hardcore, the film is rife with violent female imagery, from labial surgery to a man vomiting into a woman's mouth, and a condemnation of celebrity-desperate exhibitionism. This story of emotional impotence — shot in video with a dazzling formalist structure of experimental quick-cuts and aural montage — carries a potent wallop, but the spiritual self-immolation gets excessive to a fault, rendering the relentless humiliation and rage almost banal by the end. (Audience repulsion and industry head-scratching didn't stop Newmarket from picking up the film for distribution, though.)
The strongest films of Toronto had sex as a motivating factor, but tempered with a romantic glow, such as Kim Ki-duk's 3-Iron. The director's third film in a year and winner of the Best Director award in Venice, 3-Iron works on a surreal level in its depiction of a romance between a quiet young punk and the brutalized girlfriend of a rich businessman. With barely any dialogue exchanged between the two lovers, the film's images have a narrative force that intensifies its magical-realist approach in an exquisite peek at the inner lives of lovers. But even more beautifully rendered was Alexander Payne's Sideways, a buddy movie starring Paul Giamatti. [Sideways is featured in this issue of Filmmaker.]
A handful of films probed the dynamics of sex in marriage. Perpetually fascinated with how lust shapes romance, François Ozon contributed the thoughtful pas de deux 5x2, which maps a courtship, marriage and divorce chronologically backwards through five choice glimpses into a couple's life together. Each of the moments shows how sex can be used — physically or verbally — like a poison, and the sophisticated narrative shows the little ways in which that infection spreads. Another French import with sex at its core was La Femme de Gilles, starring Emmanuelle Devos as a 1930s rural housewife with twin girls and a philandering miner husband with a taste for his sister-in-law. Director Frédéric Fonteyne relates the obsession over the course of a year with a keen cinematic eye for visual storytelling. Susan Kaplan's documentary Three of Hearts further examines the traditional role of matrimony with a look at a Manhattan threesome who consider themselves "trinogomous": two bisexual men and a straight woman, all sexually and romantically attracted enough to want to raise a family in the process. The tone is almost too shiny-perfect, until a twist leads to a total upheaval that absorbingly rends the film's thesis.
In a year when biography seemed to monopolize fiction and nonfiction alike, sex was also the key aspect of the festival's best biopic. Bill Condon's Kinsey relays the history and psychology behind Alfred Kinsey, the college professor who upended midcentury American culture. [Kinsey is also featured in this issue of Filmmaker.] Also strong was Alejandro Amenábar's The Sea Inside, starring Javier Bardem as real-life quadriplegic Ramón Sampedro and his fight for legal euthanasia. Fresh from winning the second-prize Silver Lion award and Best Actor award at the Venice Film Festival, this humanist melodrama is Amenábar's most surprisingly straightforward accomplishment, and a tour de force showcase for Bardem.
Less successful was Kevin Spacey's second time behind the camera, Beyond the Sea, directing himself as Bobby Darin with the same sort of hokey sentiment and false emotional honesty upon which the actor has built his Hollywood career. Its musical counterpart, Ray, Taylor Hackford's dramatization of Ray Charles's life, was a much more polished though similarly artificial and unimaginative affair, with the exception of Jamie Foxx's performance as the blind genius of soul. Another near-perfect imitation was Bruno Ganz's surprisingly restrained Downfall, a big-budgeted epic look at the last days of the Third Reich. With a conventional approach and opting for reportage over moral condemnation, director Oliver Hirschbiegel (best known in the U.S. for Das Experiment) delivers a potent addition to the ongoing repository of Nazi-themed cinema.
At turns frustratingly solipsistic and surprisingly humane among the documentary biopics, Mark Wexler's Tell Them Who You Are — ostensibly about his renowned cinematographer dad Haskell Wexler — transcends the traditional trappings of the form to become a wildly raw look at a loving but corrosive father-son relationship. At least the elder Wexler is functional. The late Townes Van Zandt, according to Margaret Brown's Be Here to Love Me, was just tragically self-destructive. A wealth of archival clips and interviews accompanied by his sad songs of hard-knock life chronicle this songwriter's songwriter who wallowed in obscurity, hard living, multiple marriages and poor health before dying of heart failure on New Year's Day, 1997.
Politics complicated and colored the reception of one of the festival's more anticipated biopics. George Butler's Going Upriver, his analysis of Senator John Kerry's years in and after Vietnam, is a clear-eyed though unrepentantly heroic profile of the presidential candidate's formative war years. Though the research and interviews seem thorough, the fact that the director and his subject have been friends for four decades — and that the film is timed to the presidential elections — casts an unfortunate amount of doubt on the filmmaker's impartiality and personal agenda. Still, when compared with Butler's masterful Endurance, this new work is a handsome addition to the director's ongoing examination of how leadership emerges in a time of critical failure.
The lessons of Going Upriver weren't lost on Michael Tucker and Petra Epperlein, whose Gunner Palace is a sobering direct-cinema look at American soldiers' day-to-day life in postwar Iraq. Restless teenage hormones drive the rap-crazy, gutter-humor impulses of these decent, brave men doing their best in the face of a populace that's at best nervously supportive and at worst actively hostile towards the U.S. presence in their country. The filmmakers capture a tactile sense of their warped reality with a verve and authenticity that's completely lacking from another post-9/11 picture, Wim Wenders's grindingly false backfire Land of Plenty. The German director, who's so often proven himself a masterful communicator of inner lives, here instead creates a painfully didactic world focused on a paranoid Vietnam vet who obsessively patrols Los Angeles in search of Qaeda sleeper cells and his peacenik niece just back from years spent living through terrorism in Israel. The plot turns on a mysterious drive-by shooting of a Muslim, but grinds through the worst sort of polarized characterizations, so that the result comes off as simply amateurist.
Other auteurs fared much better, including a trio whose latest movies have explored how lives can be haunted by the past. David Gordon Green returns to the mythic South in Undertow and Dylan Kidd mixes up psychology and the paranormal in P.S. [Both are covered elsewhere in this issue of Filmmaker.]
But most disturbing of all was Gregg Araki's Mysterious Skin, a drama about the stunted emotions of two young men forever scarred by an adolescent pedophilic encounter. Cinematographically flat and marred by wooden performances (as with all of Araki's work), the film nonetheless has a mounting tension, sadness and maturity that marks a true breakthrough in the director's career.
— Stephen Garrett
TELLURIDE
When the conditions are favorable, I go to Telluride. First, unlike the gargantuan Toronto or Cannes, it's manageable — Thursday through Monday, Labor Day Weekend. At LAX, I hook up with my old buddy Meredith Brody, a cinephile and food critic who recently moved to San Francisco, where's she's been hanging with Telluride founder and co-director Tom Luddy. He persuaded her to make her first trek to Telluride, a tiny ski resort at the top of the Colorado Rockies. Little did any of us Californians know that over the weekend we would endure drenching rain, sleet, hail and finally, snow. According to Luddy, "It's never snowed during the day before in the history of the Festival."
Over two decades of international festival going, I've been only an intermittent Telluride attendee. Yet no other festival boasts such consistently high-quality, challenging, uncompromised programming. "We give a party for 3,000 people and hope they all have a good time," explains Luddy, who is a more sociable host than his reserved co-director, Bill Pence.
There's a distinct advantage to staying small. Gael Garcia Bernal was thrilled that all he had to do was see movies and do a few Q&As. No interviews were required. A small cadre of distributors like Sony Pictures Classics' Michael Barker and Newmarket Films' Bob Berney always stop in Telluride before moving on to Toronto. Many of the deals that are consummated at Toronto are instigated in Telluride, like this year's sale of the Iraq documentary Gunner Palace to Palm Pictures.
While critics Todd McCarthy, Joe Morgenstern, Elvis Mitchell, Leonard Maltin, Annette Insdorf and Roger Ebert share favored status, the festival doesn't give free passes to the media; everyone has to cough up, whether it's for a $3500 silver patron pass or the $650 model, which allows you to stand in line with film fans from all over the country. ("What did you like?") Among the folks I got to know were a Chicago psychiatrist, an art-film programmer from Kansas, a Texas science professor and producers Fisher Stevens (Yes) and Richard Gladstein (Finding Neverland).
The program is never announced in advance. Over the years, Luddy and Pence have developed a global community of cinephiles who check in with their ideas. The program is always an eclectic mix of old and new cinema from all over the world: unearthed rare gems from the past, revivals of old favorites, a smattering of high-brow fall product and a few brand-new pictures that even the distributors have yet to see.
Resident curator and San Francisco exhibitor Gary Meyer suggested building other Somerset Maugham films, like Hitchcock's Blackmail, around Istvan Szabo's Being Julia (which is based on Maugham's novel Theatre); Brody gave Luddy a DVD of Michel Gondry's music videos, inspiring him to do a tribute; indie icon Bingham Ray called in the slapstick black comedy Adam and Paul from Edinburgh; and screenwriter-novelist Bruce Wagner tipped off Luddy to check out Todd Solondz's latest, Palindromes. Every year, Luddy and Pence import a guest director like Peter Sellars, Salmon Rushdie, Stephen Sondheim and this year's Buck Henry to shake things up.
I am tickled by Henry's program of five films, including Henning Carlsen's 1966 Hunger, Rip Torn's 1973 Payday and my childhood fave, the 1932 slapstick comedy Million Dollar Legs. Over the years, the festival has shown Charlie Chaplin, Buster Keaton and Harold Lloyd, but never W. C. Fields, Meyer says. Pence persuaded Universal Pictures to strike a fresh print for the first time in 50 years. He also unearthed from the Library of Congress a Mack Sennett two-reeler, also directed by Edward Cline, A Blonde's Revenge, starring Henry's mother, silent screen star Ruth Taylor, who after 12 years gave up her acting career in 1930 when her son was born. Henry had never seen it before.
Opening night at the Sheridan Opera House, Henry gets a kick out of presenting the Telluride Silver Medallion to Laura Linney, a long-term crush of his from Broadway. Pence's well-edited clip reel reveals how Linney made her mark in a remarkably short time, from the 1993 mini-series Tales of the City through The Truman Show, her Oscar-nominated role in You Can Count on Me, and her Shakespearean scene with Sean Penn at the end of Mystic River. The audience reaction to the screening of Dylan Kidd's dark romantic comedy P.S., however, is mixed. Linney's lonely Columbia University admissions officer, divorced from the philandering Gabriel Byrne, falls hard for young artist Topher Grace, who seems to be the reincarnation of her late high-school boyfriend. I agree with HBO casting director Carrie Frasier that this funny, sexy role could break out Grace as a leading man.
Not delivering in the leading man department is broken-nosed character actor Daniel Craig (Road to Perdition, The Mother), who is off-putting in the handsome London mood piece Enduring Love. My sympathies were strictly with his beleaguered girlfriend, Samantha Morton. Well-directed by Roger Michell, the film starts off with a powerful opening set-up but fades into genre formula. Another disappointment is writer-director Todd Solondz's Palindromes, which relies on a strangely compelling but noble failure of a concept: seven very different actresses and one actor play the same poor schlub of a girl who runs away after she gets pregnant and is forced by her mother, performed with horrifying precision by Ellen Barkin, to get an abortion. Solondz, sporting oversize green glasses, seersucker jacket over red sweater, and yellow Converse sneakers, admits that he wasn't sure that this was such a good idea. "It was one character, one consciousness," he says. "I knew I could do it with one girl, but that didn't excite me or seem different enough; all these different people have a cumulative effect." All weekend, various distributors assure me that even if they aren't interested in picking up the film, someone else will.
When writer-director Bill Condon (Gods and Monsters) praises Palindromes before his screening of Kinsey, the audience hisses. They like Kinsey, though. Condon (who was Oscar-nominated for writing Chicago) deftly handles the complex narrative tightrope of this biopic, starring Liam Neesen as the history-making Kinsey Report scientist who sets out to measure and record the sexual practices of Americans. Amazingly, Condon reports, he scored an R rating without making any cuts. Audiences will get their eyeful of Peter Sarsgaard.
The hit of the festival is Marc Forster's magical tearjerker Finding Neverland, starring a restrained Johnny Depp as Peter Pan author J.M. Barry. Many parents brought their kids: it could be a breakout hit and Oscar contender. Festgoers of all ages also enjoyed Zhang Yimou's gorgeously violent House of Flying Daggers. In the course of the film, the buff and beautiful Zhang Ziyi and Takeshi Kenshiro run through the same extremes of weather as Telluride's weekend festgoers, even snow. Yiyi practices her faltering English on us before the screening — China's rising star next takes on her first Hollywood role, the Japanese heroine of Memoirs of a Geisha, for Chicago director Rob Marshall.
Teeny tiny Mexican heartthrob Gael Garcia Bernal shows off his impeccable English and thespian training after the screening of Pedro Almodovar's intricately twisted Bad Education, in which he plays five characters, including a ravishing transvestite. "Pedro is a really specific encyclopedia of what he wants to tell," says Bernal, who went through four months of rehearsals and serious slimming before he played the woman. "This character is an object of desire. She's a film noir femme fatale."
Brody and I are both knocked out by Stuart Cooper's lost 1975 film Overlord, which Meyer learned about in Cannes from the Z Channel documentary. Shot in crisp black and white by Kubrick cinematographer John Alcott, Overlord intercuts archival Word War II and fiction footage in a novel manner that was way ahead of its time; the movie was dumped on release. TV journeyman Cooper was clearly moved by his positive Festival experience.
The Student Prints program, underwritten by Tom Cruise, boasts several short films by young directors who might turn out the next Joshua Marston (the director of Maria Full of Grace, who had two student films shown at previous Telluride festivals). Brody's favorite shorts are Amal, made in India by a young Canadian of Indian descent, and C Block Story, from Romania.
Another young director who made an impression here is Nimrod Antal, a Hungarian who has lived in the U.S., whose stylish Cannes hit Kontroll is shot entirely underground in the Budapest subway system. Nimrod was impressed by the student program run by Colorado critic Howie Moshkovitz and Berkeley's Linda Williams, which brings 15 high school and 15 college students who have won an essay contest into Telluride to see movies and sit down with filmmakers.
Sally Potter's arty, intimate and politically charged Yes was a fest favorite. Joan Allen effortlessly spouts rhyming couplets as an unhappily married scientist who embarks on a sexually fulfilling affair with a Lebanese chef (Simon Abkarian). No writer-director working today cuts as close to the essence of the experience of contemporary women as Potter (Orlando, The Tango Lesson). Several distributors are chasing Yes, according to Greenstreet's Fisher Stevens, who backed the movie, along with the U.K. Film Council.
At the closing night party, Potter admits that rhyming iambic pentameter helps her to find the essence of a scene. She has written parts of her scripts in rhyme, then translated them back before. This time she wrote the whole thing that way. "I find it intensely pleasurable," she says. Word spreads through the party that Variety critic Scott Foundas is going to kill the movie. Potter is crushed. One distributor is gleeful: "It will lower the price," he says. Sure enough, when the review runs, the distributors back off until they see how the film plays in Toronto. Bingham Ray, for one, would have bought Yes. "It fits into my category of being truly individual, of and by itself," he says. "So does Lodge Kerrigan's Keane. If that film doesn't break Damian Lewis out in terms of critics' notice, there's something desperately wrong with this system."
I join a conversation about digital satellite delivery to theaters with Maltin, Ken Burns, who debuted his documentary about heavyweight Jack Johnson, Unforgiveable Blackness, and George Lucas, who has just finished shooting Star Wars: Episode 3 — Revenge of the Sith, and unveiled a digitally remastered new cut of THX 1138 here. Lucas is still preaching digital exhibition, utterly frustrated by the studios' continued heel-dragging. "There will never be digital projection better than 4K," he says. "They're afraid of change."
"They're afraid of piracy," I say.
There isn't a dry eye in the house at Luddy's heartfelt tribute to renowned casting director and producer Fred Roos. We see a 20-minute once-in-a-lifetime short comprised of screen tests and amazing footage of casting sessions for The Outsiders and American Graffiti, featuring young actors Tom Cruise, Matt Dillon, Ralph Macchio, Nic Cage (when he was still a Coppola), Helen Hunt and Val Kilmer, plus The Godfather's Robert De Niro, Al Pacino, and Diane Keaton. The panel includes Lucas and Roos discoveries Joan Allen and Harrison Ford. As Roos talked about his love and concern for actors, Ford was visibly moved. "I had a very tough time at the beginning," he said. "The only reason I'm here is because of Fred's insistence that I could do the job. He is totally responsible for my career." You don't hear a testimonial like that every day.
— Anne Thompson, with additional reporting by Meredith Brody.
KARLOVY VARY
One of the 235 films screened at the 39th Karlovy Vary International Film Festival, July 2-10, was Valeri Todorovsky's My Stepbrother Frankenstein, a cinematic warning of impending fascism and inherent racism in Russia. The film, whose story about an ultranationalist returning home won the International Critics Prize, is indicative of the festival's focus. The festival is housed in the old-world spa town of Carlsbad, only an hour's drive from Marienbad, the spa made famous by Alain Resnais's 1961 arthouse favorite. The festival's focus on Russia, the Balkans, the former Soviet satellite republics, and the Baltic states, however, seems worlds away from European art film.
The festival does not want to be perceived as solely about the East. Among the sidebars are a Forum of Independents (Mark Milgard's Dandelion won the top prize and earned the director a digital camcorder); tributes to Albert Maysles, John Cassevetes, and Sergio Leone, as well as Russian Sergei Paradjanov and Czech Miroslav Ondrícek; films about music; films about dance; sections on Turkish and Catalan movies; and an annual presentation of Variety Critics Choices. Ondrícek, Harvey Keitel, and Roman Polanski were honored for "outstanding contribution to world cinema." And, of course, there were Western film stars in attendance, such as Elijah Wood, Jacqueline Bisset, Liev Schreiber, Seymour Cassel and Colm Meaney. From the East, former Czech president Václav Havel led the pack.
But joyless Eastern Europe films (like the prize-winning My Stepbrother Frankenstein) about war or its aftermath were rampant. Another Russian film, Alexsei German's B&W The Last Train, was set in 1944 as the Germans retreat and partisans search for them in the countryside. The film, which takes a German perspective, follows a fat surgeon as he roams the countryside with other survivors only to find atrocities committed by both sides. These Russian films were popular with cinephiles and locals alike. After all, newly rich Russians have moved to, and invested in, Karlovy Vary en masse. Some call it "Little Russia."
Other war-related movies are from the Balkans, set either during the wars of the '90s or in the postwar period. The best of all, and the winner of the Special Jury Prize in the international competition, is Here, by Croatian director Zrinko Ogresta. Beautifully executed, the film unfurls several mini-dramas about the effect the war has on different Croatians, even those who stayed at home. Starting with a man deranged from the bombings who tries to save a wounded bird, the film follows with a former commander tormented by memories of horror; a female junkie using everyone to get a fix, a father with the shakes, and an actor who drinks excessively. These people's lives have been ripped apart by the conflict. Indeed, the entire social order has convulsed.
Also from Croatia is Witnesses, by Vinko Bresan. Not as deftly made as Here, it is nonetheless haunting. In 1992, a Croatian woman whose husband has just been killed by Serbs at the front pushes one of her sons to murder a Serbian neighbor in revenge. He also plans to kill the man's young daughter who has witnessed the murder, until another of the mother's sons, who has just lost a leg in battle, tries to right a wrong by driving the little girl to the Serbian border. Teona Strugar Mitevska's How I Killed a Saint, from Macedonia, is set in 2001, when U.N. peacekeepers are in Macedonia because Albanian separatists are fighting that country's army. Replete with war profiteers, the film focuses on a pathologically nationalistic young man. He hates Albanians, has killed a NATO soldier, and intends to murder a NATO military attaché.
Not everything in Karlovy Vary is so heavy. The Czechs have a long tradition of finely honed humor, as the old Czech films of Milos Forman and Ivan Passer attest. Some of the selections, especially the docs, reflect this predilection. Czech Dream, by Vít Klusák and Filip Remunda, is one big practical joke in which two film students create a major ad campaign for a new hypermarket, something akin to a Wal-Mart, that is all the rage in these post–Eastern Bloc times. The film's cruel punch line occurs when hordes of shoppers arrive to an empty window. Czech filmmaker Jan Sverák, who made Kolya, and Martin Dostal made a funny, poignant documentary, Tatinek (Papa Dear), about Sverák's father, Zdenek, who played the old man in Kolya. Sverak père is a noted comic, actor, playwright, and screenwriter.
An unworkable dynamic exists between two zealous evangelicals in Juris Posku's funny Latvian documentary, But the Hour Is Near. The title refers to a silly rap song they sing in an attempt to find converts on the cobblestone streets of Riga. Erik is overcommitted and judgmental. To Erik's dismay, Daniel is a materialist. He thinks they should be wearing Pierre Cardin suits "because God wants us to be well-dressed when we go out among people." While playing the slots, he looks up and says, "Help me, God." The funniest scene is their performing "But the Hour Is Near" in a provincial competition. That alone would make the long trip to the Czech Republic worthwhile.
— Howard Feinstein
CINEVEGAS
The last thing most people want to do in Vegas is go to the movies. If you want a cinematic experience, simply take a walk down the Strip or feast your eyes on the vast suburban sprawl that has transformed this desert outpost into one of America's fastest growing urban centers. Yet for 10 days in June, inside the Palms Casino Resort, movies ruled at CineVegas 2004, a film festival now in its sixth year.
Like Las Vegas itself, CineVegas is an unwieldy yet rewarding contraption that functions smoothly despite itself. The festival's focus seems to be trifurcated to reflect its multiple agendas. It is one part salon des réfusés, showcasing indie material not quite strong enough for Sundance, but nevertheless worth a look (Sundance programmer Trevor Groth shaped the selection). Another part is a celebrity self-congratulatory spree, with a series of lifetime-achievement events that remained in festival co-chair Dennis Hopper's immediate orbit. And last but not least, CineVegas is an exercise in nocturnal Vegas decadence, with evening soirees refreshingly free of Vegas glitz, hosted by the festival's numerous sponsors at local hot spots.
You had to keep reminding yourself it was about the movies. There were noteworthy gems to be found on the margins of the festival, where the Jackpot Premieres and Area 52 sidebars — devoted to indie premieres and experimental and underground works, respectively — unearthed several treasures. Andrew Wagner's jury prize-winning The Talent Given Us is a delightfully cluttered, loosely autobiographical road movie shot on digital video and starring the filmmaker's colorful immediate family. Mitchellville, John Harkrider's gorgeously lensed Kubrickian corporate mind-fuck won the jury's directing prize. And James Fotopoulos's eerie, unsettling suburban horror film The Nest served as an astute bit of counterprogramming to the studio offerings.
Many of this year's Sundance favorites rescreened here, often stealing the limelight from smaller, less conventional discoveries like James Bolton's homoerotically charged The Graffiti Artist. The film, about a Portland youth who falls for a rival tagger with heartbreaking results, featured a hypnotic score by Kid Loco and a pair of unsentimental performances by newcomers Ruben Bansie-Snellman and Pepper Fajans. — Andy Bailey