IN FOCUS: SITE SPECIFIC
Mary Glucksman profiles six new films shot throughout America.
ROOM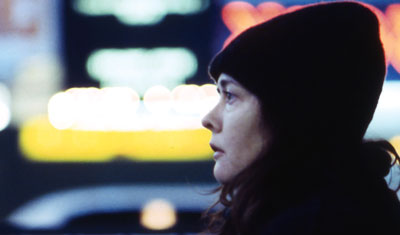 Cyndi Williams in Room.
"I'm interested in subverting the fears tapped into by the thriller while hewing close enough to the genre's conventions to pull people along," says Kyle Henry about his first feature, Room. The film follows a struggling South Houston mom who abandons her family to follow migraine-induced visions of a chapel-like room to New York City and alternating intimations of destruction and salvation. "She's yanked out of a domestic melodrama and plunged into a revisionist psychic thriller," says Henry. "We're trying something new — exploring personality and character through a giant split in narrative itself. The second half is like Alice in Wonderland slipping down the rabbit hole. There's a stylistic shift that occurs that resembles a psychological split in most people between who they are during the day and at night, though parts of both worlds are embedded in both halves."
A Houston native, Henry got an MFA from UT Austin's film program in 1999 with a doc thesis film, University Inc., that drew comparisons to Michael Moore in Henry's futile efforts to interview university administrators. Henry was the editor on Manito and a trio of upcoming docs and is making Room with Manito producers Jesse Scolaro and Allen Bain, with Jim McKay's C-Hundred (Spring Forward) co-producing. "Jim sat on a panel that gave me a grant in '97, and we stayed in touch," says Henry.
Room split its 24p Mini DV shoot between Houston and New York over 28 days late last year. Recent UT Austin star cinematographer P.J. Raval was the d.p. The hypnotic room of the title was shot in a cavernous former air-conditioning plant this summer. "Using lighting and converging lines of perspective like classical Renaissance painting, it should have a feel of religious iconography without people being able to put their finger on it," says Henry. He's planning a dreamlike score influenced by Steve Reich and Terry Reilly. "Hopefully we can lull an audience into a state of waking sleep," he says. Pete Beaudreau (American Astronaut) is editing the film; Austin playwright and longtime d.j. Cyndi Williams stars.<
Contact: Jesse Scolaro, jesse@the7thfloor.com
LITTLE FUGITIVE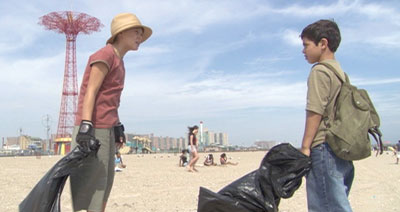 Austin Carpenter and David Castro in Little Fugitive.
Fifties classic Little Fugitive — the Coney Island fantasia about a little boy tricked into thinking he killed his brother, which Truffaut credited with launching the French new wave — got a contemporized remake this summer from doc director Joanna Lipper (Growing Up Fast). "The original was a gem, so the challenge was to reinvent it," she says. "It takes the core rather than a frame-by-frame approach, so you see the social context — a world where kids are raising each other and are forced into parental roles before their time. Those are issues I covered in my documentaries that had a huge influence in examining the children's emotions and imaginations. The original was an amazing portrait of two kids, but you rarely see a focus on children so young — movies like Ponette and To Kill a Mockingbird are examples, but it's rare."
Lipper, 31, has a Harvard B.A. and a graduate degree in developmental psychology from University College London. Fast was her second doc short after Inside Out: Portraits of Children and Fugitive emerged from a chance encounter after a screening. "The remake rights had just reverted [to the co-directors], and I was urged to look into it," she says. Morris Engel, who made the 1953 film with Ruth Orkin and Ray Ashley, ended up consulting on the '04 version. Lipper had met producer Frederick Zollo (Mississippi Burning) when he taught at Harvard and enlisted him, partner Nicholas Paleologos, and producer Vince Maggio to put the new Fugitive together.
Made for less than $1 million, Fugitive shot four weeks in July and August at Coney Island locations including the famous Cyclone, a key element of both films. "We're shooting HD, and that's an asset when you're working with young kids and want to focus on performances with the most flexibility and fewest interruptions," says Lipper. She tapped Rick Sands, photographer Gregory Crewdson's chief lighting technician, as cinematographer. "I admire Greg's work and Rick's eye was a huge plus," she says. Newcomers play the kids, and Peter Dinklage (The Station Agent) and Justina Machado (Six Feet Under) are their parents; the cast also includes Brendan Sexton III (Boys Don't Cry) and model Sophie Dahl.
Contact: info@littlefugitive.com
TRANSAMERICA
Felicity Huffman and Kevin Zegers in Transamerica.
"It's a wolf in sheep's clothing — a Republican family-values movie except the family we're getting to know are people they would call freaks and outsiders," says Duncan Tucker about his first feature, Transamerica. After calling the father he's never met to bail him out of jail, a teen hustler subsequently gets picked up and taken on a road trip from New York to Los Angeles by a woman claiming to be a close family friend. The son has no clue it's actually his pre-op transsexual dad. "She had no idea she fathered a child in college and she's just a few weeks away from her final surgery when she gets the call," says Tucker. "Most of the movie is her trying to get rid of him as she maintains the ruse [that they're not related]. They drive each other crazy but they don't have anybody else — the boy's mother has died — and the film takes turns you don't really expect. It's not campy, although there's a lot of humor in it."
Tucker was originally a writer and had early stories published before turning to visual arts in the '80s East Village scene. "I was a generalist, and that's what a storyteller has to be — you can always learn craft," he says. Transamerica was inspired by a woman friend's revelation of her original sex. "To be born feeling wrong about your gender is such a difficult journey, and to be told your identity is wrong as a child is heinous," he says. Tucker's first short, 2001's drama The Mountain King, went to 30 fests and got a theatrical release in the compilation Boys to Men. Belladonna Productions partners Rene Bastian and Linda Moran (L.I.E.) came on board to produce Transamerica after hearing the screenplay read in 2002.
The Super 16mm Transamerica shot six weeks this past May and June in New York and Arizona, where Tucker grew up, with Stephen Kazmierski (You Can Count on Me) as d.p. Felicity Huffman (Magnolia) and Kevin Zegers (Dawn of the Dead) play father and son; also in the film are Elizabeth Peña (Lone Star), Graham Greene (Skins) and Fionnula Flanagan (The Others).
Contact: Rene Bastian rene@belladonna.bz
BITTERSWEET PLACE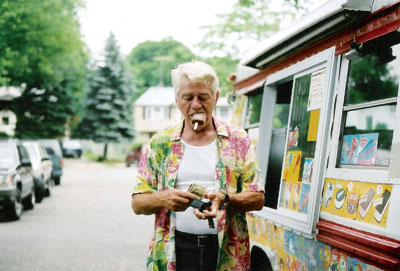 Seymour Cassel in Bittersweet Place. PHOTO: ALEXANDRA BROSDSKY.
"It's about a family fighting change from within as well as without and their inability 10 years after the mother's death to let go and move on," says shorts director Alexandra Brodsky (Didactic Encounter) about her first feature, Bittersweet Place. The film looks at two sisters in their 20s returning home to their diamond-in-the-rough dad (Seymour Cassel) on Long Island and coping with a changed neighborhood and the younger's reluctance to take her lithium. "I wanted to do something in the tone of Mike Leigh's films, where complicated, quirky characters emerge as dynamics are explored and comic elements coexist with tragedy," says Brodsky. "The presence of the mother is strong. Their lives stopped ten years ago when they lost her and they believe the only way they're going to survive is locked together in a particular kind of dance."
Now 34, Brodsky has a photography MFA from Yale and discovered film as a Fulbright scholar spending afternoons at a Belgian cinémathéque. Didactic Encounter premiered at New Directors in '97 and second short Rabbi Rick and the Hamburger Choo-Choo, a study for Bittersweet's older daughter at 13, played festivals in 2000. Meanwhile Brodsky's screenplay about four girls growing up in the '80s, The All Girl Disco Revival Group, got attention and a spot at San Francisco's now-defunct International Film Financing Conference. "There were a lot of bites but nothing panned out," she says. The grittier Bittersweet was made on a six-figure "friends and family" budget by producers Susan Leber (Down to the Bone), Evan Cohen (Series 7) and Eric Bender.
The high-def Bittersweet shot three weeks in June in Huntington, Long Island, with Dave Tumblety (Last Ball) as d.p. "The colors are rich and vibrant, and with high-def we were able to shoot in low-light situations and hold on to the blacks well," says Brodsky. Editor Steven Gonzales (George Washington) is cutting the film. "George Washington is incredibly graceful and elegant, and I think that comes from its unique rhythm," says Brodsky. "I wanted that quality so I tracked him down." Jen Albano (Didactic Encounter) and Elizabeth Moss (The West Wing) play the sisters.
Contact: BittersweetPlace@hotmail.com
SUSAN HERO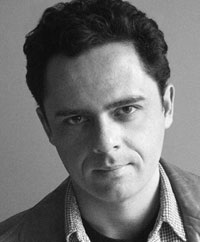 Jason Rosette.
"I had to resign from SAG in order to be in my own movie — I could not afford the workman's comp and the $1,000 deposit," says Jason Rosette (
BookWars
) about indie cloning thriller
Susan Hero
. The film tracks a New Mexico single-mother who, devastated by her six-year-old's death, robs the movie theater she works at to finance a consultation with a geneticist and animal-cloning expert she hopes can reproduce her child. "The technology exists," says Rosette. "The doctor in the movie is cloning livestock for ranchers and has branched off into pets, and she sees his ad in the livestock trades. He's been exiled from academia for his ambitions, and she's determined to bring her daughter back from the dead and convinces him to give it a shot. This was completely out-of-pocket, so a lot is left to the imagination." Rosette plays a green FDA agent investigating the doctor.
Rosette got an undergrad degree from NYU's film program in 1991 after spending his adolescence making neighborhood flicks and later selling books while completing early shorts. BookWars won the New York Underground Festival in 2000 and led to a gig teaching digital-video production at New York's Parsons School of Design. Meanwhile, Rosette joined New York's 13th Street Repertory Company and did bit parts in films while handling BookWars' TV rights and developing Susan. When neither significant financing nor name attachments gelled, he tweaked the script to accommodate a guerrilla digital production and relocated to New Mexico. "It was brutal to do another movie building the infrastructure single-handedly," he says, "but it had to be done."
Susan shot around Albuquerque beginning April 15 with Rosette as d.p. "A lot of it takes place on the road, so we were able to exploit the landscape for visual impact," he says. "I wanted to establish [the doctor] as an ambiguous character — you don't know if he's pursuing a rigorous technique or is just a con man — so we used a strip mall for his office." A noted Santa Fe physicist who's dabbled in acting since graduating from Hollywood High plays the doctor, and classical singer Drea Pressley plays Susan.
Contact: Jason Rosette, camerado@camerado.com
LITTLE ATHENS
"It's an anti-coming-of-age comedy that follows four Gen Y storylines in a dead-end small town over a single day until they intersect at a keg party," says Tom Zuber (Lansdown) about second feature Little Athens, an ensemble piece designed to play like a cross between Go and Short Cuts. "It's a very different film than others out there about this age category and that's as true about the visuals as about the story," he says. "When you're doing a story about everyday people in everyday circumstances, you have to find out what's extraordinary about ordinary situations. We used 35mm anamorphic, so we had a vast horizontal frame to work with and more options in terms of composition. When the storylines begin to merge, we switch to handheld Super 16mm with colder light and a more frenetic pace to mimic the arc of the story and characters."
Now 32, Zuber grew up in central New Jersey and got a combined graduate degree in government and law from Harvard and Columbia before making the no-budget noir Lansdown, a 2001 Cinequest winner that got him Variety props as a "talent to watch." "I was always interested in making films, but I wanted financial stability first," he says. Zuber and his Legaci Pictures producing partners financed Athens with private equity.
Athens shot in and around L.A. for five weeks beginning mid-May with d.p. Lisa Wiegand. "Remarkably, if you move just a little bit outside L.A. the landscape becomes very rural," says Zuber, "and we were able to find the small-town-America feeling we were looking for."
Athens' soundtrack will feature 20 to 30 contemporary tunes, and key cast includes John Patrick Amedori (The Butterfly Effect), Shawn Hatosy (The Cooler), Erica Leerhsen (The Texas Chainsaw Massacre), Rachel Miner (Bully), DJ Qualls (Road Trip), Jill Ritchie (D.E.B.S.) and Jorge Garcia (Lost).
Contact: Josh Lawler (producer), jlawler@legaci.comt