GOING GLOBAL
Reports from The Toronto International Film Festival. [Venice, Edinburgh, Karlovy Vary and Sarajevo available in the print magazine].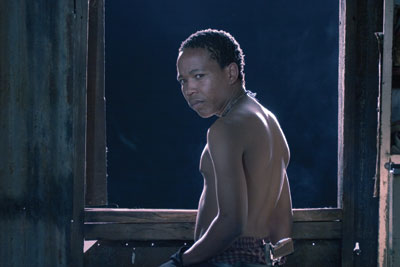 Presley Chweneyagae in Gavin Hood's Tsotsi, a prize winner at both Toronto and Edinburgh.
The emphasis in "Toronto International Film Festival" should be placed on the word "international." Sure, Toronto is a nice town, to use the Canadian vernacular, but the city is a passing thought to most festivalgoers. Even the fest's national cinema program, "Canada First," always seems to have a parenthetical "eh, please" at the end. This year the festival hosted 256 features from over 60 countries. Unfortunately, since the festival now shares its anniversary with Sept. 11, that global reach includes a tragic undertone, something rarely lost on those 2001 attendees who watched that ghastly spectacle from television sets placed inside festival theaters.
So what image was refracted through the lens of world cinema this year? For years, journalists and cinephiles could discern from the Toronto lineup the rise (and fall) of national cinemas, whether they be the Iranian revolution, the new Hong Kong cinema or the reemergence of Latin American film. This year was haunted by the specter of globalization. Of course, the economic aspect of globalization has long been a fixture in the film world through the mechanism of international co-productions, especially those that join First and Third World economies, as in the Iranian-French Café Transit or the Sudanese-British All About Darfur. But more and more, the films' stories and their characters find themselves living uneasily in this new world order. Ashim Ahluwalia's doc John & Jane, about Indians posing as Americans for international call centers, chronicles the utter displacement of cultural identity that comes with this new technological industry. Hany Abu-Assad's Paradise Now dramatizes the psychology of two Palestinian suicide bombers, and Polish directors Mariusz Pilis and Marcin Mamon in their eye-opening documentary The Smell of Paradise give voice to the many believers in violent jihad. Gavin Hood's mesmerizing tour de force and audience-award-winning Tsotsi, dramatized and updated Athol Fugard's 1960s-set novel about the leader of a South African gang.
Ironically the one national cinema with the least interest in exploring the state of the world is America. With a few exceptions, like Eugene Jarecki's Why We Fight and Joseph Castelo's The War Within, a low-budget psychologically rich portrait of a would-be Pakistani terrorist in New York, most American fare either stayed in (or perverted) American traditions. The western, for example, got reworked in Tommy Lee Jones's directorial debut The Three Burials of Melquiades Estrada and more provocatively in Ang Lee's gay cowboy melodrama Brokeback Mountain, whose historical reach, heart-breaking romance and sweeping landscapes inspired more than one gay viewer to proudly claim it as "our Gone With the Wind."
Many other small films returned to the tried-and-true subject of American independent film — the morally bankrupt, possible violent nature of small-town America. Steven Soderbergh, for example, traded his recent star-studded Euro-glam locations for a factory town with non-professional actors in Bubble. Likewise Tim McCann's Runaway and Tom Zuber's Little Athens found their inspiration and anger in the cul-de-sac culture of anonymous America, a place that unfortunately neither film tells us more about than we might already know.
Other American selections included Abel Ferrara's Mary, which picked up a prize at Venice while in Toronto and marked a return to form for the maverick director. The film tells the story of a Charlie Rose-esque talk show host (Forest Whitaker) working on a series about Jesus Christ who develops a relationship with an actress (Juliette Binoche) who has undergone a spiritual crisis after portraying Mary in a film by a volatile director (Matthew Modine). With Jason Reitman's adaptation of Christopher Buckley's comic novel Thank You for Smoking, it was hard to tell if the joke was happening in or out of the theater. On Sept. 10 Paramount Classics blithely let it be known that they had picked up this dark comedy about a tobacco industry apologist (Aaron Eckhart) for $6.5 million, only to learn the next morning that it had been smoked by Fox Searchlight, which had emerged from the bidding war with an actual contract. It turns out that even in the congenial Canadian business atmosphere a written contract beats a handshake, well, hands down. Other deals for American distributors that actually got signed, sealed and delivered include Fox Searchlight acquiring Bart Freundlich's Trust the Man, a marital comedy starring his own wife Julianne Moore and David Duchovny, and Strand Releasing picking up François Ozon's elegiac Time to Leave, a bittersweet portrait of a gay man learning how to die.
More American cinematic attention, however, was paid to the famous and infamous than to the unknown citizen. In addition to Bennett Miller's Capote and James Mangold's biopic of Johnny Cash Walk the Line, Killer Films arrived in Toronto with two HBO projects about two headline-grabbing historical figures. Phyllis Nagy's Mrs. Harris recounts the fragmented tragedy of Jean Harris (Annette Bening) and her lover and murder victim, the great Scarsdale diet guru Dr. Herman Tarnower (Ben Kingsley). Mary Harron's The Notorious Bettie Page casts Gretchen Mol as the original bondage model pinup queen. While both films are marvelous displays of period dress-up, their ripped-from-the-headlines characters don't seem to have gotten very far from their sensationalist roots.
Many American documentaries presented this year also focused on celebrities, especially musical ones. Martin Scorsese provided an utterly satisfying recount of Bob Dylan's early years in No Direction Home, Lian Lunson paid tribute to the songwriters' songwriter in Leonard Cohen: I'm Your Man, and Jeff Feuerzeig painted a portrait of a sad American original in The Devil and Daniel Johnston. One of the most interesting docs was Astra Taylor's profile of the Slovenian postmodern political philosopher Zizek.
While Americans for the most part stayed home, many foreign filmmakers went traveling abroad. The festival's opening-night film, Water, returned Canadian filmmaker Deepa Mehta to India for the last of her "Elements" trilogy (which also included Fire and Earth). Bosnian filmmaker Danis Tanovic moved to France to make L'Enfer, a tangled drama of human destinies that was originally written by Polish screenwriter Krzysztof Piesiewicz for Kieslowski. The great Russian filmmaker Alexander Sokurov cemented his greatness with The Sun, a cinematic interpretation of the last days of World War II from the narrow perspective of the Japanese emperor Hirohito. Two of the most controversial films, Danish Lars von Trier's Manderlay and Thomas Vinterberg's Dear Wendy (written by von Trier), travel to America, if only in their imagination, to stage Brechtian dramas about the nature of U.S. imperialism and violence. Roman Polanski returned to the literary adaptation with a straightforward take on Dickens's Oliver Twist.
A handful of other films played up national differences by dramatizing them in sexual terms. German filmmaker Hermine Huntgeburth's The White Masai relocates a German woman in the heart of the Kenyan outback when she falls for a Masai warrior. In Laurent Cantet's Heading South three older white women play out their erotic fantasies with younger Haitian men during the murderous reign of "Papa Doc" Duvalier. Of course, not all such cross-cultural crossings provided political commentary. Paul Mayeda Berges's Mistress of Spices (from a script by Gurinder Chadha), about an Indian woman who travels to Oakland with a secret knowledge of spices, was so unspicy and unoriginal as to feel like a straight-to-television Disney movie. Cannes favorite Carlos Reygadas follows up his astonishing debut Japón with the marvelous Battle in Heaven, a sexually explicit, intellectually rigorous meditation on crime, class and guilt in present-day Mexico City.
For sheer cinematic fun, this year's films went back to classics. The most sprightly was Michael Winterbottom's madcap, and entirely appropriate, adaptation of Laurence Sterne's proto-postmodernist novel — proto since it was written in the 18th century — Tristram Shandy: A Cock and Bull Story. Rather than getting the details right and the story wrong, like so many literary adaptations, Winterbottom stressed the digressive and transgressive nature of the book by making his film a movie-within-a-movie story, with Steve Coogan playing both Tristram and himself. Likewise, Joe Wright's Pride & Prejudice manages to capture the humor and wit of the original Austen novel without losing sight of the romance. But this adaptation thing might be going a bit far. Are we so bereft of new ideas that we must go back to Old English sagas, as Sturla Gunnarsson did with Beowulf & Grendel, for new material?
— Peter Bowen, with additional reporting by Matthew Ross