FESTIVAL ROUNDUP
---
Sundance Film Festival
The hills and mountains on the highway from Salt Lake City to Park City are studded with groves of new buildings, making it look more and more like the Hollywood Hills, with houses creeping slowly to a higher, and pricier, precipice. This is an Alpine-like heaven, only at Manhattan rush hour.
While that architectural paradox has in recent years set the tone for the Sundance Film Festival, this year its sway felt far less concrete. With no breathtaking breakthroughs, commercially or aesthetically, the festival seemed more diffuse. And the programming of in-demand pictures at the enormous Eccles Theater, along with improved shuttle logistics, made it easy enough to get around and avoid the crushing crowds — if not all the cell phone shouters.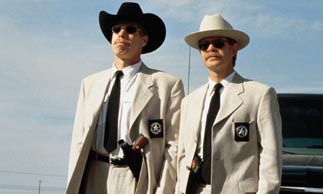 Mark Illsley's Happy, Texas went home from Sundance very happy.
Opening night in Salt Lake City brought the gentle Southern guff of Robert Altman's unexpectedly sweet Cookie's Fortune, tracking the machinations of idealized eccentrics in a Mississippi small town. In Park City, the two other opening night films were Nancy Savoca's career-and-baby melodrama The 24-Hour Woman, which found few supporters, and the vomitous travelogue of a young-ish filmmaker, James Merendino's SLC Punk!.
The Premieres offered a swell of English films demonstrating a diversity of directions and talents. At one end was Mike Figgis' lush, luscious, almost indescribably silly art-film fugue, The Loss of Sexual Innocence. Figgis wanted to make this film since 1985, and its obtuse, shimmering style shows as much. Much less personal but perhaps more entertaining, Guy Ritchie's cartoony Lock, Stock and Two Smoking Barrels romped through its first groundswell of journalistic adjectives on these shores. Gillies MacKinnon's delicious Hideous Kinky returns Kate Winslet to a more personal, less titantic role as a young mother with two daughters making her way in 1972 Marrakesh. Another fine actor, Tim Roth, directs his first film, The War Zone, an elegant, head-on story about familial abuse powerfully acted and directed with keen restraint. Errol Morris went one better than a premiere by screening his unfinished Dr. Death: The Rise and Fall of Fred A. Leuchter, Jr., which, although incomplete, felt stronger and more substantial than other finished entries. Returning for a third Sundance premiere was Gregg Araki with Splendor, a gentler kind of threesome comedy from the aging enfant terrible of the doom generation. Less admired American fare, however, showed up in the mostly dismissed Jawbreaker, a loud Heathers retread, the equally disregarded made-for-Showtime The Passion of Ayn Rand and the strong-yet-familiar urban thriller Thick as Thieves.
The Documentary Competition brought more excitement — or at least column inches — with journalists noting the presence of three entries with "American" in the title or a healthy smidgen of sex, notably in the not-so-hot hot-ticket, Sex: The Annabel Chong Story, a too-respectful portrait of a woman who tried to break the one-day shot-on-video gang-bang record and her reasons why that was empowering. American Pimp showed the Hughes Brothers in irreverent-to-society, too-reverent-to-pimps form. American Hollow presents a portrait of an extended Appalachian family. And Chris Smith's very funny American Movie makes us laugh at the notion of filmmakers' ambition at the expense of art, reason and common sense. The beautifully edited On the Ropes charts the lives of three young boxers at the neighborhood gym where Mike Tyson once trained. And Barbara Sonneborn's Regret to Inform takes a shattering look at the Vietnam War through the eyes of both American and Vietnamese widows.
The Dramatic Competition included Tony Bui's beautifully made Three Seasons, a visually poetic yet attenuated trio of anecdotes in contemporary Ho Chi Minh City. High-concept comedy Happy, Texas took the Miramax trophy with the showiest sale of the festival, variously reported as $10 million or as $2.5 million with a sizable first-dollar gross for the makers. Such deals maintain the public impression that Sundance is as much a market as a festival.
More striking was the piercing female perspective of Guinevere, Audrey Wells' neatly acted take on the way we look at the other person when we're in love, starring this year's "It" Girl, Canadian-born Sarah Polley. Best-known from The Sweet Hereafter, Polley is fresh and even divine in both the lead role of Guinevere and a small part in the bubble-gum-rush drug thriller Go. She's about this close to being daubed with the clichés for fresh-faced, gifted young actresses — "radiant" and "luminescent."
While true experimental filmmaking is prized on paper, many festival-goers are annoyed when it winds up as a feature, such as with Scott King's Treasure Island, a recreation of a Z-grade 1940s movie that allows the psychosexual obsessions of its characters to burst through. Less experimental but no less effective were many of this year's acting performances. Hampton Fancher's The Minus Man has the gift of Owen Wilson's gentle blank of a serial killer at the center of its purposely flat narrative, and Frank Whaley's Joe the King, a low-key reprise of The 400 Blows, has standout roles from Noah Fleiss as the 14-year-old protagonist, and Val Kilmer and Karen Young as his angry parents. The bubble-gum gay-romance Trick amused, and English actress Janet McTeer's performance as a working-class Southern woman who hits the road was the great virtue of Gavin O'Connor's Tumbleweeds.
American Spectrum presented Tony Gerber's Side Streets, a mosaic of multiethnic life in New York City, as well as the popular Genghis Blues, the story of blind bluesman Paul Pena's discovery of the ancient throat-singing technique of Tuva, a small region between Siberia and Mongolia.
With World Cinema offering some of the best films, I was disheartened to see such small audiences in the cavernous Eccles for films like Emir Kusturica's magical delirium of gypsy madness Black Cat, White Cat. or Tom Tykwer's witty, propulsive Run Lola Run, especially when movies that seemed to have little reason to be at Sundance, such as Fox's big-budget black-humored Ravenous drew packed houses. But then just as I often feel trapped in the future at Sundance – knowing that five years from now, unable to sleep, I will be clicking through the same unmemorable, no-budget pics on the Sundance Channel – Ifind something wonderful and unique. From abroad, there was Japanese director Kore-Eda Hirokazu's haunting and serene Afterlife, Gaspar Noe's corrosive French drama I Stand Alone and John Curran's engaging, if ultra-quirky, Australian romance Praise. Young American filmmakers also showed up with some idiosyncratic films. The Midnight selection held one of the other big sales, the clever, jagged horror film The Blair Witch Project. Known for its films rather than sales, the Frontier section presented a glimpse of visually strong American work. Julian Goldberger's distinctively crafted Trans provides an episodic portrait of the nocturnal wanderings of a young juvenile delinquent in Ft. Myers, Florida. Another look at young men was James Herbert's Speedy Boys, a study of the naked and the nude with his protagonists lounging about as if in a narcotized version of pretty-boy gay porn. In Dresden, Ben Speth creates a lovingly photographed love letter to contemporary Manhattan and an utterly modern woman.
When the envelopes were opened, Tony Bui's Three Seasons took home three awards: the dramatic competition Grand Jury Prize and Audience Award, as well as the cinematography award for Lisa Rinzler's luscious images. Chris Smith's American Movie won the documentary competition Grand Jury Prize. The Documentary Audience Award went to Roko Belic's Genghis Blues. The first Audience Award for World Cinema was given jointly to Run Lola Run and Radu Mihaileanu's Train of Life. The Jury Prize in Latin American Cinema went to Alejandro Springall's Santitos and a Special Jury Award in Latin American Cinema was added for Fernando Perez's Life is to Whistle. Regret to Inform won two Documentary awards: Barbara Sonneborn won for her direction, and Emiko Omori won the cinematography award (although he was also noted for shooting another documentary, Rabbit in the Moon). The Sundance dramatic competition directing prize was awarded to Eric Mendelsohn for Judy Berlin, while Frank Whaley (Joe the King) and Audrey Wells (Guinevere) split the Waldo Salt Screenwriting Award. Stanley Nelson's The Black Press: Soldiers Without Words, took the Sundance documentary competition's Freedom of Expression Award; the Filmmakers Trophy went to Jon Else's Sing Faster: The Stagehands' Ring Cycle. Dramatic filmmakers recognized Tumbleweeds as their favorite, while the documentary jury gave a Special Jury Award to Nanette Burstein and Brett Morgen's On the Ropes, and the dramatic jury confected a Special Jury Award for Comedic Performance to Steve Zahn for Happy, Texas, as well as a "Special Jury Award for Distinctive Vision" in filmmaking to Treasure Island. Mark Osborne's More won Jury Prize for Short Filmmaking, and Michael Burke's Fishbelly White received a Special Jury Award for Short Filmmaking.
---
Miami Film Festival
Save your postage. From the over 300 submissions sent to the Miami Film Festival this year, not one was accepted. And in previous years? Well, an unsolicited short might have been lucky enough to squeak in.
Miami for the uninitiated is the love child of Nat Chediak and his penchant for quality world cinema. This fest just celebrated its 16th birthday but with only a splattering of American indies present. But then there aren't that many slots to fill. Just room for 31 films and 7 shorts plus all the Baileys Original Irish Cream you could drink. (It's certainly nice to have a sponsor who springs for the booze at every screening.)
But why so little U.S. representation? "There's nothing wrong with American independents," the tastefully bearded Chediak explained. "This year, in fact, I think I have a very exciting cross section of American independents. It's not our reason for being but we have for example, Tod Williams' The Adventures of Sebastian Cole, Tony Bui with Three Seasons, plus Tony Goldwyn and A Walk on the Moon. Then there's Sebastián Gutiérrez who may be Venezuelan but who shot his first feature, Judas Kiss, in Hollywood. We're not Sundance but we still have a sampler."
And that sampler is gathered from sightseeing at the international film festivals Chediak religiously attends: Cannes, Toronto, Montreal, Berlin. What he goes for are the high quality films that are technically perfect with an often political bent. Also, considering his home base, if the dialogue's spoken in Spanish, that's a plus.
"By the year 2010," Chediak explains, "Hispanics are supposed to be the number one minority in America, and I think the offerings for them right now in all the media — radio, TV and film — are abysmal. I think they're below the level of common knowledge. Advertisers are going to have to broaden that market in order to reach an audience that refuses to just accept the lowest common denominator in entertainment. Nothing short of a revolution needs to take place. The marketplace will demand that such a thing happen, and we actually might be at the forefront of that revolution in at least calling attention to quality Spanish language film." Proof of the pudding is that every Spanish-language film booked at the fest's state-of-the-art venue, the Gusman Center for the Performing Arts, was sold out — and we're talking 1,700 seats. (Miami, it should also be known, was the first U.S. festival to showcase Almodovar.)
This year, sadly, there was no new Almodovar product. Making up for this loss were Carlos Saura's Oscar-nominated Tango, Alejandro Agresti's Wind with the Gone, Alejandro Saderman's Little Thieves, Big Thieves, Francisco J. Lombardi's Don't Tell Anyone, Manuel Gómez Pereira's Between Your Legs, and eight others. Add Bertolucci's Besieged which had Thandie Newton drooling again as she did in Beloved; Goran Paskaljevic's powerful look at Belgrade violence, The Powder Keg; and Francis Veber's hilarious The Dinner Game, and you get a taste of the venture. By the way, Veber, who wrote La Cage aux Folles, revealed that Steven Spielberg had just bought the rights to remake his film about a group of rich men who invite morons to a monthly supper party.
A great roster of films aside, there are a few minor downsides to the festival. Only two films are shown a night on weekdays, five a day on weekends. But once the screenings are over, there's not really a festival ambiance to submerge yourself in unless you want to knock knees each evening with George Hamilton at his bar, the official festival chitchat room. Yes, he's there and you can touch his tan if you're polite.
Otherwise, unless you have a car, you're stuck in one of the most barren areas of Miami, at the less than exciting Doubletree Grand. This hotel, where the press, the talent, and the film festival personnel are stationed, is connected to a down-and-out shopping mall where the major store was J.C. Penney — and it's gone out of business. You're stuck between purchasing incense or sunning with the likes of Mayor Giuliani by the pool. Thank heavens, he kept his shirt on.
Another complaint by some directors was that although the Festival supplied the plane tickets and covered the housing costs, no food was supplied. Not even a bagel. In the press room you had a choice of lollipops and mostly overripe fruit. Bernie Ijdis, the talented but poor and rumpled Dutch helmer of the Cuban documentary, Riviera Hotel, noted, "Everything would be perfect if they would have food coupons. But they paid for the trip and hotel so I manage with the food. Maybe it's not fair to complain."
Elodie Bouchez, star of The Dreamlife of Angels, agreed about not complaining. She was flown in with her mother and received a five minute standing ovation after her screening. "It's cool to think you can have this effect on people. Yeah, that's always better to have this kind of reaction than the opposite."
Jeremy Thomas, who's better known for producing Crash and The Last Emperor, was also quite chipper with the reception of his directorial debut, All the Little Animals, which starred John Hurt and Christian Bale. "Nat invited the film and it's its first screening in America. This is a personal film and it needs a way of getting people to know about it. We don't have big movie stars so Miami is perfect to get the word of mouth going."
Even Germany's Rudolph Thome with his Tiger-Stripe Woman Waits for Tarzan was in good spirits although his afternoon screening attracted only 300 filmgoers. Why so exuberant? One attendee was his long-time guru who lives in Florida. She traveled hundreds of miles for the screening and was quite happy with what she saw. Any festival that makes a guru gleeful has a lot going for it.
---
New York Underground Film Festival
As the lights went down on the opening night of the 6th Annual New York Underground Film Festival, the screen filled with possibly the shortest film in festival history. Crack, Jon Moritsugu's (Fame Whore) new film clocks in at just forty seconds. The scenario is this: a sound guy wakes up late for a film shoot. Frantic, he unsuccessfully searches for his boom pole, and in a fit of fury he cracks the handle off his broom, and voila!, a make-shift boom pole is born. The perfect forty seconds to kick off a five day festival celebrating the roots of DIY aesthetics: fast, short, pointed and furious. Filmmaking by any means necessary.
Julien Nitzberg's Bury Me in Kern Country
As punk has long since been the aesthetic at underground film festivals, NYUFF festival director Ed Halter sharply observed "This year we've gone from being rockers to mods." This year's batch of filmmakers seem to be trading in their hair spray for gel, producing a new crop of smoother, shinier and altogether glossier films. Yet while Moritsugu's presence attests to the fact that punk will never die, the NYUFF has managed to develop and expand without selling out. With ticket sales greater than ever, and with only a couple of the films slated for theatrical release, the New York Underground Film Festival has secured itself a place above ground without losing any sense of its cultural urgency.
The opening night film and winner of the Best Feature Award was Paul McGuigan's The Acid House, adapted by Trainspotting author Irvine Welsh from his collection of short stories. The Acid House out-glitzed the Mods with its Scottish sarcasm and hyper-rave hallucinatory visuals. As the opening night party swelled into the night, (appropriately held at the pharmaceutically decorated Barmacy) local film luminaries such as Anie S-8 Stanley (programmer of the NY MIX festival) and M. M. Serra (director of the Film-maker's Coop) danced to grooves spun by Welsh himself.
There was a special tribute to beat artist Alfred Leslie whose 1959 short Pull My Daisy (co-directed with Robert Frank and written by Jack Kerouac) is considered an underground classic. Leslie was present to introduce his films and take questions from the audience. In his The Last Clean Shirt (1964), a man and a woman get into a car, tape an alarm clock to the dashboard, and drive around with the woman talking continuously in an unknown language. This same action is repeated three times with different stream-of-consciousness subtitled narrations by poet Frank O'Hara. O'Hara's writing brings a smartness to such silliness with lines like, "Our culture is embarrassed by its propensity to entertain." Birth of a Nation (1965), originally 120 minutes, was nearly totally destroyed in a fire, yet Leslie recovered fourteen minutes of the charred footage and recontructed the remaining pieces a few years ago. What remains is artist Willem de Kooning as Captain Nemo and actor Patrick McGee reading from the works of Marquis de Sade as two men and a woman tumble about in a freeform orgy.
It's rare in a festival built on economy that the quality of features outweighs the quality of shorts, but this year proved exceptional in many ways. Chi Girl, directed by Heidi Ven Lier and winner of The Grand Jury Prize at Slamdance, was a compelling and fresh fictional narrative about a girl who bets a documentary filmmaker that she can pick up any guy she wants, because all men are scum, and the subsequent attraction the documentary filmmaker feels toward this fairly unlikable girl. Todd Verow's sexy and relentless digital feature, The Trouble with Perpetual Deja-Vu won The Kim's Festival Choice Award. The Trouble with Perpetual Deja-Vu is a gritty story about a young woman's explorations into the outer limits of extreme sexual addictions, and is the final installment of Verow's Addiction Trilogy which includes Little Shots of Happiness and Shucking the Curve. Sleep, the debut feature from Peter Calvin, plays with structure and high concept in an ambitious exploration of restless desires as portrayed through four characters' unusual sleep patterns, and The Atrocity Exhibition, directed by Jonathan Weiss and based on the J.G. Ballard novel of the same name, brought the grotesque to the screen without losing its literary edge.
Programmer Andy Lampert served up a cultural smorgasbord of shorts programs for goths, punks, mods, rockers and all those whose tend to like a little dirt served up with their art. The Ultravision program featured Bang Bang, winner of The Best Experimental Award, The Psychotic Odyssey of Richard Chase by Cary Burtt, Under Chad Valley by Jeffrey Erbach and the two films which split The Best Animation Award, The Bats directed by Jim Trainor and Evil of Dracula directed by Martha Colburn. Lisa Hammer's neo-expressionist films Crawley and The Dance of Death were featured in the Children of the Night program and The Best Short award went to Tony Cicero (Rat Dyke) for his creepy sleazy half-hour opus, My Brother Cicero. Winner of the Best Documentary went to Jeff Krulik and Diane Bernard for I Created Lancelot Link, a look at the creators of the classic '70s TV series about a secret agent chimp and a far-out monkey rock band.
Additions to this year's festival included panels, on-line sites, programs from the U.K. and screenings at The Pink Pony, a boho theater/cafe located a stone's throw away from Anthology Film Archive. Jack Sargeant, British author and cultural theorist presented a rare screening of the banned mondo film True Gore, directed and produced by Industrial Culture icon Monte Cazazza that had the gore hounds squirming with every gut-wrenching frame. Jane Gang, a British painter and filmmaker, now living in New York, curated Turf UK! which featured new films from the London underground. Bradley Eros and Brian Frye, local cinephiles who run the weekly Robert Beck Memorial Theater screenings presented the shows at The Pink Pony which examined the more alchemical elements of film, featuring work by Julie Murray, Thad Povey and Mara Mattushka.
All of the panels were sold-out including "Unnatural Acts of Distribution," sponsored by AIVF and featuring Martha Colburn (Evil of Dracula), Larry Fessenden (Habit), Lance Weiler (The Last Broadcast) and Maya Churi from indieWIRE discussing the ins and outs of self-promotion. "Believe the Hype! New Technologies," a panel discussion on digital filmmaking sponsored by Film Bytes and moderated by Eugene Hernandez of indieWIRE featured a spirited exchange between Todd Verow and Todd Lincoln, as Verow told everyone to sell their film cameras and join the digital revolution.
The most notable panel was "Farewell to the Forty Deuce," a personal look at the sleazy days of 42nd Street before it got sanitized by politicians washing their hands in the pockets of real estate developers. Presented by June Lang and Jeff Krulik, panelists included Frank Henenlotter, director of the feminist classic, Frankenhooker, who presented clips from Something Weird's video archive of rare '50-'60s sex loops; Josh Alan Friedman, author of Tales of Times Square, who reminisced about the heyday of exploitation films, and exchanged teenage sneaky peaky stories with Henelotter; and Uncle Lou Amber, chauffeur to the strippers who had nothing but kind words to say about all the women he drove to oblivion. June Lang presented clips from her forthcoming documentary Farewell to the Deuce featuring Allen Ginsburg, porn maven Al Goldstien, and the cheeky Quentin Crisp who slyly proclaimed, "pornography is the endeavor to sell sex for more than it's really worth." But the panel, and possibly the whole festival could be summed up by the awe I felt sitting behind Rudy Burckhardt as his films Square Times and Sodom and Gomorrah played on screen. His camera penetrated the faces of the hookers and patrons from the '60s, while lingering on storefront windows with signs such as, "we give plaid stamps." Yes, 42nd Street once was this sexy place where it was okay to bring the wife and kids, and here was this artist who brought that history to my eyes; an old-timer who's still making art, who's survived it all in spite of the odds.
---
Thessaloniki International Film Festival
While a ten-day film festival with 173 films from 37 countries is a great diversion, so too is Thessaloniki. And the 39th International Thessaloniki Film Festival was enhanced by an immodestly favorable exchange rate, absurdly temperate weather, and of course, food and drink.
Most of the events at the festival – which drew a record 62,000 admissions this year – are within a few minutes walk of the waterfront. The compact scale allows a kind of mingling not possible at larger, glitz-and-market-driven fests. And the wonderful city at your fingertips won't for a minute let you isolate yourself in a movie-mad, hype-rich, oxygen-deprived bubble. Yet Thessaloniki is a little-known gem among smaller festivals, drawing with admirable taste from the best of the year's world festival circuit.
The International Competition, restricted to first- and second-time filmmakers, offers the Golden Alexander, a grand prize worth about $45,000, for best full-length film, which went to Yoichiro Takahashi's unhurried teens-in-summer story, Fishes in August. (The lead's sexual frustration sometimes matches one's own in wanting the summer to turn to another season, another mood.) The Silver Alexander, worth about $27,000 prize was shared by Petr Zelenka's ambitious slice of surrealism, Buttoners, from the Czech Republic, and The Flight of the Bee, a story of a poor teacher who digs a public latrine to embarrass a rich neighbor, by co-directors Jamshed Usmanov from Tajikistan and Korean Byoung Hun Min. Samira Makhmalbaf's The Apple got a special mention, and a Special Artistic Achievement Award went to Kwangmo Lee's affectingly written coming-of-age story, Spring in My Hometown. The Best Director nod went to Constantine Giannaris for From the Edge of the City. The inspiredly loopy God's Got My Number, tracking the antics of a shy would-be womanizer by France's Bruno Podalydes won the Heineken Audience Choice Award.
While the Festival, true to its regional roots, presents sections that focus on work from Greece and the Balkans, it has also gained a reputation for its extensive retrospectives, this year devoting one to the almost-unknown French documentarian Jean-Daniel Pollet. Others saluted included Nikos Koundouros, a major figure in the history of Greek cinema and an accomplished tragedian; the late Akira Kurosawa; Peter Greenaway (who was present for an art exhibition and to direct what he termed a "prop-opera"); and Ken Loach, whose features were presented along with his television work. Producers Good Machine were saluted with a six-film sidebar that included Tom Noonan's What Happened Was... and the regional debut of Todd Solondz's Happiness. Thessaloniki also continued its famous "3x3 series," in which a new film by an emerging director such as Spain's Ventura Pons or France's François Ozon is shown with two earlier examples of their work.
Among Greek entries, the languorous, lushly-lit Shores of Twilight, directed by NYU Film School graduate Efthimios Hatzis stood out, unlike Blackout, a much-awaited, almost three-hour widescreen contemporary epic that joined a batch of misguided, already-forgotten stabs at experi-minimalism that had theater doors swinging at audible intervals. Shores of Twilight is hypnotically paced, taking on the rhythm of island life and the timeless stories of dashed love shared by a quartet of travelers. Constantine Giannaris' From the Edge of the City is a more jagged affair, with an invigorating title sequence showing his young Russian émigré characters robbing and rollerblading across city streets one dark night. Although his portrayal of their boozing, thieving and lusting in a dusty town outside Athens is often melodramatic, the setting is fresh.
The Festival's non-competitive Official Selection included jury president Goran Paskaljevic's immaculately crafted The Powder Keg and Bertolucci's slippery Besieged, but the most eclectic and stimulating selection came under the heading of New Horizons, programmed by Dimitri Eipides, intended to "highlight the newest, most daring trends in independent film." Thessaloniki's astute selections demonstrate that films that recur at festivals around the world are fest favorites because they're good movies. Other popular entries included Dreamlife of Angels, Love is the Devil, Buffalo 66, Last Night, Broken Vessels, Claire Dolan, Dariush Mehrjui's impassioned Leila, and Amos Kollek's scaldingly acted Sue, as well as ¼, which Darren Aronofsky joked was now finally showing in the one country where the title required no translation.
Lucian Pintilie's lustrous Romanian downer Terminus Paradis was a marvel of fluid camera and blocking in its story of a Bucharest ne'er-do-well (and soon-to-be draft evader) who falls in love with a pixie-ish waitress who's a mix of Christina Ricci and Patricia Neal. Moments of visual majesty and troubling intimacy mingle with ease. Fatih Akin's confident A Short, Sharp Shock, is a vigorous, imaginative polyglot cousin to the movies of Scorsese and Nick Gomez, bursting with cross-cultural energy and an eclectic ethnic mosaic of music.
The faux-antiquity of the central city, rebuilt several times after disasters including an annihilating 1917 fire, prompts thoughts of artifacts, as did the video traces in Hal Hartley's Book of Life. Another artifict was Hungarian director György Fehér's Passion, a retread of James M. Cain's The Postman Always Rings Twice, lumbering through daringly distended, obtuse takes that fulfill one of Fehér's own great passions: "I have always wanted to make a film that looks like the last salvaged print of a long-lost film." Patrice Toye's Rosie also sports a grimy look far different than the contemporary style of piss-elegant visuals in her elliptical telling of a lonely young girl's fantasies. An anguished score by P.J.Harvey-collaborator John Parish matches Toye's claustrophobic and neo-Fassbinder visuals, but the icing is a remarkably vivid performance by young Aranka Coppens as the dreamy young delinquent.
---
Alpe Adria Film Festival
Once an important and prosperous port city for the Austro-Hungarian Empire, Trieste is today an economically and culturally sleepy border city in Northeastern Italy, populated predominantly by a mix of Yugoslavians and Italians. What better place, then, to hold a festival dedicated since its inception ten years ago to East European cinema? "We came about strictly to foster and highlight films and talent from a part of the world not many people in this country knew about or had access to," says Alpe Adria Artistic Director Annamaria Percavassi.
Alpe Adria is a small but ambitious festival. Despite the fact that festival organizers have little money for extensive publicity – 1999 marks the first year the Municipality of Trieste has contributed any funds – the theatre-café in which the festival is held was packed every night with Triestines hungry for something other than the standard, dubbed, Hollywood fare that plays in most of the city's cinemas.
Each year the festival has a distinct theme though, for political reasons, this year's theme was more or less a continuation of 1998's. Last year, Alpe Adria presented a retrospective of films from the Yugoslavian Black Wave, a name given to the films and filmmakers of the '60s and '70s banned by the government for their experimental and politically critical work. However, the Croatian Cultural Ministry refused to participate when they found out their films would be shown alongside Serbian works.
This time, with only one Serbian film at the festival (Goran Paskaljevic's The Powder Keg, which has been a European festival staple since its premiere at Venice last year, and will be released by Paramount Classics in the U.S. in August), the Croatian government had little to complain about. The main retrospective, "Waves of the Other Shore," highlighted Croatian features, shorts and animated films from the '50s and '60s, alongside smaller retrospectives of Bosno-Hercegovine and Montenegran films.
While Yugoslavia, like most countries in the world, wasn't producing works of incredibly high artisitic merit in that era, many of the films were nonetheless more than just interesting historical footnotes. Particularly the animated shorts which seemed years ahead of their Western counterparts, stylistically as well as thematically. The competition films, however, are not restricted to Eastern Europe, and for a festival this size, Alpe Adria has a surprisingly strong selection. Ten feature films competed for the 10 million lire (approximately $6,000) first prize, and 36 shorts competed for the smaller prize of 3 million lire (approximately $3,000). The two strongest features – Croatian director Snjezana Tribuson's debut Melita Dzanger's Three Men and Austrian filmmaker Florian Flicker's Suzie Washington — were exceptional films in their own right. Melita, winner of numerous awards in Croatia, is a tender, humorous and very human story about a shy young woman's search for love. Mixing Latin American soap operas (which are wildly popular in Croatia) with solid writing, and a faultless comic timing, the film has drawn many comparisons to the socio-realist films that came out of Czechoslovakia during the '70s. Suzie Washington, starring an enormously gifted Birgit Doll, follows the story of a Georgian (as in ex-Soviet) woman, Nana Iaschwili, and her attempt to emigrate illegally to the United States after she has been detained in Vienna for having a falsified visa. With barely a single scene depicting physical violence, Flicker creates a tense and claustrophobic atmosphere, playing off Nana's desperation and fear that she will be discovered and returned to her warring homeland against images of wealthy and vacationing Austrians, few of whom are willing to risk their comfort to help her escape.
Other feature films included FireRider by German director Nina Grosse, a confident and affecting depiction of the life of 18th century poet Friedrich Holderlin; The World Upside Down by Rolando Colla (Switzerland); Killer by Darezan Omirbaev (Kazachistan); The Day of the Full Moon by Karen Sachnarazov (Russia); and Buttoners, a black comedy by Czech director Petr Zelenka, who won a Tiger award for the film last year in Rotterdam.
The prize went to The History of Cinema in Popielawach, by Jan Jakub Kolski, a bittersweet tribute to the passion that is cinema, and its fictionalized birth in the small town of Popielawach, Poland. Special Mention went to Hungarian director Gyorgy Feher's Passion, a particularly passionless remake of The Postman Always Rings Twice. In the shorts category, the winner was A Perfect Accent by Nicola Sornaga, about an Italian immigrant's nostalgia for home, with Swiss directors Frederic Choffat and Andrea Staka receiving Honorable Mentions for A Nedjad and Hotel Belgrade, respectively.
Alpe Adria's jury is yet another feature which sets the festival apart – the festival's juries are always comprised solely of film students from the University of Trieste. "They're not conditioned," says Percavassi when speaking about the students' openness and spontaneity. "They have no interests or connections with any groups, directors, producers, like the juries at all the big festivals." While it's arguable whether academia is the logical place to turn to avoid the pitfalls of a biased jury, or whether the students' age and lack of life experience might impede them from understanding or appreciating certain films, Percavassi insists that "they can and do give a sense of where the cinema is going, where it should go."
Other highlights included student films from Poland's famous Lodz Film School, including the student work of Krzysztof Kieslowski, Roman Polanski and Andrzej Wajda among others; over 50 films by Czech filmmakers, covering as many years; and a selection of experimental videos from the ex-Communist block countries. And the festival program, which at three pounds has to be the heaviest, most densely packed catalogue around, featuring not only biographies and film summaries, but essays on such esoteric topics as "Pornography as Political Opposition" and "A State With a Decomposed Backbone."
---
Nortel Palm Springs Film Festival
Founded in 1989 by then Mayor Sonny Bono, the Nortel Palm Springs film festival passed its 10th year without completing the transition it's been so long poised to make: from local diversion in exotic garb to valuable niche outlet for foreign film distribution and buzzmaking.
Peter Lynch's The Herd.
Over 12 days, the festival screened 160 films from 44 countries, including its traditional roundup of foreign-language Oscar submissions. There were 32 world premieres – almost exclusively American movies – as well as 41 U.S. premieres from nations as far flung as Iceland and the Republic of Macedonia. The National Canadian film board has been closely allied with the festival for all of its 10 years, and a sidebar of homegrown films varied from comic, middle-aged millenial musings (John W. Doyle's
The Extraordinary Visitor
, which lands John the Baptist in modern-day Newfoundland) to hip, post-Gen X millenial musings (the French-language Oscar submission
Un 32 Aout sur Therre
). There was also an Italian sidebar boasting Roberto Begnini's brilliant mistake and world festival pet,
Life is Beautiful
, as well the nicely loopy, Italian blockbuster road film,
Three Men and One Leg
. Other notable entries included
The Book of Great Wishes
, a sometimes mawkish yet wholly irresistible Polish heartwarmer about orphans and old folks; a beautiful glimpse of rural Sri Lankan life,
Death on a Full Moon
Day
; and the Chinese Oscar candidate
Genghis Khan
, a picture whose bizarre blend of love story and epic machismo is no doubt attributable to its Mongolian directoress, Mai Li Si, who made an imposing figure at the screening swathed in black leather and accompanied by an entourage in traditional Mongolian costume.
Yet, despite its consistently strong and far-reaching survey of world cinema, the festival was redolent with the rarified air of command performance purchased by and for the town's wealthy visitors and retirees. Festival patrons have proven that they're willing and able to shell out the funds necessary to mount the festival, even purchasing the future site for a $2 million-dollar festival complex, complete with three screens, a coffee shop and an "Italian street facade." Of course, the festival also provides a practical opportunity for studios and distributors to reach out to voting Academy members who've moved to this retirement haven. The opening night awards gala paid tribute to such old-school standbys as Debbie Reynolds and MPAA president Jack Valenti. Audience favorites – the only honor to be obtained at this non-competitive event – tended towards sentimental pictures that arrived with a favorable buzz, including Central Station and Carlos Saura's Tango. Overall screenings were enjoyed not by swarms of industry seekers and eager talent, but by crowds of silver-haired film buffs.
Typical for the festival was the U.S. premiere of The Herd, the second feature by Peter Lynch, the Canadian director of '98's goofy but great documentary Project Grizzly. A lovely, mythically charged piece about the real-life, six-year drive of 3,000 reindeer from the Yukon to the Canadian Northwest territories, the film was shown to an audience of about 30, most of whom were seniors. Lynch, whose film did receive some tentative interest from American distributors at the last Toronto film festival, didn't seem too put off by the lack of action in Palm Springs. "I don't get a sense the festival is about that," said the filmmaker cheerfully adding that this visit was less business than "a sort of holiday."
And the festival does make for a fine vacation. Palm Springs director of programming Monica Breckinridge feels the festival's potential lies partly in the town's laid back comfort. "What's great about this location," says Breckinridge, "is that it's a good time to be here. It's a very gracious town."
Breckinridge is the fourth programmer the festival has had in 10 years. The former executive director of the Black Filmmaker Foundation and director of development for House Party's Hudlin Brothers, Breckinridge was hired last October, and had to have a schedule to the printers by the middle of November. It's a timetable that left little time for courting industry or exploring the festival's potential. "I think it's time for them to look at having a programmer year round," Breckinridge says, "It's important for the identity of the festival to have some consistency." When asked if that programmer might be herself, Breckinridge is cautiously positive. "I think it can be me," she offers, "I see the opportunity here, I have the energy and the credentials for it, and I love films.