IN FOCUS: GUERRILLA STYLE
Profiles of five new independent films in production.
BY MARY GLUCKSMAN
THE F WORD
The F Word
"It's the story of one man's journey through New York City during a crisis of personality and politics," says Jed Weintrob about The F Word, a fiction/doc hybrid set and shot during last summer's Republican National Convention. Josh Hamilton plays a radio shock jock who has bankrupted his station through indecency fines and decides to spend his last day on the air taking the pulse of the populace by walking from Battery Park City to Central Park with a wireless microphone. "I want people to see what went on that week and continues to go on in terms of the right to speak freely without getting harassed or arrested," says Weintrob, who invited several dozen activist and writer friends to suggest potential scenes. The film incorporates real RNC protests within fictional moments. "Medium Cool was a reference point but this is a very different beast," he adds.
Weintrob graduated from Harvard's film program in '92 and moved to L.A. to put together a feature but ended up getting hired to produce low-budget horror films like Pumpkinhead II. He produced and directed four video games and developed a Web and gaming division for Orion before moving to New York to make his first independent feature, On_Line. "On_Line came out of the interactive media and Web site world I'd been involved with," he says. "[The F Word] was a response to what was going on before the election and what I saw happening to our personal liberties."
Word's nine-day shoot had cinematographers Christian Bruun, also a producer, and Heather Greer wielding twin 24P Panasonic AG-DVX100A cameras. "We shot every major landmark in New York including City Hall, where we lost one tape after Homeland Security asked to see it and accidentally destroyed it." The $6,000 project was structured as a nonprofit with any proceeds earmarked for free-speech-related causes. Also in the film are Sam Rockwell (Matchstick Men), Callie Thorne (Rescue Me) and Zak Orth (Monday Night Mayhem).
Contact: Jed Weintrob jedweintro@aol.com
FLANNEL PAJAMAS
Flannel Pajamas
Distribution vet Jeff Lipsky left his latest venture, Lot 47, in late '02 and spent the last year completing Flannel Pajamas, the follow-up to his 1997 directorial debut Childhood's End. "I wanted to make a contemporary American variation on Scenes From a Marriage," says Lipsky. "[The film is] about the instant electricity between a couple on a first date and what happens over the next two years. It's sexy, sad, comic and tragic in measures. It's character-driven and dialogue-driven rather than story-driven — in its sensibility and style it's a European film." Justin Kirk (Angels in America) and Julianne Nicholson (Kinsey) star. Also in the cast are Jamie Harrold (Erin Brockovich), Jamie Harris (The New World) and Wings favorite Rebecca Schull. "I'm hoping this will do for her what Sideways did for Thomas Haden Church," quips Lipsky.
While still in his teens, Lipsky managed Long Island movie theaters before convincing John Cassavetes to take him on as an aide-de-camp in distributing A Woman Under the Influence in 1974. A key figure in the evolution of the independent world, he cofounded October Films with Bingham Ray in 1992 after stints at New Yorker Films, Samuel Goldwyn and Skouras Pictures. In 1999 he launched Lot 47 Films with brothers Mark and Scott. "I wanted to make a second film but my first wasn't commercially successful," says Lipsky. "I wrote another script that would have cost $2 million but nobody was standing in line to give me money." He made the less expensive Pajamas with producers Jonathan Gray, Jason Orans, Brian Devine and Simon Channing-Williams, Mike Leigh's producer and a friend since Lipsky bought the U.S. rights to Leigh's High Hopes while at Skouras.
The Super 16mm Pajamas shot in New York and Pennsylvania with Martina Rad-wan as d.p. "Hi-def or not, video still has limitations," says Lipsky. "Our principal location was a New York apartment with floor-to-ceiling windows and unbelievable amounts of light and there's no way we'd have been able to capture the look we wanted on video." The film was edited by Sara Corrigan, a veteran of seven Woody Allen posts.
Contact: Jeff Lipsky at jeff@lipsky.net
THE LAST WINTER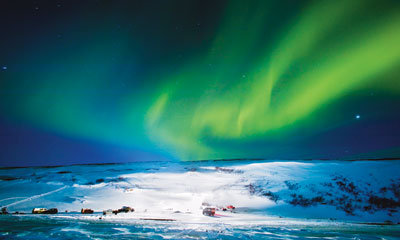 The Last Winter
Larry Fessenden follows his horror trilogy — Habit, No Telling and Wendigo — with a chilling cautionary tale about oil company advance men trapped in a remote corner of Alaska. "It's dripping with themes about where humanity is headed," says Fessenden, who wrote Winter with Robert Leaver. "Humanity is very narcissistic and doesn't see itself as part of nature, but indeed it is. All my films are about how we interact with the environment. [They're about] landscape, myth and madness — how we see the world and what is morally sound. [The Last Winter] is a social commentary, intense drama and supernatural thriller that reapproaches some of the themes I've addressed previously from a different place.
"I talk a lofty game," Fessenden is quick to add, "but I use Hitchcock as a guide in considering how to construct a good scene. The movie has some good thrills." Fessenden started making films as a teen in New York and went to NYU in the early '80s, gravitating to the then-new video department, where his award-winning work included creating a public-access TV series. He has acted in more than 20 features, including Jim Jarmusch's latest, and starred in Sundance '01 selection Margarita Happy Hour. Through 20-year-old company Glass Eye Pix he has produced films like River of Grass (as associate producer) and SXSW '05 entry The Roost and acted as adviser to numerous first filmmakers. He won IFP/ Los Angeles's Someone to Watch award in 1997. Fessenden is producing Winter with Antidote Films' Jeff Levy-Hinte (Mysterious Skin), whom he first teamed with to make Wendigo, and now has one or two more zeros than his previous budgets.
After shooting second-unit footage in the Arctic in November, Fessenden decamped to Iceland with Levy-Hinte for 35 days of principal photography. "I call this my Herzog film — we're making it in extreme conditions, and we have incredibly elaborate helicopter mounts. Our budget is bigger but the challenge is enormous. We'll see if we get beaten down by time and weather," says Fessenden. The 35mm wide-screen Winter boasts an all-Icelandic crew including d.p. G. Magni Ágústsson. The film stars Ron Perlman (Hellboy), James Le Gros (Drugstore Cowboy), Connie Britton (Friday Night Lights) and Kevin Corrigan (Chelsea Walls).
Contact: Larry Fessenden at larry@glasseyepix.com
RUNAWAY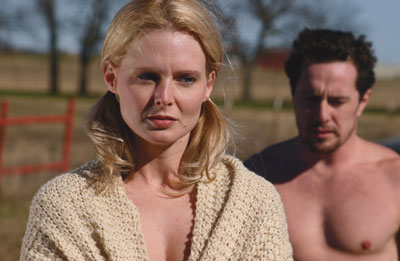 Runaway
"It's our Primer — a conceptually interesting and arty horror film shot in Texas at Christmas for very little money," says producer Isen Robbins (Brother to Brother) about RunAway, a first feature by Marshall Mills. Robbins and Intrinsic Value partner Aimee Schoof decided to take a chance on Mills when he pitched them after they cast him in Shooting Livien, a pic the two producers made last year. Mills, 29, and newcomer Kristin Sutton play a couple on a terrifying journey through an otherworldly landscape. "They're searching for their souls as they move closer and closer to the light," says Mills. "It's a spiritual metaphor with larger-than-life characters who reference the seven deadly sins."
Born and raised in Texas and a graduate of Texas Christian University's Theatre Arts program, Mills came to New York to study acting and broke into film with his screenplay for the short film A Wife's Tail, a winner at the '04 Key West fest. "I want [RunAway] to be seen as something from a filmmaker with a new idea. My films encase themselves in mystery and enlightenment. These are the things that keep us in our skins, and the last things we let go of when we die — you could make a million movies about the same thing."
RunAway shot 18 days outside Dallas with Macedonian director Dimitar Orovcanec as cinematographer on the Sony PD-150. "Texas has vast prairies where anything could happen, and I wanted it to have that feel and a foreign flavor," says Mills. "We took 30 cast and crew to a cattle ranch I worked on in high school and used that as a base. Our budget was micro but we had luck with things like windy days when the script called for it."
Contact: Aimee Schoof at aschoof@hotmail.com
SATELLITE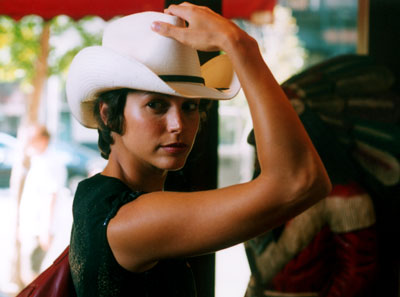 Satellite
"It starts with a child's voiceover telling what she says is the greatest romance ever," says writer-director Jeff Winner (You Are Here*) about his crazy love story Satellite, a tale he likens to Bonnie and Clyde or True Romance. The film is a fairy tale about a young couple who fall in love and swear never to lie to each other before embarking on a series of dares; unfortunately one of them harbors a dark secret. "They are intellectuals who behave as spontaneously as the lovers and loners of the French new wave," says Winner. Crayoned drawings, bits of animation and a series of stills could be clues to the narrator's identity, but audiences won't guess this one until the final reveal. "It's a bit of a thrill ride with a unique structure," says Winner. Karl Geary (Mimic: Sentinel) and Stephanie Szostak star as the love-struck couple.
Winner grew up in Atlanta and studied film as an undergrad at NYU, winning a Warner Bros.'s post grant for his short film Masc. He edited a feature right out of school and was working as a clerk at New York's Kim's Video when he met director Michael Almereyda and became his assistant on Nadja. Between film projects he parlayed his editing skills into a lucrative career cutting TV and commercials. He made Satellite with New York's Gigantic Pictures partners Jen Small, Jason Orans and Brian Devine. The unit is the film division of a new mini empire that gathers a music label, recording facility, fashion label and art gallery under the Gigantic umbrella. In their first film gig, Gigantic alterna-rockers Calla provided new material for Satellite's soundtrack.
The Mini DV Satellite shot all over New York last fall from Grant's Tomb to Grand Central with Bino Marsetti (Cat Power video "He War") as d.p. "It was great having a small camera in terms of stealing shots, and the [Canon XL1] has a 35mm lens that allows you to rack focus so it looks more filmic," says Winner. He edited the film himself.
Contact: Jason Orans at jason@giganticpictures.com