PRODUCTION UPDATE
Compiled and edited by FILMMAKER Contributing Editor, Mary Glucksman.
---
Jamie Babbit satirizes right-wing programs that promise to turn gay teens straight in But I'm A Cheerleader, a transgressive coming-of-age comedy starring Natasha Lyonne (The Slums of Beverly Hills) and Clea DuVall (The Faculty). Megan (Lyonne) has a boyfriend and has yet to question her heterosexuality when she comes home one day to find her friends and family gathered for a horrifying "intervention." She is soon shipped off to the "rehab" camp, True Directions, where girls get makeup and sewing lessons and boys are taught how to fix a car. Megan resolves to "follow the program" so she can get out but is soon confused by a growing attraction to the program's lone rebel, Graham (DuVall). Graham knows she's gay but plays "straight" in order to collect the trust fund promised her by her parents. However, as the program's methods become more intrusive, the teens get an unscheduled lesson in character, and Megan and Graham have to decide whether to face the world as one or blow a chance at love. Bud Cort and Mink Stole play Megan's parents, and a squeaky clean Ru Paul is the camp rep who moderates her intervention.
Babbit graduated from Columbia University in 1993. She made her first short, Frog Crossing, with co-director Ari Gold in 1995, and it played at festivals like Telluride, Sundance and Rotterdam in '96 and '97. Frog was also selected for the Sundance-in-Tokyo fest delegation and purchased by the Sundance Channel, where it is still in rotation. Babbit's second short, Sleeping Beauties, premiered at Sundance in '98 and played over 30 festivals including London, the LAIFF and Washington D.C., where Babbit was voted Best Director. She and producers Andrea Sperling and Ignite Entertainment's Leanna Creel made Cheerleader through the auspices of Ignite, a two-year-old Santa Monica production company with a seven-film track record that includes Six-String Samurai and Suburbans. Ignite also financed Morgan J. Freeman's Desert Blue, which Sperling produced, and she says they came on based on Babbit's pitch and shorts before the script was even on the page.
Cheerleader shot in Los Angeles and nearby Palmdale, California last December and January; it will premiere at this fall's Toronto Film Festival. Ignite is selling international rights.
Cast: Natasha Lyonne, Clea DuVall, Cathy Moriarty, Ru Paul Charles, Mink Stole, Bud Cort, Douglas Spain, Melanie Lynskey, Richard Moll. Crew: Producers, Andrea Sperling, Leanna Creel; Executive Producers, Michael Burns, Marc Butan; Screenwriter, Brian Wayne Peterson; Story/Director, Jamie Babbit; Cinematographer, Jules Labarthe; Production Design, Rachel Kamerman; Costume Designer, Alix Friedberg; Casting Sheila Jaffe; Editor, Cecily Rhett. Contact: Andrea Sperling, 1208 South Stanley Avenue, Los Angeles, CA 90019. Tel: (323) 938-2719, Fax: (323) 937-7058
---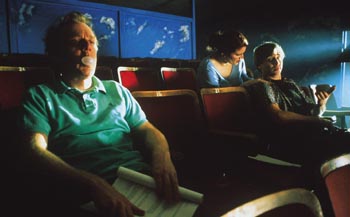 Left to Right: Mike White, Glory Simon, and Doug Kieffer in Miguel Arteta's Chuck and Buck
Summer '97 Filmmaker Magazine coverboy Miguel Arteta (Star Maps) goes digital for his second feature, Chuck and Buck, the first project from Open City's new Blow Up Pictures division headed by former IFFM director Sharon Sklar. Blow Up's formation was announced in January at Sundance where Open City's Three Seasons scored a triple win with the festival's Grand Jury Prize, Audience Award and Cinematography Award.
Chuck reteams Arteta with most of the Star Maps crew, including producer Matthew Greenfield, cinematographer Chuy Chavez and editor Jeff Betancourt, among others. The dark comedy stars Mike White, who also wrote the script, as Buck, a 27-year-old arrested adolescent who develops a fixation on his childhood best friend, Chuck, after they meet again at a funeral. Chuck, now "Charlie," a slick L.A. music exec, backs off fast, however, when Buck attempts to revive their pre-pubescent relationship. A frustrated Buck soon starts stalking Charlie and works out his confusion by writing an autobiographical play about their youthful exploits which he stages in the children's theater across the street from Charlie's office.
White's best known in Hollywood for his Dead Man on Campus screenplay and his work as a producer and writer for TV's "Dawson's Creek". The film also features performances by Chris and Paul Weitz, the multi-talented brothers who co-wrote Antz and co-directed American Pie. Arteta is a 1993 AFI grad who made six shorts, including 1990 Student Academy Award contender Every Day Is A Beautiful Day, before embarking on Star Maps in 1996. Star Maps, made for less than $500,000, premiered at Sundance '97 where it was bought by Fox Searchlight for $2.5 million.
Chuck shot in L.A. for four weeks beginning April 3; Greenfield points out that going digital may reduce costs on line items like raw stock but doesn't translate into a shorter shoot. All rights are available.
Cast: Mike White, Chris Weitz, Lupe Ontiveros, Beth Colt, Paul Weitz. Crew: Producer, Matthew Greenfield; Executive Producers, Jason Kliot, Joana Vicente, Charles Rusbasan; Co-Producer, Scott Cort; Associate Producers, Jason Zolov, Gina Kwon, Abby Scharzwalder, Mike White; Screenwriter, Mike White; Director, Miguel Arteta; Director of Photography, Chuy Chavez; Production Designer, Renee Davenport; Editor, Jeff Betancourt. Contact: Matthew Greenfield, Toga LLC, 1644 1/2 Maltman Avenue, Los Angeles, CA 90026. Tel: (323) 666-8485, Fax: (323) 666-9548.
---
First-time feature director Jacqueline Garry debuts with a wickedly funny camp thriller, The Curse, about a 24-year-old TV d-girl whose freakish P.M.S. excesses may really be symptoms of lycanthropy. Newcomer Amy Laughlin plays the shy Frida, who, after being bit by a fellow shopper at a particularly vicious lingerie sale, finds her breasts growing larger and her body afflicted by a sudden growth of hair. The upside, however, is that men suddenly seem to find her irresistible, although her new romances have a disturbing tendency to turn up dead after a date or two.
So is Frida really turning werewolf, or do the film's conundrums have some logical explanation? "We leave it open to debate," says producer Heidi Reinberg. Garry says she had just quit smoking when she wrote The Curse and in attempting to pinpoint the source of her own disaffection hit on P.M.S. as an apt metaphor for less obvious stress-related states thought to affect human behaviour. "We go through cycles in our lives that are not as well understood as the medical establishment would have you believe," she says.
Garry has an M.F.A. from NYU's grad film program where she made six shorts including Thesis, a 24-minute comedy that won first prize at the Lucille Ball Festival of New Comedy in 1993. Her own d-girl experience came from D'Arcy Masius Benton & Bowles, where she developed network TV features. She and Reinberg met two years ago while temping at a midtown investment firm Reinberg later used as an investor resource for Curse's LLC financing. Garry was already teamed with digital audio post facility Hip Studios co-owner Trent Tooley, who handled on-set logistics while Reinberg, who most recently wrapped producing chores on Cynthia Wade's Cinemax doc Grist for the Mill, worked off set.
The 16mm Curse shot in Manhattan and Brooklyn last fall with veteran commercial d.p. Bud Gardner, best known for the indelible title sequences he's shot for films like Mo' Better Blues, The Hudsucker Proxy and Little Buddha, as cinematographer. At press time the filmmakers were using a rough cut to attract completion finance and planning a work-in-progress screening at the '99 IFFM. All rights are available.
Cast: Amy Laughlin, Mike Dooly, Sara Elena Knight, Matthew Arkin, Ken Garito, Holter Graham, Michael Campbell, Kevin McClatchy, Nick Gregory. Crew: Producers, Trent Tooley, Heidi Reinberg; Associate Producer, Robert L. Seigel; Screenwriter/Director/Editor, Jacqueline Garry; Co-Editor, Anna Josenhans; Cinematographer, Bud Gardner; Production Design, Luca Novelli; Casting, Jodi Collins. Contact: Not Another Hollywood Film, One Irving Place, U17D, New York, NY 10003. Tel/ Fax: (212) 387-9318. e-mail: notanother@aol.com; website: www.nahf.com.
---
Brad Anderson got a multi-picture deal with Miramax as part of the reported $6 million the mini-major paid for Next Stop Wonderland, his second feature, at Sundance last year. However, his new feature, Happy Accidents, a quirky urban romance starring Marisa Tomei and Vincent D'Onofrio, is being produced for IFC Productions outside the Miramax deal. Ruby (Tomei) and Sam (D'Onofrio) meet cute as Accidents begins, but Ruby thinks Sam's too sweet and open to be for real; she can't remember the last time a guy courted her so ardently. The offbeat Sam thinks French Merlot is a polka, has trouble drinking through a straw, and sports an odd bar code tattoo on his deltoid. When he finally chalks up his oddities to being a time traveller from the future, Ruby assumes he's either nuts or engaging her in an elaborate game – the ultimate in role playing. But Sam supports his claims with so much detail that Ruby can't be sure.
Anderson grew up in Connecticut and studied ethnographic film in college and production at the London International Film School before settling in Boston for eight years of documentary work. Both Wonderland and The Darien Gap, his 1996 debut feature, were made in Boston. He and Accidents producer Susan Stover were introduced by indie attorney John Sloss, who represents both and played a key role in securing Accidents' $1.5 million financing from the Independent Film Channel. Stover, who won the Ralph Lauren Producers Award at this spring's Spirit Awards for her work on High Art and yet another time travel drama, The Sticky Fingers of Time, also was the recipient of last year's Sundance Institute fellowship in producing.
Accidents rolled in mid-June with top indie cameraman Terry Stacey (Spring Forward) as d.p. Anderson will edit the film as he did Darien and Wonderland.
Cast: Marisa Tomei, Vincent D'Onofrio, Nadia Dajani, Holland Taylor, Bronson Dudley, Jose Zuniga, Caro Buono, Tamara Jenkins. Crew: Producer, Susan Stover; Executive Producers, John Sloss, Caroline Kaplan, Jonathan Sehring; Line Producer, Derrick Tseng; Screenwriter/Director/Editor, Brad Anderson; Cinematographer, Terry Stacey; Production Design, Susan Block. Contact: Susan Stover, Accidental Productions, Inc., 118 East 25th Street, Suite 10A, New York, NY 10010. Tel: (212) 529-9855, Fax: (212) 533-6432.
---
Tim Kirkman (Dear Jesse) spent May in Baltimore directing David Drake in a film version of The Night Larry Kramer Kissed Me, the award-winning one-man show Drake debuted off-Broadway in 1993 and later took to eight cities in the U.S., the U.K. and Australia. Night chronicles key events in one gay man's sexual and political coming of age from his first kiss on his 16th birthday to an elegaic vigil to dead lovers 20 years later. The piece unfolds as a series of spare vignettes alternately hilarious, lyrical and brutally soul-searching; its title comes from the self-awakening Drake traces to the night he saw "The Normal Heart," gay activist Larry Kramer's benchmark drama, on his 22nd birthday in 1985.
"[With the film adaptation] all we're trying to do is make it as poetic as possible, evoking memories rather than specific events," says Kirkman. Kirkman, who has held a day job in graphic design for seven years, came to attention as a director with Dear Jesse, his 1998 documentary examining North Carolina senator Jesse Helms' political longevity and overt homophobia. Drake's accolades for "Night" include a Village Voice Obie and two L.A. Dramalogue awards; one of the longest running solo shows in New York theatre history, it's since had over a hundred productions in a dozen countries. Drake's most recently appeared on stage starring in the off-Broadway revival of "The Boys in the Band" and "A Language of Their Own" (opposite playwright B.D. Wong) at the Public Theatre; feature films include Philadelphia, Longtime Companion and Peoria Babylon.
Night was shot in 35mm, with and without a live audience, at the Theater Project in Baltimore (Drake's home town). A two-week commercial run before cameras rolled doubled as both tech and text rehearsals. All rights are available.
Cast: David Drake. Crew: Producers, Michael Caplan, Kirkland Tibbels; Co-Producer, Gill Holland; Associate Producer, Jennifer Schaefer; Screenwriter, David Drake; Director, Tim Kirkman; Cinematographer, James Carman; Production Design, Tim Hunter; Sets, Anna Louyez; Editor, Caitlan Dixon. Contact: Kirkland Tibbels, FilmNext, 8489 West Third Street, Suite 1056, Los Angeles, CA 90048. Tel: (323) 801-2200, Fax: (323) 801-2242; website: www.filmnext.com
---
Veteran TV and theater director Paul Lazarus makes a transition to the silver screen with Seven Girlfriends, a rollicking romantic comedy starring Tim Daly as a bachelor revisiting past loves to try to figure out where he went wrong. The crisis that precipitates Jesse's intrepid tour comes with the accidental death of a former fiancé ("Melrose Place" star Laura Leighton) who, fives year earlier, caught him in flagrante with her best friend on their wedding eve. Actresses Mimi Rogers, Elizabeth Peña, Jami Gertz, Melora Hardin and Katy Selverstone play the quintet of women Jesse's left in his wake; also in the cast are Olivia D'Abo and Arye Gross. Prolific playwright Stephen Gregg, best known in film circles for writing the screenplay for Amblin's upcoming Weetzie Bat, wrote Girlfriends from a story idea by Lazarus.
Over the last ten years Lazarus has directed episodes of a dozen TV series including "Mad About You," "L.A. Law" and "Melrose Place". He's directed over 60 plays at theatres from Lincoln Center to La Mama and was artistic director of the Pasadena Playhouse from 1990 to 1992. His most recent work for the stage includes "The 24th Day," which paired "E.R."'s Noah Wyle with "Chicago Hope"'s Peter Berg and won six L.A. Dramalogue awards including Best Director.
Girlfriends producer J. Todd Harris met Daly when the actor was cast in Denise Calls Up, Harris' first independent project for the Davis Entertainment Classics (DEC) banner he launched with 20th Century Fox's John Davis in 1994. Harris is now also partnered with Daly in the Paramount-based Daly-Harris Productions. Veteran producer Barry Opper rounds out the producing team with Harris and Lazarus.
Girlfriends shot in and around L.A. for five weeks and wrapped in mid-March; a tight post schedule means the film should be just about done by the time you read this. All rights are available.
Cast: Tim Daly, Olivia D'Abo, Jami Gertz, Melora Hardin, Laura Leighton, Elizabeth Peña, Mimi Rogers, Katy Selverstone, Arye Gross. Crew: Producers, Paul Lazarus, J. Todd Harris, Barry Opper; Screenplay, Stephen Gregg; Director, Paul Lazarus; Original Story, Paul Lazarus, Stephen Gregg; Cinematographer, Don E. FauntLeRoy; Production Designer, William Barclay; Costumes, Alexandra Welker; Casting, Mark Teschner. Contact: J. Todd Harris, Daly-Harris Productions, 5555 Melrose Avenue, Los Angeles, CA 90038. Tel: (323) 956-8930, Fax: (323) 862-1067.
---
Kelly Anderson's Shift tells the story of a lonely married woman who finds intimacy in a phone relationship with a telemarketer who turns out to be a convict working for a few dollars a day. Shift starts when Melanie, an airport coffee shop waitress in her late twenties, arrives home after a particularly disheartening day still simmering from a morning conflict with her unemployed husband. A telemarketing phone call provides distraction, but Melanie soon notices that Louis, the man on the other end, is veering into more flirtatious territory.
"It's about two people struggling against alienation who make an unexpected connection over the phone but are thwarted by their circumstances," says Anderson. Set in the contemporary south, the one-hour drama, an ITVS production, also explores the growing trend towards corporations contracting with prisons for cheap labor. "You can call up TWA or AT&T and get an inmate on the phone and not even know it," says Anderson. Newcomer Alethea Allen plays Melanie, Christopher Meloni ("Oz") is Louis, and Eric Thal (A Stranger Among Us) and Marla Sucharetza (The Autumn Heart) are Melanie's husband and best friend.
Anderson, 34, studied Modern Culture and Media at Brown University and has been making documentaries in New York for the last ten years; Shift constitutes her first foray into fiction. She's best known for Out at Work, a Sundance '97 American Spectrum entry which HBO programmed last year after commissioning additional material to replace one of the film's three storylines.
Anderson's other films include "Signal to Noise," a three-part public TV series about Americans' relationship with television which she co-produced, and Looking for a Space, about lesbians and gay men in Cuba. Also an instructor of documentary production and editing at New York's Hunter College, she says Shift's story was "kicking around" in her head when she read one of colleague Tal McThenia's feature scripts and they decided to collaborate. The filmmakers raised $300,000 in financing from ITVS' 1997 American Stories narrative initiative.
The 16mm color Shift was shot over three weeks last May; the filmmakers needed a southern locale with an airport and a prison and chose Winston-Salem, North Carolina. "We liked the feel of the landscape," says Anderson. PBS has U.S. broadcast rights; all others are available. At press time Anderson was starting a round of festival applications and expects to complete the circuit before Shift airs.
Cast: Alethea Allen, Christopher Meloni, Eric Thal, Avery Glymph, Marla Sucharetza, Matthew Bradshaw. Crew: Producers, Kelly Anderson, Jill Footlick; Executive Producer, Tami Gold; Screenwriter, Tal McThenia; Director, Anderson; Cinematographer, Keith Smith; Production Design, John Paino; Editors, Kate Sanford, Alisa Lepselter. Contact: Kelly Anderson, AndersonGold Films, 151 First Avenue, Suite 210, New York, NY 10003. Tel/Fax: (212) 982-7222.
---
Mikey Jackson fires from the hip with his first feature, Shooting Vegetarians, a highly stylized absurdist comedy that borrows equally from John Waters and Walt Disney. Guillermo Diaz (200 Cigarettes) stars as Shooting's skateboarding hero, Neil, a vegetarian and animal rights activist given to asides addressed directly to the camera. Neil queasily succumbs to his father's entreaty to take a trainee spot in the family butcher shop but soon flees the scene, returning later to hack up his dad in a frenzy. In a fugue state he fillets the corpse with the tools at hand and sells the results as that day's special. Meanwhile Neil's girlfriend Daisy (Reiko Aylesworth) and best friend Austin (Neil Driscoll, Jr.) await him at the Happy Coffee Shop, ground zero for the town's Gen-X crowd and Austin's trippy girlfriend (Elodie Bouchez), the Happy manager and an exotic creature in an otherwise mundane suburban world. Bouchez, who won both Cannes' Best Actress prize and a Cesar (French Oscar) for her performance in The Dreamlife of Angels last year, literally bounces through the film with bubbles trailing in her wake thanks to offscreen trampolines and a soapsuds detail. "We took it as close to slapstick as we could without falling off the cliff into Jim Carrey territory," says Jackson.
Jackson, 23, made two prior films he describes as installments of a micro-budget experimental "Anomie Trilogy." He got the cash and crew to make a bona fide feature thanks to producer Gill Holland, who committed to the script immediately upon reading it two years ago and is responsible for Bouchez's participation. Best known for producing Morgan J. Freeman's 1997 Sundance winner Hurricane Streets — a debut effort for both on which Jackson was a camera p.a. — Holland has since sealed a reputation for facilitating first films from offbeat indie auteurs and most recently wrapped Tom Gilroy's Spring Forward. Jackson estimates he's worked more than 20 features as second a.c. or loader since his Hurricane initiation. "The plan was to stay as close to set as possible and learn from everybody else's mistakes," he says.
Vegetarians was shot on 35mm over three weeks this spring in Rockland County's Nanuet. Vegetarians should be done this fall; all rights are available.
Cast: Guillermo Diaz, Elodie Bouchez, Neil Driscoll, Jr., Reiko Aylesworth, Brooke Smith, Didi Conn, Bill Sage. Crew: Producer, Gill Holland, Lee Lewis, Kevin Chinoy; Line Producer, Allen Bain; Executive Producer, Michael Morley; Screenwriter/ Director, Mikey jackson; Cinematographer, Steven Lubensky; Production Design, Jon Nissenbaum; Costumes, Luca Mosca; Editor, Jonathan Mednick. Contact: Gill Holland, cinéBLAST!, 32 Thompson St., New York, NY 10013. Tel: (212) 941-0788, Fax: (212) 504-3281.
---
Julliard grads Elizabeth Marvel and Bill Camp, who shared star billing as Shakespeare's ultimate power couple in the American Place Theatre production of "Macbeth" this winter, play a contemporary husband and wife in crisis in Ten Hundred Kings. The debut feature by AFI grad D.W. Maze, Kings finds young New Yorkers Caroline and Paul still numbed by the accidental death of their three-year-old, Alexander, in a playground mishap three years previously. Caroline's a survivor whose extraordinary coping skills have enabled her to overcome her blindness to launch a successful legal career. Paul abandoned a promising career as an academic to work as a housepainter in order to put Caroline through law school. But, Alexander's death has slowly sent Paul into a self-destructive spiral which Caroline appears unable to halt.
Originally from New York, Maze graduated from Williams College in 1992 with a philosophy degree and a half-hour 35mm short, The Snowman, that served as his ticket to AFI the following year. His first feature screenplay, Memoir, was optioned last year by Will Smith's production company, and Maze is tentatively attached to direct that this fall. Kings is being made with private financing under the auspices of Intrinsic Value, whose partners Isen Robbins and Aimee Schoof share producing credit with James P. Towne, Maze's Williams classmate and collaborator on Snowman. Robbins segued from production design to produce The Sticky Fingers of Time with Good Machine in 1996. He and Schoof formed Intrinsic the following year and have so far produced six micro-budget features including Philip Dolin's B-Movie.
Kings shot for 23 days in Manhattan and Brooklyn beginning April 24. Also in the cast is writer-raconteur Malachy McCourt as the Columbia classics professor who remembers Paul as a star student and may yet give him another shot. Kings should be done early this fall; all rights are available.
Cast: Elizabeth Marvel, Bill Camp, Adam LeFevre, Malachy McCourt, Giovanni Cimmino, Lynn Cohen, John Seitz, Emilio Del Pozo. Crew: Producers, D.W. Maze, James P. Towne, Isen Robbins, Aimee Schoof; Screenwriter/Director, Maze; Cinematographer, Nils Kenaston; Production Designer, Evelyn Sakash; Editor, Towne. Contact: Granis Pictures, LLC, 35 West 92nd Street, New York, NY 10025. Tel: (212) 280-3400, Fax: (212) 280-7514.
---
Filmmaker Marina Zenovich deconstructed Sundance in her feature documentary Independent's Day and exposed some of the more outlandish aspects of the indie film world as a segment producer for John Pierson's "Split Screen". Her new documentary, Who Is Bernard Tapie?, tackles an iconic Frenchman whose extreme life has been the subject of more than eight books and countless profiles in Europe though he's only known in the U.S., if at all, as the star of a single Claude Lelouch film. Confidante of late French president Francois Mitterand and onetime member of French and European parliaments, Tapie started out as a singer, reinvented himself as a hugely successful venture capitalist in the '80s and briefly hosted a talk show, "Ambitions," on French TV. He holds a record for sailing across the Atlantic and owned a Marseilles soccer team until his conviction for fixing a match sent him to prison. After serving an eight-month sentence, he recorded a song ("C'est Beau La Vie") with French rap star Doc Gyneco in which he joked about the experience, and he subsequently published a bestselling autobiography that he wrote in jail.
Zenovich knew none of this when she went to the Los Angeles DGA one night in April '97 to see Lelouch's Hommes, Femmes: Mode d'Emploi. Before the lights went down, the director got up to dedicate the screening to "my friend Bernard Tapie, who is in jail tonight." By chance Zenovich was headed to Cannes the following month for Next Wave, the finishing fund for low-budget features for which she was then a scout, and started asking locals what they knew about Tapie. "To my surprise their eyes lit up and everyone had an opinion — he was notorious and they loved him, or they hated him," she says. "I knew there was a film there."
Cut to that September's IFFM. Zenovich was screening a rough cut of Independent's Day to solicit completion financing and negotiating with Pierson regarding her role on "Split Screen". She was also enthusing about Tapie as a feature subject to Pretty Pictures' James Velaise, her Paris-based foreign sales agent for Independent's Day, and he agreed to co-produce the new film. Independent's Day was finished in November, and Zenovich went to Paris to start shooting Tapie with a borrowed digital camera. Although Tapie speaks no English and Zenovich's French is remedial, she persevered, returning five times more, wrapping up a final French shoot in early June.
"I pitch it as 'goofy American girl sees French guy in movie and goes to France to find him, but soon learns he is more than she thought and discovers intriguing differences between the French and the Americans while coming to terms with her fascination with this powerful, seductive character,'" says a breathless Zenovich. Who Is Bernard Tapie? should be finished early this fall; the film is in English and French with English subtitles. An early trailer screened at the '98 IFFM; all rights are available and Pretty Pictures is handling foreign sales.
Contact: Marina Zenovich, Graceful Pictures, 8731 Shoreham Drive, #3, West Hollywood, CA 90069. Tel: (213) 427-8580, Fax: (323) 782-8014, e-mail: gracefulz@aol.com.