11:14
Greg Marcks's 11:14 is a dark drama with five overlapping storylines that moves backwards from a car accident at which all its tales collide. "The movie ends at the same moment it began," says Marcks. "I wanted to capture randomness, and that's difficult to do within a narrative because everything has to pay off. So I decided to pay [the stories] off before I set them up. By the end you figure out how they were connected." All five stories have criminal elements: "It's a suburban noir," says Marcks. "Because it's a small town the only people out late are the ones in trouble."
Marcks, 26, won a 2001 Student Academy Award for his short film Lector. He wrote 11:14 that fall and signed with William Morris early last year. Ten months later he was directing an ensemble cast including Hilary Swank, who is also an executive producer. Low-seven-figure financing came from MDP Worldwide (Monster) through producers Beau Flynn (Tigerland) and John Morrissey (American History X).
"The whole process from meeting to wrapping was less than a year," says Flynn. "[The film] all takes place at night so the logistics of shooting five stories were incredible, but I had an instinct about Greg. He's from a small town and that's what this taps into – how a small event can cause a ripple in everyone's lives. It has genre elements rare in an indie and a big reveal at the end that's a really smart twist."
The 35mm 11:14 shot in L.A. last fall. Marcks mapped each story on a parallel grid and insisted script pages note exact timing. "There's a clock in the center of town you see all the way through that tells you where you are," he says. "I had to be close to the minute-by-minute reality so when it came time to nip and tuck in post it would all hold together in real time. We shot 26 nights and averaged 25 setups a night. We called the hour from 5:00 to 6:00 the 'tragic hour' because you could see the sun starting to peek out." Also in 11:14's cast are Patrick Swayze, Barbara Hershey, Colin Hanks, Ben Foster, Henry Thomas, Clark Gregg and Rachel Leigh Cook.
Contact: Beau Flynn (producer) at bflynn@firmentertainment.net
EVERYWHERE BUT FLORIDA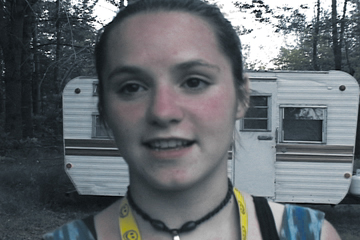 Everywhere But Florida: Cognitive Dissonance in Election 2000
"The idea was to recreate the experience of those six weeks when we didn't know who the president was and were trying to figure out why," says Matt Kohn about his documentary Everywhere But Florida: Cognitive Dissonance in Election 2000. The film is about Bush v. Gore, the case resulting from the presidential election that put W. in the White House, and to make it Kohn sent 40 amateur filmmakers into their neighborhoods to ask ordinary citizens what they thought went down that November. Meanwhile, he interviewed a dozen constitutional scholars like Alan Dershowitz and Vincent Bugliosi. "It's a street-level political oral history," says Kohn. "I e-mailed 100 questions all over the country inviting anyone with a digital camera to participate and got thousands of replies from history teachers to corporate shooters from Virginia to San Francisco."
Kohn studied political science at Brandeis and has made three shorts, including the comedy Rosa X-Rays Joe and a Gulf War doc, Soldiers for Peace. "I started out to make [Florida] as a 15-minute short I could finish in a month. It just took off," he says. "The DV and post revolution allowed me to work slowly with minimal expenditures beyond a camera and Final Cut Pro. I just kept buying hard drives."
Contact: Matt Kohn (director) at firewalkfilm@earthlink.net
MERE FORMALITY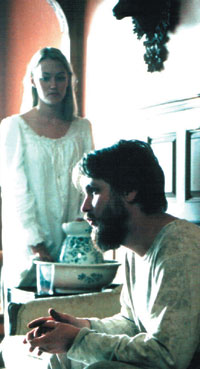 Max Kovalsky's Mere Formality.

Max Kovalsky is on a mission to put the "art" back in art film, and with Mere Formality, an atmospheric homage to Kafka's The Trial with a visual palette inspired by Rembrandt and Vermeer, he's off to a running start. Mere Formality unfolds in a post-apocalyptic setting where the one man who rebels against the new pseudo-theocratic order is arrested and sentenced to die. "It's about an eternal subject – questioning the reason for death," says Kovalsky.

Originally from Latvia, where he studied painting from the age of five, Kovalsky got his B.A. from New York's School of Visual Arts and started his film career in art direction. Now 24, he directed his first short, Atonement, in 2001 and says his primary influences are Tarkovsky (aesthetically) and Bergman (thematically). "I'd like to exercise the kind of control painters do over their medium, where every stroke counts and every highlight and shadow is arranged," he says.

The Super 16mm Formality was shot over 15 days last fall on Boston Harbor's Peddock's Island, an abandoned and appropriately crumbling World War I army barracks accessible only by boat, and a Massachusetts estate preserved as a museum with grounds by Frederick Law Olmstead. Because oil lanterns are the story's only light source, Kovalsky and d.p. John Pirozzi chose a slow Kodak stock and rigged the lanterns with gelled bulbs. "That was a real headache because the gels kept burning, but in the end it worked," the director says. Kovalsky took on the lead role himself when the actor set to play it dropped out three days before shooting; other cast are theater veterans making their transitions to film. Kovalsky and producer Jennifer White raised the film's six-figure budget through private equity and plan to self-distribute to arthouses. Formality's score will be performed by musicians from the New York Philharmonic Orchestra and vocalists from the Metropolitan Opera.

Contact: Max Kovalsky (director) at maxim@shadowpictures.org

MESSENGERS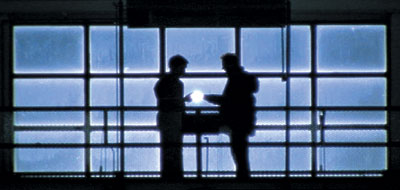 Philip Farha's Messengers.
"It makes SARS look absolutely pedestrian," says director Philip Farha about his first feature, a supernatural thriller called Messengers. The film starts when a young doctor returns home for her father's funeral and learns that he died of a speed overdose and his former patients are all taking the drug to avoid sleep. "It's a science fiction story that's a metaphor for humanity and our earthly fears and worries," says Farha.
Farha went to Wesleyan University and graduated from Columbia's MFA film program in '98 having produced a feature (Snakes and Arrows) as a thesis project. His short, A Brief Inquiry into the Origins of War, sold to 17 TV channels worldwide. Last year Farha and producing partners Alvaro Donado, Meryl Emmerton and Daniel MacLeith put together financing for a project they then set aside as too ambitious for their six-figure budget. They found Charles Hall's Messengers on the Web site writersscriptnetwork.com.
The Super 16mm Messengers shot 18 days in December on Bronx enclave City Island. "It's a surreal combination of industrial wasteland and forgotten city," Farha says. Messengers will feature Farha's "handmade approach" to film with bits of hand-drawn animation, painted frames and scanned overlays. "I'm trying to include subtle graphic references in an incredibly layered piece that paints its own world," he says. "I'm using a lot of tools most people have on their computers and just don't use." Andrij Parekh (Helicopter) was Messengers' d.p. and Michele Hicks (Twin Falls Idaho) and Erik Jensen (The Love Letter) star; also in the cast are Frankie Faison, Amy Wright, Richard Bekins, Annie Golden and John Sebastian. The film should be finished by Labor Day.
Contact: Alvaro Donado (producer) at adonado@workshopproductions.com
SPIN
James Redford's Spin.
Flying machines and broken dreams star in James Redford's Spin, an adaptation of Don Axinn's novel about a teen orphan coming of age on his uncle's southwestern ranch following his parents' death in a plane crash. The 1950s period film, Redford's first as director, features Ryan Merriman as a troubled teen who is finally liberated when he learns to fly.
"There's something retro about this film," says Redford. "It's set on an enormous landscape that harkens back to Elia Kazan's dramas of the '50s and '60s. And it's an honest-to-god drama lacking ironic detachment." Axinn, a lifelong pilot who applied the lessons of a successful career in real estate to producing Spin with attorney Elaine Rogers, also did much of the film's stunt flying.
Redford initially planned to become a novelist and holds an M.A. in literature from Northwestern University. He made his first foray into producing with the 1999 documentary The Kindness of Strangers and tackled the Spin screenplay after a friend introduced him to Axinn. "I was interested in exploring family dynamics and how hard it is sometimes to find your identity and your way in life," says Redford, whose father is Robert Redford.
The 35mm Spin shot for seven weeks in southern Arizona this spring with Paul Ryan (Big Bad Love) as d.p. "The first day you direct a movie is like going over Niagara Falls in a barrel," says Redford. "Figuring out how to convey the experience of flying and executing the imagery we wanted on the budget that we had was a challenge, but it was the unexpected moments that made it so exciting." The filmmakers will post through the summer in Marin County. Also in the film are Stanley Tucci, Ruben Bladés, Dana Delaney and Paula Garcés (Clockstoppers). Redford and Axinn plan to follow Spin with a film of another Axinn novel, Allan, Burning, an Everglades-set psychological thriller.
Contact: Don Axinn (producer) at ax555@aol.com
THE WOODSMAN
Midway through NYU's grad film program in March 2000 Nicole Kassell (2002 Sundance short The Green Hour) saw Steven Fechter's play The Woodsman at New York's Actors Studio. About a convicted child molester's return home after 12 years in prison to rebuild his life, the play ran to full houses for a month and was extremely well-received.
"The play blew me away and I approached Steven about optioning it with a first draft I thought showed my vision and seriousness. He agreed on the condition he come on as a co-writer." Nine months later The Woodsman took top honors at the Slamdance Screenplay Competition, and last July Monster's Ball producer Lee Daniels came onboard and assembled a cast that includes Kevin Bacon, Benjamin Bratt, Kyra Sedgwick and the rapper Eve.
"In light of what's been going on in our society we really need a dialogue about pedophilia and sex offenses," says Kassell. "[The film] takes you on a journey with a character you're inclined to write off as a monster. Since you first meet him before knowing what he's done you're challenged by the recognition that someone who seemed likeable or sympathetic has done something so horrific. The driving question is to what degree as a society are we willing to give someone a second chance?"
Kassell studied art history, photography and film as a Columbia University undergrad and logged two years in documentary editing in California between college and grad school. Her doc short Cornelius is in the IFC library and another NYU short, Jaime, screened on Hypnotic after winning the '99 DGA Best Female Student Filmmaker Award. The Woodsman's five-week shoot is set for a May 12 start in Philadelphia with d.p. Xavier Perez Grobet shooting film.
Contact: Lee Daniels (producer), leedanielsmgmt@aol.com