OUT OF THE CELLULOID CLOSET
Tommy Nguyen on Funny Boy Films, the new gay and lesbian "studio."

Steve Sandvoss in C. Jay Cox's Latter Days. Photos: Laurent Weber
So when are you guys doing another gay film?" That's what TLA Releasing kept asking the folks at FilmNext, producers of The Night Larry Kramer Kissed Me. The Philadelphia-based independent film and video distribution company was pleased with how the movie was selling from their catalogue of videos, one of the world's most extensive for gay and lesbian titles.
TLA's question was the spark for FilmNext president Kirkland Tibbels and production v.p. Jennifer Schaefer's new venture, Funny Boy Films, which they dub "the world's first gay and lesbian studio." Comments Schaefer, "There was no Village Roadshow— or Revolution Films—type structure anywhere for gay and lesbian films – a place where distribution and financing lived at one spot."
Like those industry models, Funny Boy finances films with distribution in hand. Partner TLA is Funny Boy's backup distributor and has a first-look deal with the company. Planning to make 10 films in the next three and a half years for budgets between $500,000 and $1 million, Funny Boy intends to shy away from the "no budget" indie gay film in favor of movies with a slicker look and feel. As with the company's first feature, Latter Days, the directorial debut of Sweet Home Alabama screenwriter C. Jay Cox, Schaefer says she expects most of the company's films to be shot on 24P Hi-Def video at budgets close to $850,000. "If you want good production value, the days of the half-million-dollar feature are over," she adds.
Although the idea of a gay movie studio would seem to carry the respectability of progressive public service, Tibbels doesn't like to harp on Funny Boy's do-good qualities. In fact, the first thing Schaefer and Tibbels want you to know about the company is that it boasts a solid business plan. "My business background tells me that markets continue to specialize," Tibbels explains. "It's a pretty strong niche to predict: if you do a number of films over a period of time for that marketplace, it's a pretty reasonable bet that you're going to do okay financially as an investor. If it's just one film, it's a pretty risky bet. The more you start piling on a portfolio, it becomes like every other [sound investment]."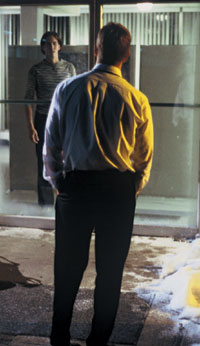 Latter Days.
But what if Funny Boy discovers it has a Crying Game on its hands? TLA has proven itself in the business of home viewing, but does it have what it takes to push the theatrical release of a crossover hit? "We'll deal with it when the time comes," Schaefer says, and indeed, bringing in a larger distributor for extraordinary situations is consistent with the "very flexible" arrangement the company has with TLA. "What's great about TLA," Schaefer continues, "is that their number-one priority is the film. They would give us the freedom to do what we needed with the film."
The bottom line is that a Funny Boy film will see a release one way or another, which is progress for filmmakers of gay and lesbian cinema. "Gay people these days pretty much know they're gay," Schaeffer asserts. "They've come out. They don't need to wear a T-shirt or march in parades. Funny Boy Films isn't about making 'gay films.' It's about making comedies and dramas and horror films for gay characters."
Latter Days, which is due out this fall, is a case in point. A comedy about a party boy who falls for a young Mormon missionary, it represents the kind of fare Funny Boy wants to put out. The film, Tibbels says, "is committed to bringing a certain amount of laughter to the world" but is also remarkable in its "emotional maturity."
"It's time to do away with the coming-out stories, the AIDS stories," Schaefer concludes. "They were great and wonderful and beautiful for the time that we had them. But now we're living our lives, and we just want to relate."