THE SECRET LIFE OF JUNK
By Mike Jones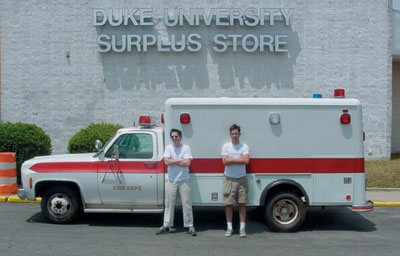 Filmmakers Chris Wilcha and John Freyer in Secondhand Stories.
Where the domestic life of Journey albums, Tupperware containers and discarded children's toys ends, Chris Wilcha's new work, Secondhand Stories, begins. Along with collaborator John Freyer, Wilcha bought a 25-year-old ambulance off eBay and began a road trip south, stopping and shopping at garage sales, thrift stores and other secondhand outlets such as Unclaimed Baggage, a retail orphanage for the nation's abandoned luggage and its contents. The result, now a pilot for PBS, is made entirely with the secondhand equipment, cameras and bits of Super 8mm footage acquired by Wilcha and Freyer on their trek.
In one of Secondhand Stories's many poignant moments, a forgotten incoming message on an answering machine relays an elderly woman's heartfelt final goodbye, while a Univox drum machine provides a happy, trippy score. Between strangers' Super 8mm memories of Hawaii and strawberry picking, Wilcha also captures the sellers' stories behind the items. A man sells what remains of his $250,000 investment in a defunct company's invention, a plastic roadside "wobble light" that rights itself when hit. Wilcha gets the single prototype for 50 bucks. Elsewhere, the filmmakers attend the estate sale of a shy, deceased pack rat who was a passionate garage-sale shopper – a surreal garage sale of garage sales. "It might not have been the life I would have led," his executor says, "but it was a life that seemed to work for him."
In the end, the ambulance saps the last of the filmmakers' money in gas and repairs. To finance their way back north, they find an empty driveway in Houston and sell everything they've accumulated so far. They tape the happy buyers with their items, asking what motivated them to make such odd purchases. Many don't know why they bought, say, a jar filled with marbles or images of a stranger's family vacation. The price seemed right at that impulsive point of purchase.
Wilcha's observational talents combine well with Freyer's long-standing interest in the evolving history of abandoned stuff. Wilcha is best known for his indie festival hit The Target Shoots First, in which he trained a video camera on the bizarre corporate world of his day job at the Columbia House music club. Previously, Freyer put the entire contents of his apartment for sale on eBay, documenting the journey of his belongings to their new owners on a Web site (allmylifeforsale.com), on an episode of the public radio program This American Life, and in a recent book, All My Life for Sale (Bloomsbury).
It may be sad to think that the things lovingly exchanged in Secondhand Stories will probably only be consigned to another garage sale or given to thrift stores, caught in an unending cycle of useless reuse. But for Wilcha and Freyer, this "secondhand sightseeing tour" was an absorbing study of nostalgia's link with micro commerce, one in which an item's history is either rewritten or completely stripped away in the bins of Goodwill.