IN FOCUS: POSTING UP
Mary Glucksman profiles six independently financed features.
LOGGERHEADS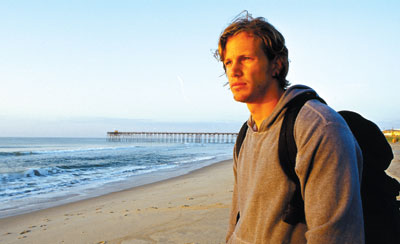 Loggerheads.
"I'm fascinated by what we don't say and how loudly that [silence] speaks," says Tim Kirkman (Dear Jesse) about his first fiction feature, Loggerheads. The film connects three stories set in different parts of North Carolina in different years. Linking them is the character of a young HIV-positive drifter who settles into a beach town as his adoptive mother wrestles with the homophobia that drove him away and the woman who gave him up at birth decides to search for him. Kip Pardue (Remember the Titans) stars. "The question of whether these people will all meet drives the film," says Kirkman. "I think it's going to enrage some people. Adoption is a sensitive subject, and there are strong feelings on both sides about whether birth parents should be able to locate their children and vice versa."
Born and raised in North Carolina, Kirkman relocated to New York after college for a graduate program in media studies and held a day job in design at Miramax for nearly a decade. "I spent half my time making money so I could spend the other half writing," he says. Kirkman followed Jesse with The Night Larry Kramer Kissed Me, a film of David Drake's one-man show. In the works for five years, Loggerheads got a jump start in January when producer Gill Holland (Hurricane Streets) merged his 10-year-old cinéBLAST! outfit with Lillian LaSalle's management company.
Loggerheads' Super-16mm May shoot took the filmmakers from Ashville and Wilmington to the coast's Kure Beach. Holland plans to lock the final chunk of post financing with a dailies show-and-tell. Also in the cast are Bonnie Hunt (Jerry Maguire), Chris Sarandon (The Princess Bride), David Keith (An Officer and a Gentleman) and Tess Harper (Tender Mercies). Oliver Bokelberg (The Station Agent) is the d.p.
Contact: Gill Holland at gill@lasalleholland.com
FORTY SHADES OF BLUE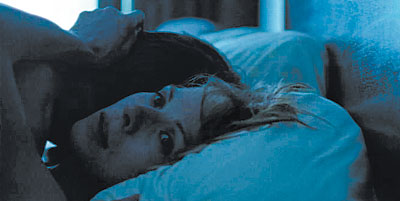 Forty Shades of Blue.
"It's about the kind of woman movies don't often pay attention to — the woman on the arm of a powerful man," says Ira Sachs (The Delta) about his second feature, Forty Shades of Blue. The Memphis-set drama stars Rip Torn as a legendary music producer starting a second family with his much-younger Russian girlfriend (Last Resort star Dina Korzun) when his disapproving adult son comes home and bonds with her. "Dina's like a young Catherine Deneuve," says Sachs. "Anyone who's had a father with the stature of Rip's character suffers in finding out what they're going to be like as an adult, and she gets in the middle of that. But ultimately, antagonism is transformed into affection."
Born and raised in Memphis, Sachs got an English lit degree from Yale and skipped film school for on-the-job education with Martin Scorsese, Eric Bogosian and Norman René. He was nominated for the IFP's Open Palm Award in '97 after Delta's Sundance premiere. Both Delta and Forty Shades of Blue were produced by Margot Bridger, and the two financed Blue's $1.75-million budget with private equity. Sydney Pollack is an executive producer.
The Super-16mm Blue was shot over 30 days this spring in locations from fabled Memphis recording studios to Mississippi River mansions with Julian Whatley (How to Make the Cruelest Month) as d.p. "It has a naturalistic tone but it's classically structured, and in terms of storytelling there's a real density to it," says Sachs. Darren Burrows (Northern Exposure) and Danish actress Paprika Steen (The Celebration) costar. Also in the cast and performing onscreen are Sid Selvidge and visionary Memphis music producer Jim Dickinson, previously teamed in the band Mud Boy and the Neutrons.
Contact: Margot Bridger at margotbridger@earthlink.net
DEADROOM
Deadroom.
"I like creepy," says filmmaker James M. Johnston. So when he decided to make a no-budget film in collaboration with three other Dallas filmmakers, he thought to himself, "How do I make two people in a room creepy?"
That rumination was the spark for Johnston's segment of Deadroom, which is about a conversation with a murdered woman. To make the complete feature, which has the inviting tagline "Our life is made by the death of others," Johnston and his filmmaking partners figured out how to link their separate story ideas and pool their resources. The result is a kind of no-budget Four Rooms, a quartet of theoretical confrontations between the suddenly bereaved and loved ones who carried secrets to their graves.
"We feel it's pretty damn original," says David Lowery, whose "room" is an unexpected confession of infidelities committed by a man killed in a car crash and by his grieving wife. Lowery, also Deadroom's editor, credits buddy Yen Tan with the overall concept. Tan's contribution finds a woman confessing a secret crush to a colleague killed in a fire.
All four Deadroom filmmakers are in their 20s and have prior credits. The Malaysian-born Tan won the '02 jury prize at the Philadelphia Gay and Lesbian Film Festival for his first feature, Happy Birthday, an Altmanesque ensemble drama now out on DVD/VHS. Johnston made video shorts in college, got his first play produced Off-Broadway and parlayed the minor success of the short The Knocker into a for-hire gig directing his feature debut, Mere Acquaintance. Lowery has a feature, Lullaby, and a short, Still, on his résumé. Nick Prendergast, whose "room" is an interview with a novelist whose work predicted future events, is a photographer and director of the short Huggy.
The digital Deadroom was shot with two cameras over 10 days in January on a Dallas soundstage after two months of videotaped rehearsals; Jim McMahon (Acquaintance) was the d.p. Lowery edited on his Apple suite and has been maintaining a blog (www.deadroommovie.com) on his progress. Best known of the 12-member cast is Harry Goaz (Twin Peaks); Dallas jazz band guitarist Daniel Huffman composed the score and recorded it with the Fort Worth Symphony string section.
Contact: David Lowery at dvd@deadroommovie.com
KEEP YOUR DISTANCE
Keep Your Distance.
"My goal is to look at crossroads where there may be obvious moral choices and examine how people decide to do what they do," says Stu Pollard (Nice Guys Sleep Alone) about the dark drama Keep Your Distance. The film stars Gil Bellows (Ally McBeal) as a popular Louisville talk show host balancing a troubled marriage, an obsessive fan and a deepening affection for a traveling saleswoman with her own romantic issues (Kissing Jessica Stein screenwriter-star Jennifer Westfeldt). "It was inspired by a long-distance relationship and the notion that it's easier to like and trust someone you don't see every day," says Pollard.
A native of Louisville, Pollard got a marketing degree at Georgetown and spent three years in advertising before entering USC's grad film program. "As a guy who walked in from the business world, I had to overcome some insecurity, so I stuck to producing," he says. "I produced 15 shorts, and I developed my own style in the process." After Nice Guys sold to HBO, Pollard spent two years raising a seven-figure budget for Distance. "Getting the first one out on DVD really helped attract local investors to the second," he says.
The 35mm Distance used 127 separate Louisville locations, including Churchill Downs, over six weeks last summer. Matthew Irving (Groove) was the d.p. Pollard opted for a protracted post in order to prepare a digital intermediate. "I rushed through post on my first film to make a festival deadline and it was a mistake," he says. Also in the film are Stacy Keach, Elizabeth Peña (Lone Star) and Christian Kane (Just Married).
Contact: Stu Pollard at stu@distanceflick.com
DOWN IN A HOLE
Down in a Hole.
"It's a true story about a friendship that spans 24 years," says Nathan Friedkin, 35, about his doc feature Down in a Hole. The film examines his relationship with a once-charismatic athlete whose promising career as an actor has been sidetracked by a bipolar disorder diagnosis and a swift descent into illness. "I could not believe this was happening to Doug, my intelligent, successful friend," says Friedkin. His "cinema therapy" approach to engaging a depressed Doug successfully "drew him out" while provoking battles behind the scenes and on camera. Down gets additional perspective from interviews with doctors, researchers and family members.
Friedkin cites Stone Reader and My Architect as influences. "[Both] filmmakers made a choice to use self-reflexive journeys as a way of connecting to their characters, and that made those films more compelling and accessible to audiences," he says. "In Down you have a protagonist and an antagonist, but we switch roles several times. Our friendship is tested by the making of the film. People who start out empathizing with what I'm doing may think [by the end that] I've gone too far. The film raises issues of filmmaker responsibility and how that changes when the subject of your film is a friend who is mentally ill."
Friedkin originally planned to be a writer and dropped out of UCLA to work for Henry Jaglom and later for doc director Michèle Ohayon. A freelance media producer, he financed Down's two-year DV shoot with grants, donations and credit cards and put post on hold to fund-raise; he estimates the final budget at $250,000. Faith No More guitarist John Hudson, an old friend, is providing Down's score. For more information, visit DIAHthemovie.com.
Contact: Nathan Friedkin at DIAHthemovie@yahoo.com
DONUT HOLE
"I'm heavily influenced by Almodóvar and how he doesn't judge his characters," says Queer as Folk star Peter Paige about his first feature, Donut Hole. Paige also stars in this "melancomedy" about a gay man so devastated when his adored godson's family moves out of town that he starts hanging around parks and seeking babysitting gigs to replace that relationship. Things turn ugly when a local mom (Sister Act's Kathy Najimy) decides he's a pedophile.
"If I take my godson to the playground and there's a guy alone playing with the kids, I'm going to think that's a little weird and investigate," says Paige. "What sets this apart is that she doesn't stop. I call [the film] a reality-based issue comedy."
Paige spent his college years in Boston University's classical theater conservatory and a decade acting and directing in New York and regional theater before launching a television career. He polished Donut for six years before teaming with producer Christopher Racster (Little Black Boot, April's Shower) to "cobble together" equity financing. "It's a 'one foot in front of the other' process, but if you pick up the phone every day, it's amazing what you can accomplish," says Paige.
Hole's three-week shoot rolled mid-May in Portland, Ore., with d.p. David Makin (Touch of Pink). Also in the film are Lisa Edelstein (Black River), Anthony Clarke (Boston Common), Melanie Lynskey (Sweet Home Alabama) and Gabrielle Union (Deliver Us from Eva). The filmmakers will post in Toronto, where Paige is shooting Folk's fifth season this fall.
Contact: Christopher Racster at christopher@archerproductionsltd.com