IN FOCUS: THE POLITICAL AESTHETIC
Profiles of five new independent films in production.
BY MARY GLUCKSMAN
CHOKING MAN
Choking Man
"It's a view of the world from the claustrophobic perspective of a man suffering from acute shyness that takes as its setting what goes on among recent U.S. immigrants," says writer-director Steve Barron about Choking Man. The film is the story of a withdrawn Ecuadorian dishwasher (newcomer Octavio Gómez Berríos) in love with a Korean waitress (Mail Order Wife star Eugenia Yuan). Fantasy sequences using magic realism and the look of the world from the dishwasher's eyes distinguish the piece. "He's choking on the American dream while spending 16 hours a day a few feet from the poster telling you what to do if someone chokes," says Barron. "It's set in a diner in Queens near JFK that felt like the perfect microcosm for this kind of story — 140 different languages are spoken in the area."
Barron is best known for the seminal music videos he directed for Michael Jackson ("Billie Jean"), Dire Straits ("Money for Nothing") and A-Ha ("Take On Me"), among many others. His first feature was the computer drama Electric Dreams (1984) and his sophomore effort was Teenage Mutant Ninja Turtles (1990), which rocketed distributor New Line Cinema into a whole new arena when it became the first non-studio film to make $100 million at the U.S. box office.
Born in 1956 in Ireland, Barron spent the '90s making films like Coneheads, The Adventures of Pinocchio and the Hallmark miniseries Merlin. He calls Choking Man a return to his cutting-edge roots. "I'd always wanted to write. Music videos obviously call for conceptualization, but when you write and direct your own stuff you own the story and can be subtler," he says. The "under $500,000" project was produced by Joshua Zeman, a longtime New York assistant director and line producer who stepped up to co-producing on The Station Agent Mysterious Skin, and The Hawk is Dying and Ghost Robot's Zachary Mortenson (Breath Control, Hell House)
The 16mm Man shot 18 days in Harlem and at Queens, New York's Olympia Diner beginning April 11 with Antoine Vivas-Denisov (Road) as d.p. "It took me back to my music video days — shooting 24 setups a day and running on adrenalin," says Barron. "The freedom you get working with a tiny crew at lightning speed allows you to be really creative — your brain comes up with ideas it might not otherwise." Mandy Patinkin leads an ensemble cast that also includes Aaron Paul (Van Wilder).
CONTACT: Joshua Zeman at josh.zeman@verizon.net
CHONG'S NOT HERE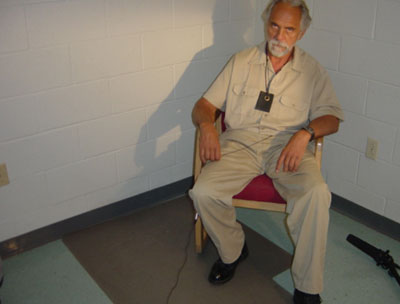 Chong's Not Here
Tommy Chong claims he was never as much of a pot smoker as his characters and couldn't have pulled off the pitch-perfect stoners he created in a dozen movies with partner-in-hilarity Cheech Marin if he had been partaking. That didn't matter to the authorities who raided his house in February 2003 as part of a $12-million sting called Operation Pipe Dream and charged him with conspiracy to manufacture and distribute drug paraphernalia, specifically glass water pipes, over the Internet through a company run by his son Paris. The Up in Smoke star, then 65, was the only one of 55 defendants charged to get a $20,000 fine and jail time
— nine months in federal prison — and his Kafkaesque journey from raid to release is the subject of filmmaker Josh Gilbert's documentary Chong's Not Here.
"Tommy's experience is a lens to understand the drug wars," says Gilbert. "They arrested a cartoon character and put him in prison. They told him, 'If you do anything to fight [your indictment], we'll go after your wife and son for jail time and heavy fines.' He took a deal. He rolled with it, and he was radicalized by it."
Gilbert graduated from the Peter Stark Producing Program at USC in '89 and has written several dozen scripts for companies like Miramax and Fox; he's also worked as a script doctor on projects like American History X. He and Chong have been friends since Chong made the 1990 family comedy Far Out Man at Cinitel, where Gilbert was then working. He financed the project with several hundred thousand dollars from a single investor and shot on a Panasonic 24P AG-DVX100A.
Chong's Not Here includes interviews with Marin, Jay Leno, Bill Maher, Peter Coyote and George Thorogood; clips from early performances; Cheech and Chong fooling around with an 8mm camera on the road; Chong's Top 10 hit from his Motown recording days, "Does Your Momma Know About Me?"; and Chong working a postprison release program minimum-wage job at L.A.'s World Gym. Gilbert would like to include more of Chong's music and comedy but is finding it difficult to secure the rights. "He doesn't own them — he didn't protect his rights very well and they're expensive," he says. The film should be done in July.
CONTACT: Josh Gilbert at josh@tommychongdocumentary.com
FAT GIRLS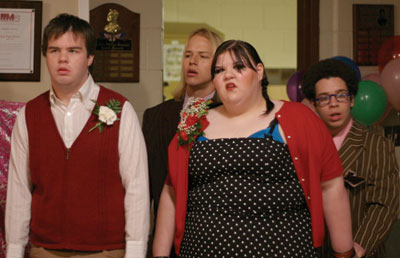 Fat Girls
"I knew for my first feature I had to do something from my heart," says actor-turned-director Ash Christian about his misfits-in-high-school comedy Fat Girls. "I always felt like an outsider in high school — I was the ultimate loner theater geek growing up in Paris, Texas — and I think everyone feels like an outsider at one point or another." Jonathan Caouette (Tarnation) co-stars in the story of a small-town Texas high school theater teacher who takes a gay teen (Christian) under his wing. "It's a little like a sardonic indie American Pie about kids in a small town and the mischief they get into," he comments.
Just 20, Christian started acting in community theater at age eight. He toured the world with the Texas Boys Choir and made his first short, Secrets Underneath, about a teen self-mutilator, at 16. He broke into film acting through guest shots on shows like Six Feet Under, The Division and Boston Public after moving to Hollywood alone at 17. In addition to Caouette, the cast includes Robin de Jesus (Camp), Deborah Theaker (Best in Show) and Alexa Havins (All My Children).
"I met with endless money people, [but the fact that] the lead character was gay deterred a lot of potential investors who likely would have given me money if [he] had been straight," says Christian, who locked down his budget only a few days before shooting.
The no-budget Girls shot in Waxahachie, Texas, for 16 days beginning late January on the Canon XL2 24P camera with 35mm lenses; Vincent Wrenn (Tracker) was the d.p. Christian will complete Girls in time to start his next feature, The Sugar Daddy Diaries, about a young male hustler in New York, this fall.
CONTACT: Ash Christian at craniument@gmail.com, www.ashchristian.com
ON THE LINE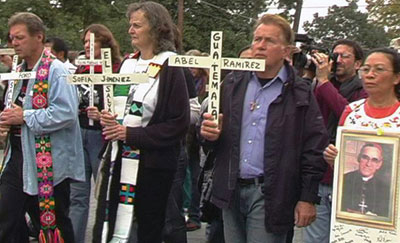 On The Line
Apolitical college student Brian DeRouen turns activist after attending an annual protest at the U.S. Army's controversial Fort Benning, Ga., School of the Americas, a training program for Latin American soldiers which has long been linked with atrocities in that region, in On the Line: Dissent in an Age of Terrorism. The feature documentary uses DeRouen's experience, which eventually includes conviction for trespassing and a prison term, to explore the gray area where national security and civil liberties collide. On-camera interviews with actors Martin Sheen and Susan Sarandon, Dead Man Walking author Sister Helen Prejean, Former House Majority Whip Tony Coelho and others add different perspectives.
First-time directors Peter Glenn and Jason Schmidt say they were inspired to make the film when they saw nonviolent protest repeatedly stifled after 9/11. "Documentaries are like an alternative channel to present perspectives that may not be offered by the mainstream media," says Glenn. "Rediscovering civil disobedience is something I really hope will come out of the film."
He and Schmidt met as interns at Jesuit media company Loyola Productions, where Schmidt's father Ron was then a v.p. and longtime producer. The elder Schmidt teamed with Glenn's brother Tim, an '05 college grad and proprietor of a boutique Web site design studio, to produce On the Line. "We started shooting in November 2004 with no outside financing since between us we had all the gear we needed, including Canon XL2 and Panasonic DVX100 cameras," says Tim Glenn. "We were able to continue guerrilla-style and get interviews with celebrities, politicians and social justice leaders because they share our passion for preserving our right to dissent and First Amendment rights."
Line is currently in postproduction, with grants pending for completion funding. Arthur Schmidt, Jason's uncle, a two-time Academy Award winner (Forrest Gump and Who Framed Roger Rabbit?) is supervising the postproduction. Next up for the Line team is a film about AIDS in Tanzania they are already prepping.
CONTACT: Tim Glenn at tim@onthelinefilm.com, (310) 490-5271
UNTITLED JULIA LOKTEV PROJECT
Untitled Julia Loktev Project
"It's based very loosely on a story that was reported in Russia a few years ago," says filmmaker Julia Loktev about her as-yet untitled fiction feature debut, the story of an 18-year-old would-be American suicide bomber on a mission to explode a backpack device in Times Square. The girl is of ambiguous ethnicity and we never learn where she's from, how she has justified her intentions or whom she represents as the film tracks the 24 hours from her arrival in New York on the eve of the detonation.
"There is no attempt psychologically, sociologically or otherwise to explain her actions," says Loktev. "She believes absolutely in what she is about to do but the film is not so much about terrorism as banal details like the weight of her backpack and the three masked men preparing her deciding what jeans she should wear and ordering her a pizza."
Born in St. Petersburg, Loktev came to the U.S. at 9 and went through NYU's grad film program. Her multiple-screen video installations have been shown at the Tate Modern in London and P.S.1 in New York. Her first feature, Moment of Impact, about a decade of dealing with her incapacitated father after a car accident, won numerous prizes including the 1998 documentary competition directing award at Sundance. She is producing the new film with Moment producer Melanie Judd and Jessica Levin (Rhinoceros Eyes). Financing came from German cabler ZDF and an NYU Richard Vague Film Production grant. The filmmakers looked at 650 prospective actresses for the girl in an open call before casting newcomer Luisa Williams. "Casting was harder than financing — the film rests on her face," says Loktev.
The combination HD-HDV project was shot by Benoît Debie (Irreversible) over five weeks beginning mid-April. "The film is composed of two distinct parts with very different aesthetic structures," says Loktev. "The first half is [her] preparation, organized, isolated and linear, [while] the second is smack-dab in the middle of Times Square, with our actors and extras inserted in real crowds. I was surprised by how well it worked."
CONTACT: Melanie Judd at melaniejudd@facefilm.com