San Francisco International Lesbian and Gay Film Festival
San Francisco International Lesbian and Gay Film Festival The 20th anniversary of the San Francisco International Lesbian and Gay Film Festival found Frameline, the event's sponsor, recovering after an unusually rough year. Although billed as "the largest lesbian and gay cultural event in the world," the festival faced an uncertain future. Discontinued NEA funding, with rising expenses from an expanding festival, led Frameline to a serious financial crisis in 1994. The organization was shaken by the suicide of festival director Mark Finch, who jumped from the Golden Gate Bridge in 1995 after recurring depression. Last year's closing-night premiere of Todd Verow's Frisk caused a mass walkout; an angry audience, expecting a feel-good movie on Gay Pride Day, demanded an explanation for Frisk's violence and technical flaws.
Former director Michael Lumpkin, who ran the festival from 1980 to 1991, returned this year as director. (Lumpkin had left the festival to co-produce The Celluloid Closet.) Jennifer Morris continued as festival co-director. According to Lumpkin, "I came back knowing that I would be here for an extended period of time, because I think Frameline's biggest problem of the past few years was an annual turnover of directors and staff. There's been no stability at the top of the organization." With corporate sponsorship doubled from last year's level, the organization appears to be taking steps to ensure the festival's ongoing financial health.
Although many of this year's 40-plus features had already screened at Sundance, Toronto, Berlin, or Rotterdam, San Francisco provides exposure to a lesbian and gay audience whose critical reaction is a strong indicator of how films might play elsewhere. Attended by more than 275 filmmakers and industry professionals, the festival remains a vital place to make connections. According to J¸rgen Br¸ning, producer of festival favorite Hustler White, "Distribution deals were already done at other festivals, but San Francisco is a place to meet producers and curators, make little deals, and have a sold-out screening at the 1,500 seat Castro Theatre."
Former director Finch's plans to run a lesbian and gay film market concurrently with the festival will not be pursued. Says Lumpkin, "I see their functions and purposes overlapping too much for us to create something that would be happening at the same time. But I would like to have the festival itself accommodate the needs of buyers and sellers." The addition of a new Festival Pavilion, a centralized meeting place adjacent to the Castro Theatre, was a first step in realizing this goal.
Of the record 17 lesbian features, it is certainly significant that "lethal lesbians" (as named by B. Ruby Rich) were found in a film directed by men. The capacity audience for Larry and Andy Wachowski's Bound gasped and hissed at the sight of full-frontal face punches, bloody severed fingers, and point-blank slayings. A woman in the audience exclaimed loudly, "This is not a lesbian movie; it's a shoot 'em up movie." Her comment echoed a question frequently asked at the festival in light of proliferating lesbian images on-screen: "What exactly is a "lesbian' film?" Still, the predictable ending resulted in thunderous applause.
Sex for money emerged as a theme in at least ten features. Among the strongest were three documentaries. Body Without Soul is Wiktor Grodecki's disturbing look at Pavel, a child pornographer and police coroner in Prague. Intense and threatening, Pavel forces young hustlers to perform unsafe sex acts while he films them; he also performs an autopsy and narrates the procedure with odd, chilling enthusiasm. Cross-cutting between teenage bodies and dismembered bodies proved to be an incredibly unsettling metaphor. John Greyson's After the Bath uncovers a child porn panic induced by the police and media in a small Canadian city. Susana Aikin's and Carlos Aparicio's The Transformation, an affecting sequel to The Salt Mines (1990), follows Ricardo, an HIV-positive former transsexual prostitute who becomes a born-again Christian and marries a heterosexual woman. Disappointing was Skin & Bone, a heavy-handed allegory by Everett Lewis, director of The Natural History of Parking Lots (1990). Impressive cinematography and editing could not redeem an overblown narrative about L.A. hustlers, as actors, fulfilling elaborate fantasies.
Cheryl Dunye's Berlin Gay Teddy Award winner, The Watermelon Woman, was an opening night audience hit. This witty, well-written genre-blending feature presented a continuum of lesbian personalities, from stone-butch Cheryl Clarke to hyper-femme Go Fish-star Guin Turner. Dunye reported a positive experience at the festival: "The San Francisco Bay Area audience has the greatest respect for the work, and we got really good press." The screening was preceded by a recent C-Span clip of Congressional debates over the NEA grant Dunye received to fund the project.
Addressing black women's history and black lesbian identity, Dunye's feature does not exist in a vacuum. Of the more than 200 features, short films, and videos seen here, at least 12 were by or about black lesbians, including several outstanding works receiving wide exposure. Shari Frilot's Black Nations/Queer Nations? is on the film festival circuit; Sonja de Vries' Gay Cuba is one of five films in the festival being distributed by Frameline; and Yvonne Welbon's Remembering Wei Yi-Fang, Remembering Myself aired on public television's P.O.V.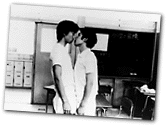 Ryosuke Hasiguchi's Grains Of Sand

High points included Japanese director Ryosuke Hashiguchi's Like Grains of Sand, Rachel Reichman's Work, and Tilda Swinton's very big performance in Susan Streitfeld's Female Perversions. Complex, multifaceted characters with complicated relationships and conflicting identities were a welcome break from so many formulaic life-in-the-gay-ghetto films. Audience Award-winners were Australian Annabelle Murphy's short Margaret Star: A Fall From Grace, Debra Chasnoff's and Helen Cohan's documentary It's Elementary, and Nigel Finch's closing night super-hyped Stonewall.

Rosa von Praunheim and Barbara Hammer have each shown more films here than any other makers in the festival's history. Von Praunheim premiered Transexual Menace and screened the autobiographical Neurosia: 50 Years of Perversity. His latest works and Hammer's Tender Fictions seem to have been obscured by attention to less experienced and less overtly political filmmakers whose debut features are often ready-made for mainstream consumption. Von Praunheim, whose first films appeared in the late '60s, noted the shift in audience taste toward more commercial films: "The more emancipated we become, the more superficial we get. But the main thing is that gay and lesbian films get shown; and there's such a variety of them at this festival, so that's good."

The veritable explosion of queer Asian film production throughout the world is some of the biggest news in recent years, yet only a handful of Asian features, like Jo-Fei Chen's Where Is My Love and Wu Feng's Darkness Before Dawn, made the cut. Non-narrative cutting edge work was also surprisingly absent from a festival with a history of championing experimental work. These are the kind of films that might die from lack of exposure by the oldest and biggest lesbian and gay festival, but audiences of over 50,000 bring demands for crowd-pleasing images and community affirmation. Constantly evolving relationships with key international festivals and Hollywood indicate that this festival has more responsibilities and more roles to fulfill than ever before.