Chicago Underground Film Festival
The streets of Chicago were wild-posted in the weeks before the fifth edition of the Chicago Underground Film Festival with placards offering up a sultry brunette in fishnet stockings, black leather skirt and gloves clutching a Super-8 camera with a prodigious lens. While the guidelines for submission read, "If you suspect your film is underground, it probably is," the organizers probably weren't expecting the flourishes of wisenheimer graffiti on their posters. "I do all my work in my panties" read one; others included "I'm a filmmaker, see? See my breasts?" and "You're not underground unless you have sex with me."
That tenor of participatory spirit reigned throughout the festival. Sellouts were frequent – the Fest boasted its largest attendance ever, despite limited, sometimes condescending, mainstream media coverage; the Chicago Tribune artlessly described the event as an "extravaganza of cinematic whoopee... a mix of the tasteless and the artful." As for packed houses, CUFF managed to go clean with Tamara Hernandez's opening night psychosexual drama-comedy Men Cry Bullets; prior NYUFF prize winner Surrender Dorothy, Iara Lee's Modulations, local stalwart Jim Sikora's Rock 'n' Roll Punk, two screenings of Penelope Spheeris' The Decline of Western Civilization, Part III, Stefan Avalos and Lance Weiler's micro-budgeted digital video marvel, The Last Broadcast, and a revival of the only extant print of the 1982 proto-grrrrl power exploitation item, 1982's Ladies and Gentlemen, the Fabulous Stains, starring a very young Diane Lane and Laura Dern as two girls who start a punk band and a media furor.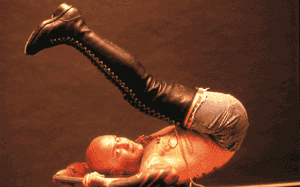 Ron Athey in Catherine Gund Saalfield's Hallelujah! Ron Athey: A Story Of Deliverance
CUFF schedules parties each evening. An overflow crowd attended the opening night soiree, which featured Cynthia Plaster Caster describing her collection of casts of rock-and-roll manhood, followed by Mo Tucker of the Velvet Underground. Perhaps most appropriately, the closing-night awards were held in the back room of a neighborhood saloon that reeked of vinegar and burnt cheese.
Of the films programmed, one of the few themes that emerged was the harsh reality that too many drugs and too much sex can lead to bad results. Programming Director Bryan Wendorf laughs at one critic's contention that this made the Festival's selections reactionary. "In the '90s, we're all smart enough to know there's good and bad to these things. To present a '60s it's-all-okay attitude would be naive."
Shorts were plentifully represented over several diverse programs that included the schematic, repetitive work of Chicago media collective Animal Charm; Philip Pelletier's New Testament – zippy commercial parodies in which Christ and the Apostles peddle New Testament Wine Cooler; Elise MacAdams' A Cure for Serpents, with Whatever's young star Liza Weil as a teenager whose life changes when she allows her boyfriend to leave a stain in her phobic mom's house; and 22-year-old Jimmy Mazzullo's Heavy Black Smoke Stack, a road movie that does up both urban and rural imagery in a stylish, if familiar, post Super-8 kind of way.
Fuck Coke was a comically nerdy anti-commercial branding tract by Gary Burns, director of Kitchen Party, and cable-access savant Jeff Krulik returned with a program of shorts, including Neil Diamond Parking Lot. The gold jury prize went to Rodney Ascher and Syd Garon's Somebody Goofed, a brilliant nightmare weave of images and sounds in a digitally-animated adaptation of Jack T. Chick's memorably deranged Christian tracts refracted through a welter of techniques and a narcotic trip-hop soundscape.
Straightforward documentaries about strange goings-on included David Vaisbord's Juicy Danger Meets Burning Man, with the "extreme cabaret" of "The Juicy Danger Show" taking it on the road to the Burning Man Festival in Nevada. Daniel Klaus' Jefftowne was a bitter little corrective to sentimentality about disability with its technically slobby movie portrait of Jeff Towne, a 40-year-old Iowa City man with Down's Syndrome and a daily routine that includes hanging out at the mall movie theater, watching wrestling, attending Star Trek conventions, wallowing in sleazy porn magazines, getting drunk, groping the women who give him hugs and telling whoppers. Catherine Saalfield's Hallelujah! Ron Athey: A Story of Deliverance took a Silver jury prize. It's a by-the-book documentary on the life and work of performance artist Ron Athey, capturing several of his "spectacles" that involve elements drawn from S/M, leather and fetish culture. Another form of freakishness was on display in Marina Zenovitch's Independent's Day, which capably collates interviews with filmmakers in Park City, Utah from two years of the Sundance, Slamdance and Slumdance film festivals, mingling well-known players with up-and-comers in a sturdy overview of how the idea of "independent" filmmaking is sold today. It's not a pretty picture, and Zenovitch packs a lot of information within an hour. From insiders to outsiders, there's Penelope Spheeris' The Decline of Western Civilization, Part III, a tender, strangely moving portrait of a particular pack of nomadic street kids, or "gutter punks" in L.A. Shockingly incisive and shockingly without a distributor, Decline shows a community of smart, sweet, attractive kids who are also battered, abused, abandoned and resigned to their degradation. They tell their stories with little affectation beyond playful gallows humor. These drunk, doped, often adorable teens weren't even born when Spheeris' first Decline, a portrait of L.A.'s then-thriving punk scene, was made. One of the festival's few contentious Q&As came after the film's first showing, when a cranky audience member questioned whether Spheeris was glamorizing or whitewashing the subject. Still, when accepting the Gold Jury Prize, she enthused, "I had the best time in my life coming here – your lives are so much better than those people who think they're having a good time in Hollywood!"
The Silver Jury Award for fiction went to Stefan Avalos and Lance Weiler's The Last Broadcast, which Wendorf says, "Every filmmaker was talking about." It made an impact because it was a captivating story, but the piece was also done using low-cost digital technology. The Last Broadcast straddles several lines, from documentary to fiction, from technological feat to artistic accomplishment, taking on the form of a crime documentary about the investigation of the of the hosts of a New Jersey cable-access show.
The range of DIY success stories at CUFF went from the Silver-Jury-Prize winner for short film, Gray Miller's Hellzapoppin', which told an outlaw-couple story in footage originating on 16mm, Super-8, Hi-8 and 3/4" video and edited on outdated equipment, all the way to The Last Broadcast, which was shown with a state-of-the-art digital-projection system. The latter film will also play for a week in October in five cities – Philadelphia, Portland, Providence, Austin, and Minneapolis –via satellite, a dream form of exhibition which big-money entrepreneurs like Francis Coppola have gabbed about for years. "We're trying to keep our digital integrity," Weiler jokes when asked why they don't just blow their film up to 35mm.
The Gold Jury Prize went to Kevin Dinovas' Surrender Dorothy a nicely shot, nicely mean-spirited psychosexual drama that's been on the festival circuit and left some audience members disappointed by a slack final third. The Audience Award went to Tamara Hernandez' Men Cry Bullets, which overcomes a busy and sometimes sloppy visual style to arrive at some strange sort of conviction in its clash of a mean-spirited and sexually voracious writer, Gloria (Honey Lauren), who becomes the object of obsession of Billy (Steven Nelson), a young man who wants to be a female impersonator. Every time I would dismiss the film as a clumsy mess, some deep and appalling chord of pain would be struck by Billy or Gloria, and the dialogue is often daringly strange. Accepting her award, Hernandez charmed the audience as she confessed, "This means a lot to me because I always think everyone hates [the film]."
The last word should go to Lifetime- Achievement-Award-winner Paul Morrisey, whose Flesh for Frankenstein was shown in 3-D, alongside his 1972 Women in Revolt. He joined CUFF's roster of underground filmmaking pioneers Kenneth Anger, George Kuchar and John Waters. Limping to the stage, casual in shorts and a bandaged leg, Morrisey grumbled in his gravel-voice, "We made Women in Revolt for $2,000. And you can still film what you want and wind up in this weird category called underground. Encourage more people to do it and have a sense of humor about it! Now I'm going to go make a belt buckle out of this thing."

---