Toronto International Film Festival
Amidst the gala premieres, parties, and press conferences, this year's Toronto International Film Festival featured a small tribute to its late programming mainstay, David Overbey. Comprised of just five features and three shorts drawn from the massive list of Overbey's curatorial selections, the section illustrated what a remarkable role the Festival and curators like Overbey have had in guiding the North American film community's perception and appreciation of world cinema and new independent movements. The section referenced new Taiwanese cinema (Hou Hsiao-hsien's Dust in the Wind), Hong Kong action (John Woo's A Better Tomorrow), American independent film (Charles Burnett's Killer of Sheep), New Queer Cinema (Terence Davies Distant Voices, Still Lives), and France's anti-New Wave "angry, poor" film (Gaspar Noe's seminal precursor to I Stand Alone, Carne).
In the year following Overbey's passing, Toronto's curatorial team continues to uphold his tradition of making powerful choices which impact through both America's commercial and art cinemas. The Festival leaves no important film movement unlooked, and its curators pen catalog essays that take bold intellectual positions in support of their choices.
This year director Piers Handling compared Toronto to "a big shopping mall" with its 250 odd films, but the metaphor applies less to the Festival's commerce elements (Toronto has no market per se, and this year lacked an all-out bidding war) and more to the actual experience of attending Toronto, which, with its multi-tiered structure of programs (Galas, Discovery, Contemporary World Cinema, Planet Africa, Perspective Canada, etc.), makes the experience of film viewing akin to casually wandering the cloistered and labyrinthian architecture of the modern mall. Or perhaps such a metaphor is only apparent to beleaguered journalists; this year, almost all industry screenings were held in a huge, comfortable multiplex in a Bloor Street mall.
The Bloomingdale's and Macy's of the Festival remain the Galas, the series of high-profile international and Hollywood films that draw the stars, the klieg lights, and the paparazzi. Opening night featured Felicia's Journey the latest from Toronto's golden boy, Atom Egoyan, and the Festival closed with Onegin, a British updating of Aleksandr Pushkin's Russian classic (via Tchaikovsky's opera) which showcased the talents of the Fiennes family (brother Ralph acts, sister Martha directs, and the other brother Magnus composed the music). In between these films was an array of the best, or at least best-financed, films from the world over. As with Venice and Cannes, here is where the studios put their best foot forward, offering work that falls just this side of art. And while a number of films fared well in this setting, particularly Ang Lee's big-budget Civil War western, Ride with the Devil, it was the Dreamworks-produced American Beauty that showcased Toronto's ability to effectively launch a film and filmmaker within the commercial cinema.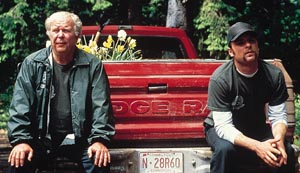 Ned Beatty and Liev Schreiber in Tom Gilroy's Spring Forward, which premiered at the Toronto Film Festival.
The first film from British theatrical wunderkind Sam Mendes ("Cabaret," "The Blue Room"), American Beauty is a remarkable mixture of suburban satire and American transcendentalist philosophy that is all the more radical for its refusal to locate redemption within the familial and work-centered relationships so upheld by most mainstream entertainment. Although the Dreamworks flaks had long since positioned the film as a "challenging, adult work" that had the potential for sleeper status, it was the Toronto premiere at the start of the Festival (and just a few days before its U.S. theatrical release) that jump-started a critical bandwagon that is now propelling the pic to solid grosses. With its indie subject matter (the dysfunctional suburban American family), Hollywood movie stars (Kevin Spacey and Annette Bening), and below-the-line hero (veteran d.p. Conrad Hall), the film offered both substance and glamour, allowing a hungry press corps to have its cake and eat it too.
Of course, Toronto has also been the launching pad for many smaller American independent films. One of this year's "bigger" premieres was, ironically, a purposefully "small" film, Tom Gilroy's Spring Forward. A pantheon of filmmaking talent – producers include director Jim McKay, attorney John Sloss, indie impresario Gill Holland, and Independent Film Channel execs Jonathan Sehring and Caroline Kaplan – packed the house with acquisitions executives. What the buyers encountered was an understated, delicate, yet emotionally precise depiction of two men – one young, one old – who work together for the Parks Department somewhere in upstate New York. Featuring superb performances from Ned Beatty and Liev Schreiber, the film shares something with the "dirty realist" fiction of Richard Ford and Raymond Carver. It locates a sublime undercurrent to the small-scale realities of everyday life, using the passage of time itself as a series of plot points that drive our dual protagonists to an understanding of themselves and each other. One couldn't ask for better acting and performances, and as the Festival concluded, it was unclear which distributor would stand up and commit to such a quiet, intimate, character-based film. Like American Beauty, Spring Forward will gain from the critical buzz of its Toronto launch, but like the film's characters, this process may take its time within today's instant-gratification indie film buying environment.
Mark Hanlon's debut feature, Buddy Boy, also premiered at Toronto but in the Contemporary World Cinema section. This placement was apt, for the film was a striking fusion of Polanski-esque psychological horror (a connection made even more apparent by the casting of Polanski leading lady Emmanuelle Seigner) and American Gothic sensibility. The film manages to be both a character study of a disturbed individual and a blackly comic social satire.
The pre-screening buzz on Justin Kerrigan's lightning fast debut feature Human Traffic read like a bad English extension of Trainspotting — a drug-soaked ride through the UK club scene via the England's next generation of hipsters. Yet its absent moral compass is what made the film so effective – the thrill of a high speed joy ride without the burden of direction or guilty emotional payoff. Kerrigan hits the gas on five characters with the usual set of adolescent and relationship problems, and covers it unapologetically with massive amounts of drugs and alcohol. Rather than use drugs as a devisive tool or obstacle, Kerrigan quite effectively spins it as a prop of no more or less importance than leather pants and turntables. After the film's raucous Saturday night screening and disappointing "rave", Human Traffic became one of the precious few acquisitions of the fest — to Miramax — leading many industrites to question what the Disney-held company would do with another hot potato so soon after Kevin Smith's Dogma.
A less successful premiere was Finnish director Ilkka Jarvilaturi's History is Made at Night, a failed attempt at merging a Frankenheimer-ish thriller with a low-key screwball comedy. Starring Bill Pullman and Irene Jacob as two post-Cold War spies (he CIA and she KGB), the film, like its politically alienated lover/heroes, never really figures out what to believe in.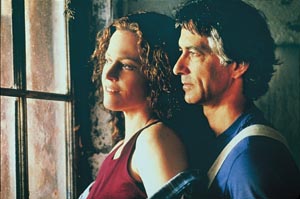 Sigourney Weaver and David Strathairn in Scott Elliot's A Map Of The World, at Toronto.
The mixture of influences from and between various film cultures is a pattern that reverberated throughout the Festival. Jim Jarmusch's latest, Ghost Dog: The Way of the Samurai, mixes genres and cultures as Forest Whitaker assumes a Japanese discipline to confront Italian-American mobsters. And Steven Soderbergh's The Limey chronicles the escapades of a British ex-con in Los Angeles. And even newer auteurs, like Harmony Korine, have ties to the old country, with julien donkey-boy starring New German cinema icon Werner Herzog in the first American issue of the Danish Dogme movement.
Of course, this cross-pollination is certainly not an American phenomenon, especially with the ever precarious condition of nation states in Eastern Europe. Greek/English Constantinos Giannaris' From the Edge of the City follows the lives of young disposed Russians living in Athens. And in Anne Fontaine's charming Augustin, King of Kung Fu, a sad sack Parisan falls in love with the Chinese culture, eventually moving there for good. And Damien O'Donnell fathoms in East is East a big-hearted comedy of Pakistanis living in Northern England.
The majority of American independent films, however, located the strange and the alienated usually within their own familiar stories. Kimberly Peirce's Midwestern true-crime tragedy, Boys Don't Cry, captured audiences with its sincerity and insight into the American psyche. Likewise Kevin Jordan's debut, Goat on Fire and Smiling Fish, a simple comedy of two brothers, proved to be this year's sleeper, winning the Benson & Hedges Film Discovery Award. Indeed across the board – from Gregg Araki's comic menage-a-trois Splendor to Lane Janger's charming sitcom of sexual deviance Just One Time, to Frank Whaley's Joe the King, a more serious saga of a young boy's struggle to grow in a dysfunctional family – American film had a less ironic, less angry stance.
If the American films affected a quieter tone, it was the Europeans and Asians that embraced humanity's darker side. Hot director Francois Ozon's criminally-titled Criminal Lovers is an ingenious blend of a "doomed lovers on the run" story, a coming-out picture, and dark fairy tale. With a flashback structure that adds depth and mystery to what could have been a banal story, the film follows two teens who impulsively kill a classmate and then flee to the forest where they find Kusturica-regular Miki Manojlovic, a predatory, gay big bad wolf. Echoing Nicholas Ray and Charles Laughton, the film is tender, troubling, and an ambitious step forward for the director of See the Sea.
A particular aspect of Toronto's worldly curatorial perspective is evidenced by the selection of Jang Sun Woo's Lies, the story of a young student involved in an intensely physical S/M relationship with an older professor. At times genuinely shocking and always inventively photographed, the film ultimately succumbs to the collapsed world view and repetitive structure of much pornographic art. Still, the film's country of origin, Korea, where such artmaking constitutes its own political defiance, gives Lies a particular cutting-edge frisson.

---