Rune Bendixen's Bullfighter is a mystical fever dream about good and evil starring Olivier Martinez (Horseman on the Roof) as a gangster who tries to go straight in Mexico by learning the art of bullfighting. Of course, the past – personified by Jared Harris, who plays the bullfighter's former criminal protégé – violently catches up with him. The film costars Willem Dafoe, Michelle Forbes, Domenica Cameron Scorsese, an NYU grad film writing student previously seen, briefly, in her dad's Cape Fear and Age of Innocence, and in films by directors Robert Rodriguez and Guillermo del Toro.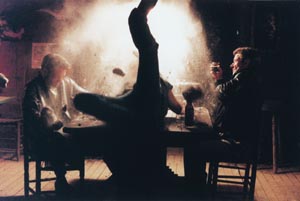 Sitting, Left and Right: Jared Harris and Michael Parks in Rune Bendixen's Bullgihter. Photo: Deena Newcomb.
Bullfighter bears the distinctive stamp of screenwriter L.M. Kit Carson (Paris, Texas), who's producing with partner Cynthia Hargrave under the MainPix banner they formed after trial runs into indie film as exec producers on Bottle Rocket and Hurricane Streets. Carson adapted Bendixen's original screenplay with 21-year-old son Hunter and calls it a millenial story. "If you can save yourself, you can save the world," says Carson. "Bullfighter has an improbable hero, but it doesn't take itself that seriously – it's irreverent and funny."
Bendixen is the Danish techno music wizard behind the Overlords, the Northern European techno band. Bendixen, who's also produced music for Billy Idol and Blue Pearl, got his first directing credits on the Overlords' striking music videos. In 1995 he teamed up with Danish film distributor Majken Gilmartin to develop Bullfighter as his feature debut. Carson reports that Copenhagen-based Scanbox Entertainment is financing the film (to the tune of several million dollars) in its entirety as the first entry in a MainPix slate.
Though Bullfighter is set in Mexico it's being shot across the Rio Grande in Texas, where principal photography kicked off February 12 on an 80-square-mile ranch along the Mexican-U.S. border. Bullfighter should be done some time next fall and Scanbox is handling all rights.
Cast: Olivier Martinez, Michelle Forbes, Michael Parks, Donnie Wahlberg, Domenica Cameron Scorsese, Assumpta Serna, Jared Harris, Willem Dafoe. Crew: Producers, Majken Gilmartin, L.M. Kit Carson, Cynthia Hargrave; Screenwriter/Director, Rune Bendixen (adaptation by Hunter and L.M. Kit Carson; Cinematographer, Ronn Schmidt; Production Design, James D. Kanan; Costumes, Janet Schwartz. Contact: L.M. Kit Carson, MainPix, 46 Laight Street, New York, NY 10013. Tel: (212) 925-9165, Fax: (212) 431-4992.

---